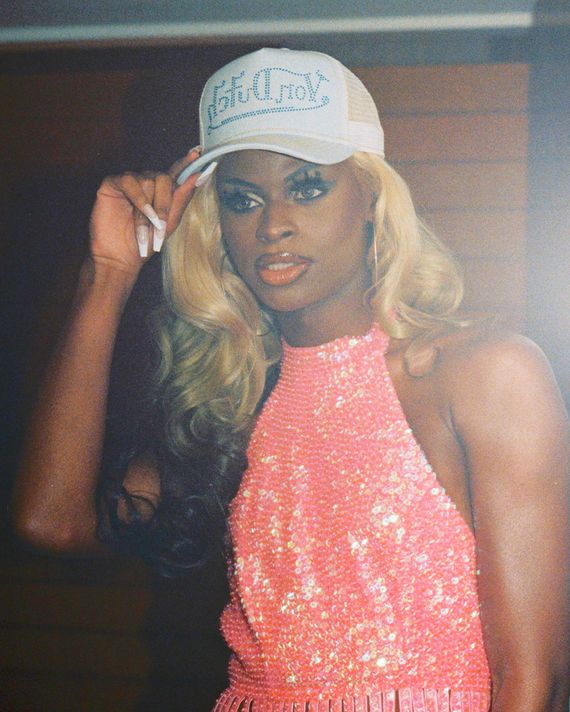 Symone checks her look in her hotel room mirror.
Photo: Fields
"My first time in the Big Apple: It feels amazing," Symone, the 26-year-old winner of season 13 of RuPaul's Drag Race, tells me when we meet up at the Standard, High Line, for some Pride-weekend partying. "I keep looking around — it's like everything is out of a movie. Then I'm like, Wait! It is!" The day before, she had taken a red-eye from Los Angeles, where she has lived the past couple years among the members of the House of Avalon, a queer art collective formed by fellow former Arkansans. She and her Avalon posse, which includes Drag Race's season-12 runner-up Gigi Goode and Lizzo stylist Marko Monroe, were invited East for Pride, and the first big event was Madonna's invite-only party at the Standard, High Line's Boom Boom Room.
Despite living in L.A. and her RuPaul crown, the "Ebony Enchantress" remains very much a southern girl. With all her drawly charm intact, she's humble and seemingly unfazed by her launch to fame and its accompanying glories, like going to a private party with Madonna. "After the finale [in April], I had three days to chill. It's been going ever since. It's been insane — a whirlwind, but the most amazing whirlwind ever," she told me at the beginning of the evening. On Thursday night, she and a group of a dozen or so queens and clubby twinks took the city by high-femme storm.
Oh, and the party itself? A bit of a glorious shitshow, right down to the lack of bathroom access. As my colleague Matthew Schneier put it in his report from the night, "Was it the New York we missed? Yes and no."
7:53 p.m. | Madonna's party doesn't start till later, so Symone first jets across town to the opening night of No Bar at the Standard's East Village location, where she is expected to show face at a Drag Race screening. Meeting up in the Standard, High Line's lobby, she steps off the elevator looking radiant in blonde pigtails and a ruffled pink-and-orange dress. "It's a sunburst dress — for a colorful life," she says. But when we get into an Uber, I notice the zipper on her dress doesn't seem to want to stay up and her ass is hanging completely out. In the car, she frets: "I wish I could have put something on my legs, my God." We talk about her first day in New York and riding the subway. ("There were a lot of complications going on down there. It was more intricate than I thought it was. There's levels.") Shortly before we arrive, we pass a Skyy Vodka advertisement with her enormous face smiling on it. She has just arrived, but the city is already hers to own.
8:20 p.m. | Outside the bar, in front of fans, we linger in the street while Symone's manager attempts to zip her dress. I point out that it feels very Sex and the City, managing a 'fit emergency in front of the cameras. "I'm a Samantha sun and a Miranda moon," she tells me.
9 p.m. | After a very quick, fan-filled walk-through of No Bar, Symone says, "I have to get ready. I don't feel 100," signaling it's time to head back to the Standard, High Line for the main event later. "I think she's going to get a picture with Madonna. We need to look the best," says Hunter, her manager, a curly-haired artist with white contacts and a goth-glam look. When we arrive back on the West Side, some muscle gays on the street ask for a picture. When Symone spins around, I notice her ass has fallen out of the broken zipper again.
9:40 p.m. | Up in her hotel room, Symone changes into her second outfit for the night: tiny pink Von Dutch shorts with a fringed bubblegum-pink top and a sparkly Von Dutch trucker's cap over an ombré wig. "Pink ho is the mood board," she says before remembering, "I need to put on some baby oil so I'll quit freaking out." Other members of the House of Avalon run in and out of the room, looking for nail glue and scissors and tequila. Symone gets ready surprisingly fast, makeup already done, telling me she doesn't like to be in drag longer than she has to be: "I'm ready for the fantasy to be over." Marko Monroe, who designed tonight's first outfit, spends several minutes helping her into gigantic lace-up velvet boots, and I think that must have something to do with it as well.
10:22 p.m. | Her group fully assembled, like a school field trip, we head down to the street to get into the party. Already, it's a madhouse — hundreds of people trying to find their way in from one list or another, while cars honk incessantly. Symone looks wide-eyed but stays calm. Partygoers whose names do not seem to be on the list try to infiltrate our gaggle. One of them yells at the guard, "Damn! You're not letting these people in? They're special!" At some point, Real Housewife Leah McSweeney and Billy Eichner end up merged in with the Avalons, too. Eventually, they let us all past the velvet rope.
11 p.m. | Upstairs, the House of Avalon claims a booth in the terraced VIP area. Christian Siriano is in the next section blowing kisses at Symone and is joined by Eichner, whom she surprisingly calls "cute." Symone is losing her voice, and every minute she becomes even more impossible to hear over the music. The House of Avalon takes pictures in front of the skyline, lighting each other up with their iPhone flashlights and climbing over the white-pleather booths like it's a playground.
12 a.m. | Our section continues to fill with more New York–famous and kind-of-famous and fame-adjacent. There's Jordan Firstman, looking rather standoffish, and my premiere are u coming? subject, Remy Duran, looking much friendlier. Zachary Quinto appears, hair slicked back and in a pussy-bow blouse but still managing to somehow look like a Fidi bro. Ziwe, Bowen Yang, and the photographer Quil Lemons all sit in the next section, backs to ours. Amanda Lepore arrives, strutting in slo-mo. After exchanging very hesitant kisses with Symone — I assume to not mess with their respective beats — they take a picture with a high-energy woman who I'm told is Amanda's assistant. But the assistant has a bit too much energy and lights her fur on fire via a candle while striking a pose. She snuffs it out quickly, the air now smelling like burned hair.
12:24 a.m. | Not far from where the House of Avalon is congregating, a gay porn star is baring a lot of back in a stringy little black top. ("Oh, I know his art," says the guy next to me when I ask if he knows who he is.) I notice he keeps peering above his tiny black glasses in our direction, and a couple members of Avalon are in turn exchanging low whispers. After asking around, I'm told he is also from Arkansas. They won't tell me what exactly happened beyond what one queen offers: "He was a figment of my imagination."
12:31 a.m. | Still waiting on Madonna, we discover it's impossible to use the restroom, even as the drinks keep flowing. It appears that if you leave the main room, you're not making it past security again. The smokers have started lighting up inside, putting their cigs and joints out in the limes served with their cocktails. Everyone is actively disputing when Madonna will come on. One of the Avalon twinks says, "My friend does her costumes and says it will be at one." One of the Duponts — a pair of NYC model-twins — insists they saw Madonna on the street and that she must be here soon. Outside the VIP sections, the scene is even more packed. For those in open-toed shoes, it's barely safe to take a step. I hear a woman tell her sequined gay friend, "There are so many people who shouldn't be here. Half of them work for Beacon's Closet."
1:23 a.m. | When the lights dim, a few voguers begin prancing on the circular bar in the center of the room before M Herself emerges in a blue wig, pink gloves up to her elbows, and a top that shows off her boobs. She sings "Hung Up" and "I Don't Search I Find," while we all try to catch a glimpse of her humping the bar through our iPhones held over the crowd. (I assume Symone, in her boots, can see it all sans iPhone, but she looks through hers like everyone else anyway.) Earlier in the night, Symone gave me a cool response when I asked if she's a Madonna fan (her queens are Tina Turner and Rihanna), but Hunter was much more enthused: "Our house is covered in her. I know everything about her that's public and knowable." When the performance is over, Quinto, chewing a huge wad of gum, joins her onstage to auction autographed Polaroids to benefit the Ali Forney Center and Haus of Us, but at the time, all we understand is that it has something to do with, as Madonna puts it, "food, beds to sleep in, nutrition, and therapy."
2:17 a.m. | If the party is just now picking up, the House of Avalon is ready to calm it down. After a quick pass through the VIP dance floor — where I run into an up-and-coming book editor doing a spoonful of K by an out-and-about stylist — we speed past the booth where Madonna's daughter Lourdes is supposedly holding court and into the elevator downstairs. "I'm going down," Symone croaks, falling onto her bed back in her room. Next door, I find the House of Avalon mostly stripped down to skimpy thongs and tighty-whities. Two of them seem to be in a fight, and I can't tell whether they're all stripping to get comfortable, get changed, or get freaky. When one asks if I live too far away, I wonder if it's the latter.
2:31 a.m. | The elevator to the ground floor is streaming the video of Madonna that premiered at the party as well as on the big screens on Times Square, and when I wink at the woman next to me, she says, "Oh, I did that," introducing herself as Madonna's makeup artist. I think Symone must be beat after her big New York debut, but when I catch two members of the House coming back to the hotel with four boxes of White Claws, I know their night isn't over yet. I head back to Brooklyn, figuring I'd better rest up for what proved to be a fabulous, if body-destroying, Pride weekend at @nysocialbee's sexy soirée on Friday and Nowadays' 24-hour dance party on Saturday. I'm hoping yours was filled with just as much debauchery.