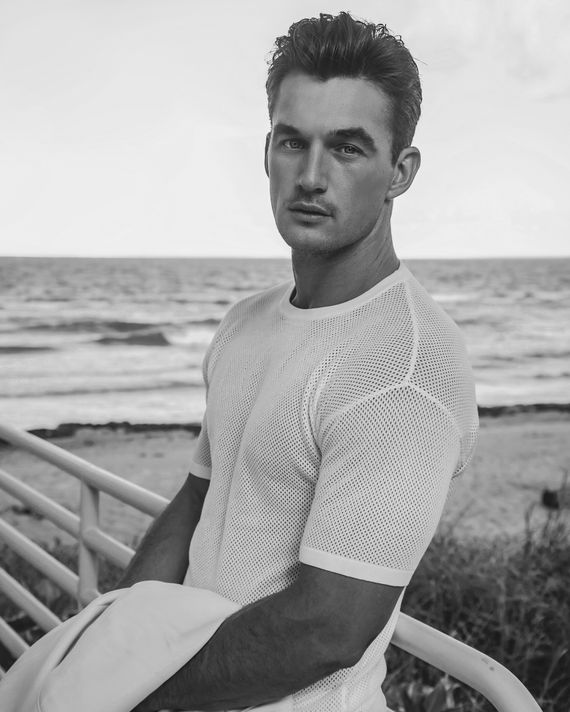 It's a warm summer evening on the eastern coast of Florida and you're heading to your first date with one of the most chiseled men to ever be handed a rose on The Bachelorette. He's invited you out to dinner, somewhere pretty by the water. You're meeting at the restaurant because he wants to ensure you have a way out should you need it, and he opens the door of your Lyft when you get there. Things go smoothly, so you then head to a nearby spot for more drinks (he pays, naturally). At the end of the night, he walks you to your car, gives you a hug, and sees you off. Sadly, there's no kiss, but he explains that when he really likes someone, he takes things "super-slow."
This is the picture Tyler Cameron paints for me when I ask about his go-to first date. Our first interaction is a weekday-morning Zoom. As he turns on his video, his striking jawline, glowing teeth, and adorable dimples come into view, and I'm suddenly grateful I put the "touch up my appearance" function on maximum. The former reality-television star is calling from his New York City apartment — he splits his time between there and his hometown of Jupiter, Florida — and looks exactly like the dreamy bro I expected in his black Bumble-branded baseball cap and fitted black T-shirt. But the Wake Forest University logo on his top gives some insight into the man behind the abs: an NFL-bound quarterback turned MBA-receiving contractor turned model and hyperfeminist heartthrob.
Trying to imagine a world beyond our video chat (as well as my tiny one-bedroom apartment), I ask the man who says he "loves romance" a series of first-date questions. While he may be straight and in a relationship — with model Camila Kendra — he indulges me in the fantasy. As anyone who watched Cameron, 28, lose out on Hannah Brown's final rose to two-timing Jed Wyatt on season 15 knows, his road to happiness hasn't been without its challenges. Now he's collected a series of his life lessons and experiences into a new book, out now, titled You Deserve Better: What Life Has Taught Me About Love, Relationships, and Becoming Your Best Self. 
Cameron points out that he doesn't consider himself an expert on relationships. Sometimes he catches himself not following his own advice, but his goal is to inspire a shift in dating culture that normalizes respect. "On the show, I got tons of praise for doing what I think should be the bare minimum," he says about his time on The Bachelorette, specifically his talk with Brown about consent before heading to the show's infamous Fantasy Suite. "I've got little brothers and I hope they treat women with that kind of respect. That should be the norm." Cameron wants his book to "spark conversation" among men about what women actually want. "It's calling out the culture because we've got to change, man, we've got to do better. It's very simple: Women deserve better."
This surprising level of insight is what sets Cameron apart from the hundreds of other Bachelor Nation contestants (that, and the fact that he's never attended the Stagecoach Music Festival that hosts endless off-camera drama amongst other alumni) and has helped him build a brand far surpassing the franchise. He admits the biggest misconception about him is that he's nothing more than a "frat boy who doesn't do shit." He doesn't hide the fact that he was a partying, "knucklehead" jock when he was young, and that he works hard to combat the preconceived notions that often follow reality and social-media stars. "There's a lot of stuff going on behind the scenes that they don't realize, so they're like, 'You're just some frat boy without a job,'" he explains. "They don't realize I am also a general contractor with six housing projects I'm doing right now in Florida." Even his recollection of the immature acts of his past are filled with heart. Like the time he broke down the fence at a Steve Aoki concert to give regular ticket holders access to the amenities of the VIP section. A dreamy, intelligent, misunderstood former football player? If there's a visible red flag by this point, I'm too smitten to notice.
Growing up, he took his romance cues from the R&B crooning of Usher, K-Ci & JoJo, and Ginuwine. That, and the "scholarly research" he would do on Pornhub. "Trey Songz has a song called 'Sex Ain't Better Than Love,' and it's true," he lets me know. "When you really want somebody and you love them and you're making love, that's a whole different ball game, and you don't see that on Pornhub. You don't see what they talk about in R&B songs where it's about catering to each other. That's what I really learned about what real love is and not just having sex."
Admittedly, I am giving him the same grilling I would any potential suitors, but the self-proclaimed "simp" passes each test with flying colors. Cameron recoils at the mention of hickeys, saying they remind him of the Plies song "Bust It Baby, Part 2," which he complains treats the polarizing PDA as a means of claiming property. Instead, the reformed hard-partying jock is more interested in ensuring his dates feel "listened to and heard," which he calls "the most important part of dating early on." With that, I inquire about where he takes his dates once things get serious. His answer: Florida-based restaurant chain Miller's Ale House for an indulgent meal that includes its signature boneless chicken tenders — known as Zingers — and an order of Captain Jack's Buried Treasure. The dessert is described as a "triple-layered vanilla ice-cream cake, Oreo cookie crust, Heath Bar crunch crumble, caramel, and hot-fudge sauce." In translation: a man after my own heart.
Upon reaching this level of honesty, I reveal my personal Miller's Ale House is Cheesecake Factory, to which Cameron replies with the most important question one can ask in a relationship: "What's your Cheesecake Factory order?" Me: "Farfalle with Chicken and Roasted Garlic." Him: "Thai Lettuce Wraps." And just when I think my heart can't beat any faster, he seals the deal with: "What about dessert?"
While Cameron wishes he had taken both his education and his love life more seriously when he was younger, he's happy with where he's ended up: a published author in a happy relationship. "My English teachers would have never thought this," he exclaims, pointing out that his dreams for the future are far from the cameras that jump-started his brand. "I'm a Florida boy, a salty dog; I have to be on a boat and in the water," he muses. "I want to build houses, I want to coach high-school football. I want to have a family, be a dad and a loving husband."
Cameron's current girlfriend may have the advantage of winning over his beloved rescue potcake Harley ("I ain't shit compared to her when they're around each other"), but the consummate gentleman promises me the perfect day if I ever make my way to the Sunshine State: afternoon on the boat, dinner at Miller's Ale House, movie in the evening, and passing out early. "We have a date," he exclaims before logging off.