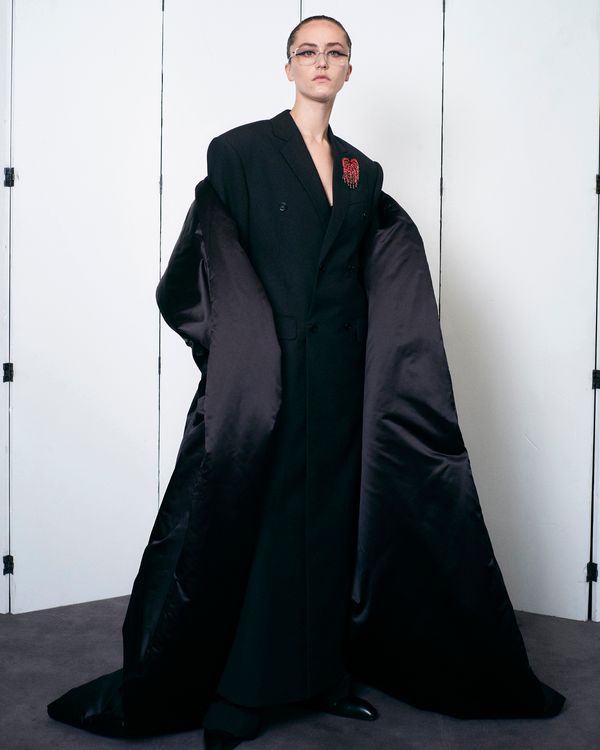 Photo: Courtesy of Balenciaga
On Wednesday, Balenciaga showed its first haute couture show since 1967, when founder Cristóbal Balenciaga left the fashion industry for good. The house's current artistic director, Demna Gvesalia, is known for shaking things up, but he made an enormous effort to pay homage to both the craft and the atmosphere of couture week, which has historically been much quieter and more intimate than Paris Fashion Week in the spring and fall.
The room where the show took place, for example, was an almost exact replica of Balenciaga's original salon at 10 Avenue George V in Paris, down to the water damage and flaking plaster. Models walked sans soundtrack and carrying look numbers — a tradition left over from the days when wealthy clients would come to shows not just to see and be seen and post about their experience on Instagram but to actually buy the clothes on display.
You may have noticed that one of these models was Ella Emhoff, the step-daughter of Vice-President Kamala Harris. Emhoff was signed to IMG Models back in January and made her New York fashion debut shortly after. Her presence on the Balenciaga couture runway may have seemed like a big leap for someone so early in her career, but it actually made sense in context of couture.
With her large round glasses, curly mullet, and full eyebrows, Emhoff certainly fits into Balenciaga's idiosyncratic, gender-fluid lineup in her own right. But presidential family members have also always been attracted to haute couture. Jacqueline Kennedy, for example, was a known client of Balenciaga's, and the collection shown on Wednesday included a floral-embroidered gown inspired by an archival piece originally made for her.
In fashion, there's a lot of talk about the future of couture and whether or not designers like Gvasalia can successfully adapt it for the modern age. But getting the design right is arguably no more important than getting it in front of, and hopefully on, the right people. Ella Emhoff perhaps represents the next generation of potential buyers who, in addition to having titles, famous last names, and an ability to garner press, also appreciate the craft of a perfectly fitted modern suit.
This article has been updated throughout.