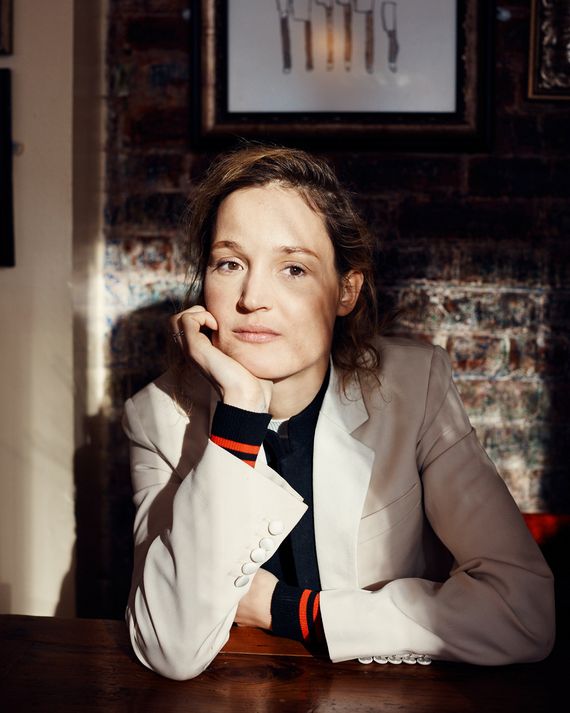 Lately, Vicky Krieps has been thinking about her 16-year-old self, the one who routinely attended demonstrations in her native Luxembourg. She once chained herself to railroad tracks to protest radioactive waste. Other times, she rallied against human-rights violations and "the famous George Bush war." Hearing her recount these tales is disarming. Krieps speaks with the same feathery half-German lilt familiar to those of us who have seen (perhaps umpteen times) her breakthrough performance as Alma, the muse and sparring partner to Daniel Day-Lewis's iron-handed couturier in 2017's Phantom Thread. Like Alma, the 37-year-old Krieps has an independent streak that is steadfast but not overwhelming.
"My grandfather was in the concentration camp, so when he came out he was very rebellious and very angry," she says during a long Zoom conversation. "The whole family was kind of influenced."
Though Krieps had been working consistently for a decade, she didn't become Hollywood-famous until she was 34. Paul Thomas Anderson cast her off an audition tape she sent in, planting her opposite Day-Lewis, the world's most intense screen actor. In many ways, Phantom Thread, with its S&M-lite romance, thrives on Krieps's enigmatic poise — so much so that she needed to run away and hide after the movie's press tour finished. "It's as if Paul had found me in this small café somewhere in the '50s," she says, evoking the memorable scene in which Alma first meets Reynolds Woodcock (Day-Lewis). "I was so dreamy as a child. I feel like I was stuck in a different time, almost, so the shock was too big to suddenly be present. Even if the response was positive, people were almost like, 'But who is she? What is this?' People were looking at me as this thing."
Krieps avoided hiring an American agent until early 2020. She attributes the choice to fear, but it could just as well have been another act of nonconformity. In an age when everyone seems to be chasing some semblance of fame, why submit to the cliché? Of course, because Krieps made such a lasting impression circa 2017, the floodgates opened as soon as she decided she was ready.
Old, a new M. Night Shyamalan concoction that hits theaters July 23, marks her biggest stateside role since Phantom Thread. Next month, she'll appear as a political activist — hence her youthful recollections — in the Netflix action thriller Beckett starring John David Washington and Alicia Vikander. Meanwhile, cinephiles have their eyes on Bergman Island, a relationship drama that premiered to raves last week at the prestigious Cannes Film Festival. And she has a crucial role in The Survivor, a biopic about World War II–era boxer Harry Haft (Ben Foster) that will premiere at the Toronto International Film Festival in September.
If Phantom Thread summoned Krieps's unyielding composure, Old demanded the opposite. She plays a museum curator vacationing at a tropical resort with her husband (Gael García Bernal) and their two children. The couple, Prisca and Guy, are headed for divorce, unable to navigate the obstacles foisted on them by time. When the resort manager (Gustaf Hammasten) invites them to an exclusive beach where they're meant to spend the day lounging in privacy with a few other guests, Shyamalanian mysteries intervene. A dead body washes ashore, the kids start aging at alarming rates, and the guests realize they are stranded on the island with no cell reception. Krieps spends much of the film in a panic.
With two children of her own — she calls herself a "hippie mom," rarely anxious or overprotective — and a years-old separation from their father, Krieps related to Prisca. But having spent the COVID-19 pandemic in a state of rumination, she wants to do away with the "problem-making" endemic to human nature. "The whole absurd thing about our society is that the only thing we know when we come into this world is that we are going to die," she says. "We lose our precious time running from things that are coming at us anyway, changing things that we cannot change, instead of sitting on the beach and just watching the ocean. I think that's what the movie's about. I really tried to be on the side of this woman who is scared by everything, scared by her kids, and complaining about her husband and her life and her work, and wondering if this is all there is: I think I should have a different life, and I think it should be better. I really enjoyed going into these kinds of reflections, which usually I might criticize."
Krieps, who studied drama at Zurich University of the Arts and now lives in Berlin, found her way to Old thanks to a bit of kismet. She had auditioned for the current Apple TV+ horror series Servant, which Shyamalan produces and sometimes directs. In a total coincidence, Shyamalan happened upon her tape, which was somehow sitting on his computer desk, while prepping Old. Considering it a sign, he asked her to test for the movie.
"The part I'm looking for is a fresh cadence of expression that's not built on previous tropes," Shyamalan told the Cut. "If you sat with me and watched my auditions, you would swear that everyone got together and said, 'Let's all say the lines like this.' And then suddenly there's someone that doesn't sound like anything else, that's coming from a completely different nomenclature — fresh, their own, specific, not of this time, not of this place. And you go, Wow. It's like you've never heard the dialogue before. That's what Vicky does. This is not someone who's been fed how to be and is using the food from pop culture to decide how to say a line and what the inflection is."
Shyamalan's sentiment mirrors how Krieps sees herself: She is not some conventional Hollywood actress you slot into a role like a puzzle piece. Her heterodoxy let Shyamalan achieve an immigration subtext that he didn't even realize he was looking for. After casting Krieps and Bernal, who is Mexican, he encouraged them to use their natural accents. Their fictional children, on the other hand, would have American intonations — a result of generational assimilation, much like Shyamalan and his own parents. Krieps appreciates that movies, so far, have let her maintain her natural speech, not because she wouldn't want to perfect an accent but because it prevents her performances from seeming too careful. "I have a tendency of always speaking pas propre — not clean," she says. "I think life is about things not being perfect, so I don't like myself to be excelling in any kind of accent."
When she was growing up, Hollywood was a world away for Krieps, barely even a fantasy. Now it's becoming her reality. Women who love Phantom Thread tell Krieps they have "a female crush" on her, and she receives letters from people who treat Alma like a member of their own family, impressed that the character refuses to sit around idly when her partner won't go dancing on New Year's Eve. Krieps is finally prepared to embrace the attention, to sit on the metaphorical beach and take what comes her way.
"I don't want to be scared anymore," she says. "And actually I'm curious. I want to know. I'm curious about life. I needed to be ready. There was so much I had to learn."