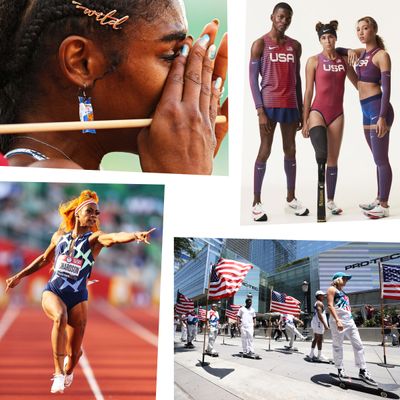 After being postponed because of the coronavirus pandemic, the Tokyo Olympics — in the hive mind of Games organizers, we remain stuck in last year — are about to commence. Despite calls from health professionals to cancel the international event (and the host country's months-long struggle with a surging COVID case count), the 2020 Olympics will kick off on July 23. From that Friday until Sunday, August 8, you'll have 7,000 hours' worth of Olympic events to watch across NBCUniversal's various cable shows and streaming platforms.
The flame has been lit (for more than a year, oops), the Olympians are arriving (one has already tested positive for COVID-19, actually), and the stage is being set (for the enjoyment of local spectators only, at 50 percent capacity). Somewhere, in the farthest recesses of your brain, maybe you can hear them: drums in the deep.
This year's Olympics may elicit some mixed feelings. The threat of an ongoing global pandemic certainly adds a layer of anxiety to the games, which are generating controversy before they've even begun. Consider sprinter Sha'Carri Richardson, who recently tested positive for cannabis and lost her spot on Team USA — even though recreational marijuana is legal in Oregon, where the qualifying competition took place. Richardson subsequently explained that she used marijuana to help cope with her mother's recent death, which she learned about from a reporter during Olympic trials. Nonetheless, she received a one-month suspension that will bar her from competing in Tokyo, a decision that, for many, feels distinctly unfair. And do not even get us started on the IOC's anti-protest policy!
Still, we are looking at a cumulative 291 days of televised athletic excellence, and there will certainly be some big wins wrapped up in there. Here's what two quadrennial sports-fans are watching for.
Christina Clemons and her Cool Ranch Doritos earrings
Please clap for track star Christina Clemons, who secured her spot on Team USA in Sunday's 100-meter hurdle trials … with a pair of teeny Doritos bags dangling from her ears. Cool Ranch, no less! Incredible! The earrings cost eight dollars at Hot Topic, and they are reportedly coming along to the Olympics for luck — and hopefully also sponsorships?
Outfits, baby!
If there's one thing I know about professional sports, it's that some require buck-wild uniforms. At least that's the impression I'm getting from Ralph Lauren's hyper-Americana closing ceremony clothing line, which manages to combine polos and white denim. Fortunately, not all the uniforms will be quite so … caucasian. Nike's 2021 Olympic uniforms for soccer, basketball, track and field, and skateboarding, are more along the lines of what you'd expect of world-class athletes. The skateboarding uniforms are truly something to behold. The rest are sleek, as per usual, with much of the uniform being made from recycled materials. Kim Kardashian's SKIMS is also headed to Tokyo as the brand will be providing Team USA's official undergarments, loungewear, and pajamas. It's a little ironic given the brand's rename from its original, Kimono, after being called out for cultural appropriation. Regardless, we can expect to see some truly remarkable fits at this year's events.
The inaugural year of skateboarding and surfing
This will be the first year we get to enjoy world-class skateboarding and surfing at the Olympics. This means it will also be the first year we get to pretend to know anything about surfing maneuvers and skate tricks. Fortunately, Team USA has plenty of people to root for as their names are likely easier to memorize than the laundry list of surf and skating lingo. There's skateboarder Bryce Wettstein, who is ranked number one in the U.S. for women's park and is only — and I cannot stress this enough — 16 years old. There's surf star Carissa Moore, the top-ranked surfer who's so good, her home state Hawaii declared January 4 "Carissa Moore Day." I, for one, cannot wait to see these world-class athletes do [checks notes] throw-tails and blunt to fakies.
Nyjah Huston and his gorgeous ass
Let's all take a moment to appreciate GQ's very revealing June interview with U.S. Skateboarder Nyjah Huston. Suddenly, I care deeply about what a nose blunt is. Huston was already making news at age 11, when he became the youngest person to ever compete in the X Games. Now, at 26, he's regarded as one of the most accomplished skateboarders in the world, having won dozens of competitions and events since he went pro 15 years ago. "Even though skateboarding is considered a sport now and it is going to be in the Olympics for the first time, you always have to realize what got it there and what's going to always be important," Huston told GQ, "That's the street side of skateboarding, the lifestyle part of it, the fun of it, the fact of going out there and skating things that aren't meant to be skated." Hot and humble. What's not to love?
Laurel Hubbard, the first openly trans athlete to qualify for the Olympics
Huge congrats to New Zealand weight lifter Laurel Hubbard on making Olympic history as the first openly trans athlete to qualify for the games. Hubbard has set records throughout her career, and her participation in the Olympics feels particularly meaningful in a year marked by right-wing American politicians using legislation to harass trans women and girls off of sports teams. Also, when Hubbard broke her arm at the 2018 Commonwealth Games, she feared her career had ended. "I am grateful and humbled by the kindness and support that has been given to me by so many New Zealanders," she said in a statement. "Your support, your encouragement, and your aroha carried me through the darkness."
Including Hubbard, there are at least nine trans athletes vying to compete on Olympic and Paralympic teams around the world this year, an all-time record. The other athletes include Tiffany Abreu, a Brazilian volleyball player; Nikki Hiltz, a mid-distance runner from the U.S.; Chelsea Wolfe, an American BMX rider; Robyn Lambird, an Australian wheelchair racer; Ness Murby, a discus and javelin thrower from Canada; Valentina Petrillo, an Italian sprinter; and Quinn, a Canadian soccer player. CeCé Telfer, a runner from the U.S., was expected to compete but was recently disqualified after not meeting "eligibility requirements." Officials have not disclosed why she was deemed ineligible.
Bruce Springsteen's daughter (a horse girl)
Did you know that Bruce Springsteen's daughter is a horse girl? And that she has now qualified for the 2020 Olympics? Well! Equestrian Jessica Springsteen and her horse — a 12-year-old stallion named Don Juan van de Donkhoeve, per Reuters — joined Team USA on July 5, in show jumping rather than in the horse-dancing category, which I know is what you were hoping for. Her song could've been "Dancing in the Dark"!
Sport climbing
Like surfing and skateboarding, this is this first year for sport climbing at the Olympics. It'll consist of three separate competitions: lead climbing, bouldering, and speed climbing. In lead climbing, athletes are clipped to ropes in a timed competition to ascend the climbing wall. In bouldering, climbers tackle a series of "problems," navigating corners and grabbing holds in gravity-defying ways. Unlike lead climbing, bouldering doesn't require ropes as climbers stay closer to the ground. Speed climbing is a head-to-head competition with two climbers simultaneously racing up identical walls to the be the first to reach the top. One climber to keep an eye on is Brooke Raboutou, a 20-year-old from Boulder, Colorado competing for Team USA. Raboutou has been setting climbing records since she was 9 and was the first American climber to qualify for the Tokyo Olympics.
Simone Biles
What's not to love about the unstoppable force that is gymnast Simone Biles? During the Olympic trials, she won top scores for her beam, vault, and floor routines. She's undeniably fun to watch. She even has a gymnastics move named after her. Already a four-time Olympic gold medalist, Biles will be the one to beat in Tokyo.
The Tongan flag-bearer
You have waited one whole extra year and now, a reward in the form of the Tongan flag-bearer's exquisitely oiled abs: Pita Taufatofua is back for his third straight Olympics, baby! This rare summer-winter athlete will be competing only in Taekwondo after an inaugural attempt at kayaking didn't go to plan. (The wind blew him the wrong way 'round, which is just one more reason for me to hate the wind.) While he reportedly doesn't know whether or not COVID-19 precautions will get in the way of his signature opening ceremony performance — as seen at both the 2016 and 2018 Games — he will definitely be there. This is what counts. Also this:
Protests in defiance of official IOC code
Despite giving us a glorious Olympics to enjoy every couple of years, the IOC quietly bars athletes from taking any actions, or making any gestures, that may be construed as "demonstration or political, religious or racial propaganda." Put simply, this is bullshit, and has elicited pushback from participants who have no intention of being "silenced." One of those people is Team USA hammer-thrower Gwen Berry, who turned her back on the flag after being ambushed with the national anthem during her medal ceremony at track and field trials on Saturday. Berry, who has undertaken quiet podium protests before, told the Washington Post she had no plans to back down at the actual games: "Me being able to represent my communities and my people and those who have died at the hands of police brutality, those who have died to this systemic racism, I feel like that's the important part. That's why I'm going." So, watch Berry's space, and keep an eye for other athletes who refuse to be cowed by the IOC.