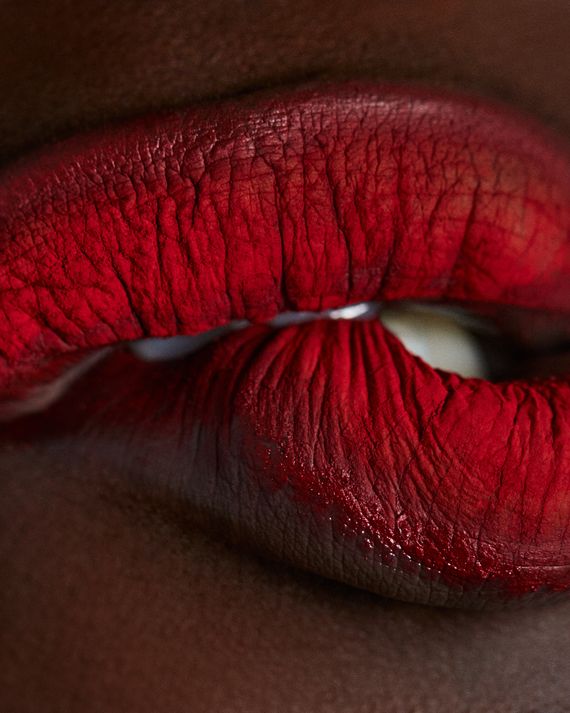 Photo: David Roemer / Trunk Archive
Nessa is trying to decide between the bunny ears, the duck's bill, or the pig nose and tail. The bunny ears are too basic, she knows, but maybe there's a way to style them that brings them back around to daring. The duck's bill is fun, but she wore it to a winter solstice party six months ago and it is still dusted in purple glitter and sticky with dried beer. She had liked wearing it for its glamorous absurdity, but after half-heartedly scrubbing it under a dribble of steaming water in her bathroom sink, she has to concede that she's let it sit for too long. The bill is irrevocably stained, and a discolored fowl's mouth is not exactly the look she wants for tonight.
So the pig's nose and tail it is. It could be good. She says it out loud to her room, heavy with the heat of early June and the jammed radiator in her bedroom. "It could be good."
Pink is expected. The black leotard instead. She puts it on, pinches the fabric over each nipple, and lops off the cloth with a pair of nail scissors—hacking, struggling cuts that leave, to her, a pleasing jagged edge. The tail, of course, goes on her ass. She straightens and takes up the shears again, to get the nylon of her translucent black stockings to ladder fetchingly.
She could do full drag on her face — huge red circles on her cheeks, pancakes around her eyes — but she is too impatient to get out tonight and so she settles for two pairs of false lashes, a dusting of powder, and deep red lipstick, applied directly from the tube, no brush, artfully waxy. She adds brass bamboo earrings and opts for the black and curly mermaid wig, the ends dipping down past her back, brushing the tip of the curl of her pig's tail.
In the wavy grime of her vanity mirror, she looks a fright. An obscene Miss Piggy; an especially vulgar art project; a fantasy of a very dirty child's mind. It's all she's ever wanted, really. She leans forward till her lips hover just over the mirror's dusty surface and blows herself a kiss. Then she throws open her bedroom door.
Laurie is on the other side. She's sitting at the kitchen table, hunched over her laptop, laboriously pecking at the keys, a blinking white screen in front of her. Nessa knows what Laurie is doing — writing an essay on the microaggressions inherent in white women wearing yoga pants — instead of fighting with her white boyfriend, who is probably asleep in her bed right now.
Laurie is a freelance writer, and every single piece she produces is about microaggressions from clueless and damningly nice white strangers. Nessa suspects she is maybe the only other Black person Laurie knows in the city, up close. She has yet to make it into any of Laurie's chronicles of being aggrieved, though Nessa knows that her approach with Laurie could generously be called good-natured bullying. "Do you ever write about anything besides how it feels to be tragically colored?" Nessa asked her a few months ago, and Laurie said, before registering offense, "You know who Zora Neale Hurston is?"
And that is why Nessa does not feel too bad about bullying Laurie.
Nessa can see that to one side of the blank page of Laurie's soon-to-be essay, a window is open on an old episode of Sex and the City. Carrie's pagliaccio face widens and then Laurie jumps — she has realized Nessa is in the room and she minimizes the screen, embarrassed.
Laurie can only feel shame about her pleasures.
Nessa strides past her, chest out proud, just to hear Laurie sputter, "Please don't flash your nipples in the house."
Nessa opens the refrigerator door and leans into the pale light to shuffle around. "I'm not staying long," she says quickly under her breath to the tomatoes.
But Laurie catches her and slams her laptop shut. "You're going out," she says flatly.
Nessa is still bent into the fridge, but she pulls a paper surgeon's mask from where she's tucked it inside her leotard, loops the elastic around her finger, and twirls it above her head for Laurie to see.
"I'll be safe."
"But where can you possibly be going? Everything is in lockdown."
"I'll be safe," Nessa repeats. Everything in the fridge is Laurie's — the too-plump tomatoes from the most expensive deli; the smug bottles of kefir, triumphant in the fridge light; the neat rows of hairy microgreens. Nessa would like to take all those signifiers of health out of their proper places and lick each one.
Instead she reaches way to the back, to the last thing she bought from the store, a can of whipped cream. She brings it out and turns to look Laurie in the eye. She shakes the can, heavy with liquid — she can feel it — then holds out one finger and sprays the cream on it. Instead of a buoyant ball of air, a thick white stream drips like mucus from the spout. Nessa licks her finger anyways, theatrically, while Laurie grimaces.
"That's disgusting."
"What's disgusting is someone did whippets and left me with a full can of flat cream."
Laurie looks back at her screen to avoid eye contact.
Nessa says, again, "Someone did whippets. And now all I've got is flaccid, flaccid cream."
"Gross," Laurie says to her laptop.
They both know who did it.
"Did you do whippets?" Nessa says.
"I don't even know what those are," Laurie mutters to her screen. Nessa knows, of course, that Laurie doesn't know what whippets are. Laurie may as well be straight-edge.
But Nessa leans in for the kill. "Your little friend in your bed should, because this is some white-boy shit."
Nessa knew the cream was bad before she even pulled the can out — she had tried to eat some earlier this morning, at about 4 a.m., when she couldn't sleep, and softly swore at the mess. She promised herself she would make a scene about it, if given the chance.
Laurie is Nessa's second cousin. Nessa's mother spoke often and rapturously about her good cousins, the ones from Albany, the ones who knew about money and bought two McDonald's franchises in 1979 and were millionaires by 1985. Nessa had gone up there to visit — always in summer. Laurie's parents would pay for Nessa to go to camp with her, so that Laurie wouldn't be the only Black girl. Even back then, Nessa knew Laurie for what she was — it was evident when she spent her first day of camp silently weeping large, heavy tears as the white girls tried to start shit, instead of slapping them back, which Nessa eventually did and then was promptly sent home to Baltimore. But Nessa had trusted Laurie would grow out of it. Who ever heard of a grown woman who still didn't know how to fight? When Laurie approached Nessa about helping her find a place to live in Brooklyn, they were both closer to forty than girlhood. Laurie was getting over a breakup, had decided to throw over Albany for good, and Nessa had just lost her seventh roommate in six months, so she told her cousin to come and live with her.
She had not told Laurie what the apartment was like until Laurie stood on the stoop, her officious little rolling suitcase behind her. "So the thing is," Nessa said, her voice bright — she always made it bright when she explained it to people — "you have to use your imagination with this place."
Nessa had moved in at the end of the last century. It is the first and only place she has ever lived in New York. When she came to the city, it was with $1,500 her mom's church group raised to pay for her first semester in pre-nursing classes at Marymount. But she had done the calculations — $1,500 was the cost of her first course, but it was also first and last months' rent and security on a room in Brooklyn — and she had not looked back. Nursing school had only been a cover for leaving Baltimore anyways. Once in the city, she had not felt an ounce of shame for taking the room over her education and she had hid it from her mother for six weeks before she gave up, bored at maintaining the subterfuge.
"You're not gonna like it, but I'll pay you back."
It had taken her three years, but she'd done it. Meanwhile the room she rented in the apartment became her domain. She'd found it through an ad in the back of The Village Voice. A neurotic, older white gay man had it first. He was an assistant to a fancy executive in Manhattan. "But I used to teach poetry to inner-city kids," he'd said when Nessa came to tour the apartment, and then looked at her expectantly.
Despite all that, Nessa chose to live with him because she knew he had no connection — through church, work, or a friend of a friend — with anyone in Baltimore her mother might know. That first roommate had appointed himself a kind of warden of the block — he woke up early every morning to collect the syringes and vials and condom wrappers from the street, which he stored in a Pyrex bowl atop the refrigerator. "Evidence," he'd explained to a disgusted Nessa, though he never specified evidence of what. Mercifully, he left the apartment after he caught crabs, so he claimed, from the dryer at the laundromat on the corner. "This neighborhood's so fucking ghetto," he'd said in his parting shot, but Nessa, with the curious luck necessary to survive New York, had the last laugh, because within three years the overpriced deli had opened and then the juice bar and finally the coffee shop and two restaurants that didn't have a takeout counter protected by bulletproof glass.
Over that time of transformation, Nessa had tricked out the apartment to look like her dreams — all bright screaming pinks and yellows, with Victorian velvet divans from the Salvation Army pushed together in the common room, and a rattan peacock chair she found outside a funeral home just after it was converted into a Pilates studio.
She could never afford this neighborhood now, even with a roommate. But the owner of her brownstone had stopped doing repairs sometime shortly after September 11, in exchange for never raising the rent. Nessa pays $650 a month for her share in a two-bedroom apartment in a neighborhood where homes sell for $3 million. But the water inside comes out of the faucets scalding hot for a full minute before regulating to a normal temperature; there is a soggy section of ceiling underneath the hammered tin, and her bedroom window never closes completely, even in the dead of winter. Her radiator is always on, no matter the season. Nessa has grown accustomed to avoiding stepping on the rotten tiles around the toilet bowl, but her other roommates never did. Laurie is the first one in years who has stayed for longer than two months.
Now Nessa licks each of her other fingers, enjoying Laurie's discomfort. She would do this for longer, except Laurie's bedroom door opens and out stumbles the white boy — his hair in messy peaks, smelling of stale cotton and Old Spice deodorant.
The white boy, perhaps, is a clue why someone like Laurie is able to tolerate this apartment and Nessa for so long. He started showing up shortly after New Year's and then, when the pandemic hit, he came one night and has never left. Laurie has whispered to Nessa that she does not like him here, that she wishes he would go home, but she seems incapable of saying as much to his face.
Now Nessa says, "Why are you here?" and the white boy only chuckles, as if it is an old joke between the two of them. "Hey Nessa," he says, and then he leans into the fridge himself, unbothered by how close he is to her. He grabs the yogurt and drinks it straight from the bottle. He does not have the decency to look scandalized or embarrassed or even lustful about her nipples, he just chuckles at them too, as if they are in on the joke, and this infuriates Nessa.
Nessa does not understand this relationship. She could get it if Laurie was keeping him here for sex, but they aren't having any during the pandemic. Nessa knows this, as she's held a glass against Laurie's bedroom door at night and heard only the boyfriend's deep, blissful snores and Laurie's furious typing. They do not use the shower at the same time and there's no evidence of condoms — either the tied-off discarded skins or the garish crumpled wrappers — in the trash, so Nessa has come to think of Laurie and the white boy as pandas, too scared and sad and precious to fuck.
If Nessa is being honest with herself, this is why she resents the two of them so much. If she had someone in her bed right now — even someone as feckless as a 36-year-old white boy in Harry Potter pajama bottoms — she would screw them until they couldn't stand up straight. She hasn't slept with anyone since the pandemic began — one of the few dry spells of her life, unfortunately coinciding with the city's decline. Usually she has her sweeties, a rotating list — some she's known for years, some she knows only briefly — but since the pandemic they are unreachable. Georgina, the gorgeous Creole boomer painter she's known since the early '00s, decamped to her sister's house in New Orleans; Carl, the guy half a decade younger than Nessa who she met on a park bench, has decided to brave the pandemic with a serious girlfriend and no longer answers Nessa's texts; and Frankie, a very pretty Pratt student, has decided to be celibate until a cure is found. "I think if we dedicate our libidinous energies toward healing the planet, we'll win," she'd texted. To which Nessa replied, "Idc bout dis hoe ass planet pussy please," and then taken it for granted that Frankie blocked her.
Nessa has spent the past three months masturbating before bed — sometimes languidly, sometimes with a frenzy befitting the end of the world. But, most disturbingly, in the last week she hasn't had the heart to do it at all. So when an email appeared in her inbox with the subject line "ORGY," she knew she would go. She did not care anymore.
"What you are doing is really not cool," Laurie says to Nessa now, and the white boy puts down the bottle of yogurt and looks between the two of them. Nessa can smell the yeasty sourness on his breath and it is all she can do not to tackle him to the grimy kitchen tiles, pin down his flabby arms, pry open his lips with her tongue, and lick the scent off his teeth.
"It will be worse for all of us if I don't go," she says.
"What's going on?" he breathes.
Laurie rolls her eyes. "Nessa's gonna go party."
"Whoa, not cool, Nessa."
She ignores him and narrows her eyes at Laurie. "I am taking every precaution," she says. "I will strip off all my clothes the minute I walk in our front door and shower three times and disinfect the doorknob and take a COVID test on Monday. I'm going to this party."
Laurie opens her mouth to object again, and Nessa feels the flare-up of helpless rage and she flees the room, grabbing her nylon spring jacket off the peg by the door, shrugging it over her shoulders, and zipping it up to her chin. Then she's down the wide staircase and into the gloom of the common foyer.
The rest of "Orgy" will be released as a Scribd Original on July 23.
From the forthcoming Scribd Original "Orgy." Copyright 2021 © Kaitlyn Greenidge. Posted with permission from Scribd, LLC.
Scribd offers a 30-day free trial, after which a monthly subscription costs $9.99.
Every product is independently selected by our editors. Things you buy through our links may earn us a commission.