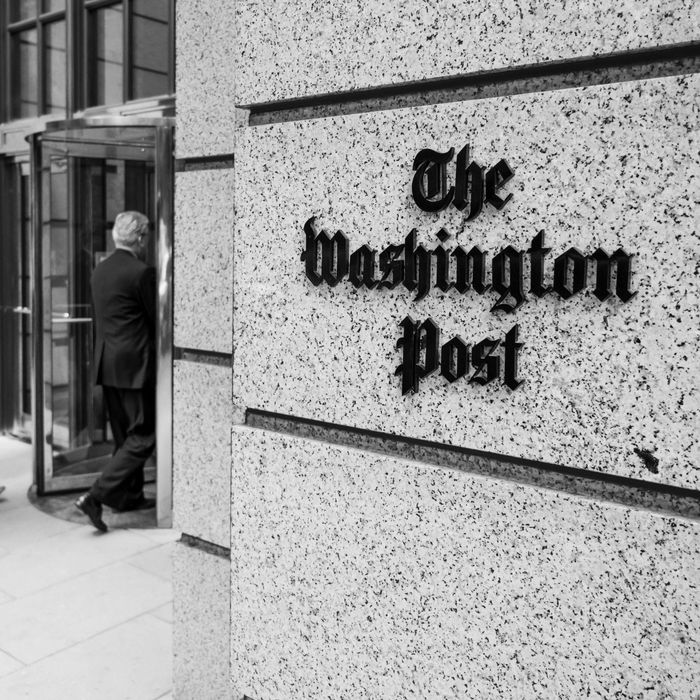 The Washington
Post
Photo: ERIC BARADAT/AFP via Getty Images
Washington Post reporter Felicia Sonmez is suing the paper for discrimination, alleging that its former executive editor, Marty Baron, and other newsroom leaders deliberately sidelined her from covering sexual misconduct after she went public with her own experience of assault. According to the lawsuit, the Post "denied [Sonmez] the opportunity to cover many stories that were newsworthy and received widespread attention that would have led to further exposure and career advancement," while simultaneously opening the door to "economic loss, humiliation, embarrassment, [and] mental and emotional distress."
In 2018, Sonmez went public with sexual-assault allegations against former Los Angeles Times journalist Jon Kaiman, saying that he digitally and "sexually" penetrated her in Beijing the year before, when she was too drunk to consent. Another woman had made similar allegations against Kaiman that year, and while Kaiman denied all of it, he also resigned from the Times amid an investigation.
Sonmez, meanwhile, started at the Post that June, breaking political news; according to the lawsuit, her new employer reviewed a public statement on her alleged assault, which she released in September. But that same month, after Christine Blasey Ford's allegations against Brett Kavanaugh broke, Sonmez says her bosses removed her from the coverage plan, explaining that her allegations against Kaiman were "too similar" to Blasey Ford's against Kavanaugh. According to the lawsuit, her editors also cited her "initial reaction" when the news broke — she found it "difficult to read" and "went for a walk around the block to collect herself" — as evidence that she wouldn't be able to remain objective in her reporting. Though Sonmez says she became aware of a male colleague who faced sexual-misconduct allegations of his own, the lawsuit argues that he was never "banned from covering stories related to sexual misconduct or inappropriate behavior by men"; indeed, he apparently wrote "more than a dozen" of them. But Sonmez was reportedly told that, because she had positioned herself as an "activist," she had created a conflict of interest.
According to the lawsuit, the Post lifted its ban in November 2018 — only to reinstate it in August 2019, when an article questioning Sonmez's account triggered a wave of harassment online. Her public request for a correction, Sonmez says, prompted her editors to take her off even Me Too–adjacent stories, and to warn her that "reporters should make every effort to remain in the audience, to be the stagehand rather than the star, to report the news, not to make the news." The lawsuit interprets that alleged statement as disciplining Sonmez "for making herself the 'star' of her own sexual assault."
And in 2020, the lawsuit says, Sonmez found herself suspended after tweeting an article on the rape allegations against Kobe Bryant. The suspension lifted under public pressure from the Post union and other employees; still, another ban allegedly fell into place earlier this year, and only dissolved when other outlets started reporting on it. Meanwhile, Sonmez believes the back-and-forth soured relations with her employers, and created a hostile work environment.
As a result of all this, Sonmez says she has developed depression and "intense anxiety," and lost out on career opportunities. She is asking as-yet-undetermined damages, and a jury trial. Reps for the paper had no comment.