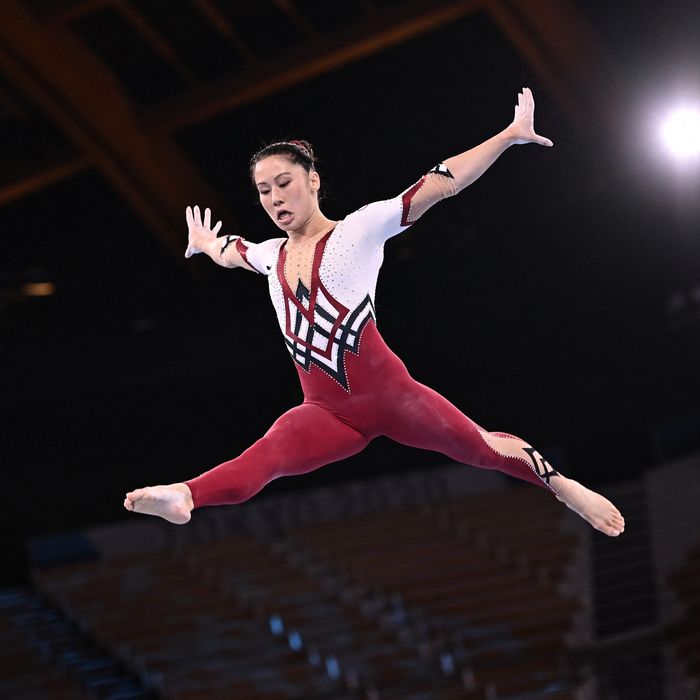 A German gymnast in a long leotard.
Photo: Lionel Bonaventure/AFP via Getty Images
This is the first and last time I am likely to say this, but: Good for the International Gymnastics Federation, which — unlike so many athletic authorities represented at the Olympics this year — is opting not to pursue sexist, archaic policy just for the hell of it. In contrast to *some* global sports federations (cough, the International Handball Federation, cough) you might know, the IGF is perfectly fine with women gymnasts opting for less-revealing uniforms. See: the German women's gymnastics team, competing in full-body unitards at the Olympics and not facing any fines for it. Incredible precedent, no?
The team first wore its unitards in April at the European championships, with the German Gymnastics Federation describing the outfitting choice as a "statement against sexualization" that allowed competitors to "present themselves aesthetically, without feeling uncomfortable." Typically, women's teams wear bikini-cut leotards, but the German design — which covers the arms and legs, more like the uniforms worn by men's teams — is "about what feels comfortable," German gymnast Elisabeth Seitz told CNN. "We wanted to show that every woman, everybody, should decide what to wear." Going forward, the team will decide which style to wear "day by day, based on how we feel and what we want."
What's more, the IGF allows athletes that flexibility, giving sleeves and leg coverage the okay as long as everything matches. Its attitude stands in contrast to, say, the International Handball Federation, which recently fined the Norwegian women's beach team for competing in sports bras and tiny little shorts, rather than the federation's preferred bikini bottoms. Meanwhile, no one is making the men wear crop tops and Speedos, a discrepancy that feels gendered and also unfair on multiple levels. Plus, as one Norwegian player pointed out, making skimpy little outfits the bar for entry stands to alienate would-be players who don't want to show that much skin.
Particularly in a sport like gymnastics, which has lately been held to account for sexual and physical abuse long inflicted upon athletes (many of them young girls), deference to participants' comfort feels overdue. At the Olympics, gymnasts outside the German team seem appreciative of the styling choice. "I think it's really cool that they have the guts to stand on such a huge arena and show girls from all over the world that you can wear whatever you want," Norwegian gymnast Julie Erichsen told Reuters. "I applaud them for that."