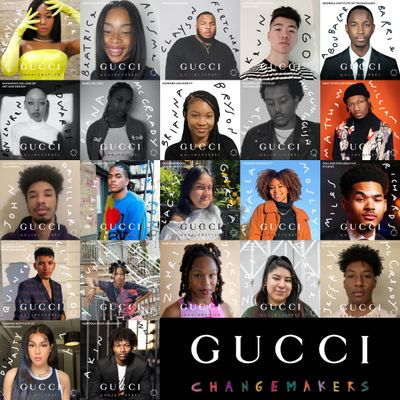 This morning, Gucci announced its 2021 class of Changemakers North America Scholars. The initiative, announced in 2019, is one in a three-pronged program committed to fostering diversity and inclusion within the company and beyond.
The brand hopes to use the Changemakers Scholarship Fund to create positive change within the fashion industry by supporting the next generation of creatives, all of whom are currently pursuing various careers within fashion at community colleges, undergraduate colleges, and universities. This year's 22 diverse recipients will receive an academic scholarship for up to $20,000, in addition to mentorship and virtual internship opportunities through Gucci America.
"We are honored to announce the selection of these talented and creative students from all backgrounds and regions in North America," said Antoine Phillips, vice-president of brand and culture engagement, in a press release. "Their diverse points of views embody the future of not only fashion, but creative industries as a whole."
Miles Richards, a sophomore at Detroit's College for Creative Studies and one of this year's recipients, said that after being granted the scholarship, he found an "unbelievable amount of stress" taken off his shoulders. "Without a shadow of a doubt, the program provided me with the creative freedom to express myself without the burden of tuition during my first year as an art major," Richards said in a statement.
Below, the 2021 class of Changemakers North America Scholars:
● Aboubacar Barrie, sophomore, Georgia Institute of Technology
● Akin White, freshman, Norfolk State University
● Ar'Myiah Lee, freshman, Parsons School of Design
● Beatrice Alisme, sophomore, Miami Dade College
● Brianna Bryson, freshman, Howard University
● Clayson Fletcher, junior, Humber College
● Diana McCready, junior, Bard College
● Dinasty Ly, senior, Fashion Institute of Technology
● Elijah Huggins-English, sophomore, Fashion Institute of Technology
● Jeffrey McCready, sophomore, Rhode Island School of Design
● John Davillier, freshman, University of Southern California
● Keith Herron, junior, Fordham University
● Kevin Ngo, freshman, City College of San Francisco
● Lacey Garza, freshman, Kingsborough Community College
● Matthew Williams, sophomore, Kent State University
● Mikaela Mosley, senior, Howard University
● Miles Richards, sophomore, College for Creative Studies
● Quinten Clifford, freshman, Fashion Institute of Design and Merchandising
● Yetunde Sapp, junior, Parsons School of Design
● Zahri Jackson, senior, New York University
● Zuri Duarte, junior, The University of California — Los Angeles