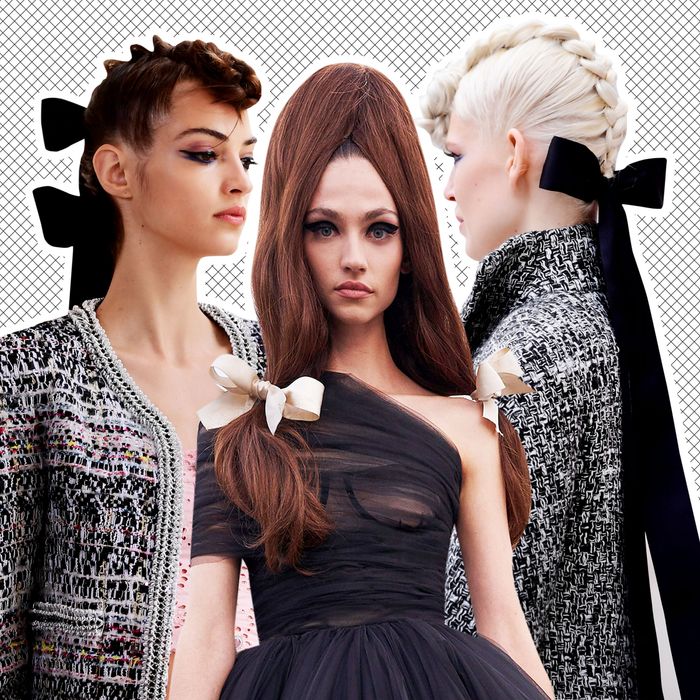 Bows on bows at Haute Couture fall/winter 2021.
Photo-Illustration: by The Cut; Photos: Getty Images, Courtesy of Giambattisti Valli
Remember when everyone was wearing infantilizing hair accessories in their hair for the entire year before Hell Year descended upon us all? No worries if not! Over in Paris, the Couture fall/winter 2021 runways served up a nice hair-decoration refresher that may make you want to dust off your ribbons and practice tying them around all your hairstyles again.
Chanel, preeminent promoter of the hair ribbon, once again showcased its classic black strips, but this time, they were all supersized and elongated to butt length. The resulting thick bows with wedding-veil-worthy tails were stacked to accent the messy French braids hairstylist Damien Boissinot fashioned into rock-and-roll faux-hawks, a pairing that made the bows look a little less twee than usual.
Though the look is high-fashion, there are practical uses, too. If you want to practice sun safety while exuding grown-up Madeline vibes, try tying your butt-length bow beneath a wide-brimmed hat, like above. If you want to promote continued social distancing in an equally stylish way, take a cue from Margaret Qualley and wear the braided-bow look atop a balcony where you can catch a good, cinematic breeze.
At Giambattista Valli, it was the hair itself that got supersized. Odile Gilbert created gravity-defying, unbelievably bouffant-ed pigtails that were impressively close to God. The stylist then accented the pair of tails with thick, cream-white bows that amped up the sweetness factor and removed any need for neck jewelry.
If you've misplaced all your ribbons or simply cannot choose between shades of Chanel black and Valli white at this time, Gilbert created another fun bow-centric look that was reminiscent of the very important beauty lesson Lady Gaga teaches us once every ten years: Sometimes the best hair bow is just hair itself.