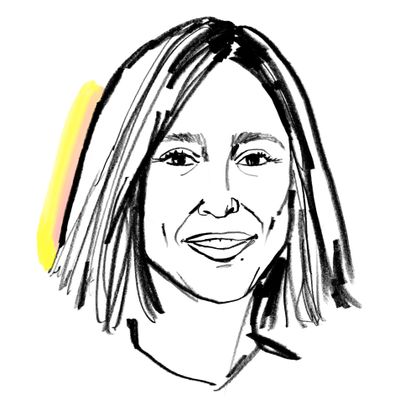 Illustration: Lauren Tamaki
Catherine St-Laurent is a philanthropic and strategic communications adviser who has worked with everyone from Meghan Markle and Prince Harry to Melinda and Bill Gates. She recently transitioned to serve as a senior adviser to the Archewell Foundation, the Duke and Duchess of Sussex's charitable organization, and formerly worked as the chief of staff for the duo. In April 2021, St-Laurent launched Acora Partners, a boutique philanthropic advising and social-impact consulting firm (working with individuals, families, not-for-profits, and corporations on giving back) with her business partner, Rebecca Goldman. She's also an advisory board member of The Helm, a venture firm supporting investments in female-founded start-ups. She is 40 and currently lives in Seattle with her husband and two kids, and is planning to relocate to New York City later this summer. Here's how she gets it done.
On a typical work from home day:
I'm a morning person, so I'm up at 5:30. I try to get a workout in before my kids are up, which is also quite early — my youngest is usually up by 6:00 a.m. I always have coffee in the morning, without fail. I have a stovetop espresso maker that I think technically makes six shots of espresso. I do a quick check of emails and phone for anything time sensitive or urgent. Then there's the chaotic prep that is morning time with a 2-year-old and a 5-year-old, getting lunches ready and breakfasts and nudging them into clothes to go to school. We've been really lucky because they've been in day care through most of [the pandemic]. So once they're off, I usually start my day by 8:30 a.m. I've been working from home, doing my best to stand up and sit down rather than lay around.
On parenting during a pandemic:
My kids come home around 5 p.m., and I try to really focus on them when they do. That was something I think helped a lot during the pandemic, because I think everybody felt isolated. It wasn't always possible, to just really give them my full attention and meet them where they are, which is a bit of a silly space, oftentimes on the floor. They're young, so [that 1:1 time] was just a really nice way to disconnect at the end of the day and just make them feel really grounded and really feel our presence in all of this.
On empowering other women:
We know that women are really talented leaders. It's not like there's a lack of data [proving it]. We know that they can be incredibly strategic investors. We know that they are very diligent in how they invest both philanthropically and in for-profit companies. And this is where the kind work I've been doing with The Helm has been interesting, because at the end of the day it's about helping advise philanthropists or female-founded companies on how to drive social impact and how to achieve that kind of change, and really embrace bold leadership in that space and be advocates and be strategic investors in social impact … the same ethos applies to women as investors. Women are, at the moment, receiving less than 3 percent of venture-capital funds. Women of color are getting less than one percent. So having more women investing and giving in ways that align with their values can advance change and build companies for the future. My hope is that with the company that we're building, I can move that forward. One of the things that was really interesting in working with Melinda Gates for so long, is that she had an alignment she often referred to that "we've all got a part to play." And my hope is that with the things that I'm doing, that I advance that agenda, that more women will step into their power as well.
Her advice for first-time investors and philanthropists: 
Find a community, find a place to learn, find a place to test the waters and get comfortable, because neither investing nor philanthropy is necessarily obvious. Some of it might be intuitive, but it's not necessarily obvious to people who've never been in it. So I think finding a community and finding places where you can join a group and learn from others, is really important. Some networks exist out there, but this isn't a zero sum game. I mean, there's so much potential, so many more resources to be built, so many more communities to be developed. Women represent half the population, there's room for more [communities], we should be building more [networks] to be able to meet their needs and activate them and harness the knowledge and the wealth that they have.
On working with Meghan and Harry:
It was an incredible experience. They are incredibly talented and creative leaders. I'm grateful to have had the opportunity to do that, to be able to be with them on their journey. The time that I spent with them was incredibly fulfilling. I think they have the potential to be very influential leaders in the social-impact space. I look forward to continuing to be a part of that.
On managing multiple projects at once:
I'm a compulsive user of Post-its, for one. I have them everywhere. I pair that with a notebook and then I write everything down. I keep a list of progress. I maintain regular communication on all projects. I also try to prioritize. Sometimes there are things that need to be done right now, and there are things that can take a little bit longer. There's an evaluation and a bit of a trade-off that you have to make. Also, just not getting caught up in an inbox. I could answer and send emails all day. I try to be really disciplined about protecting time to do more focused work and advance certain projects.
On staying calm:
[I use] breathing exercises. Meditation. I think sometimes just doing five, or ten minutes of meditation or  taking a walk outside, just disconnecting, is  what's most effective for me. The nice thing that we do from time to time is sneak out, my husband and I, and we try to do an early happy hour. It is a nice way to unwind at the end of the day or at the end of a long week. We get an hour or 90 minutes or so to ourselves somewhere, and have a good cocktail. I've gotten really into mezcal cocktails.