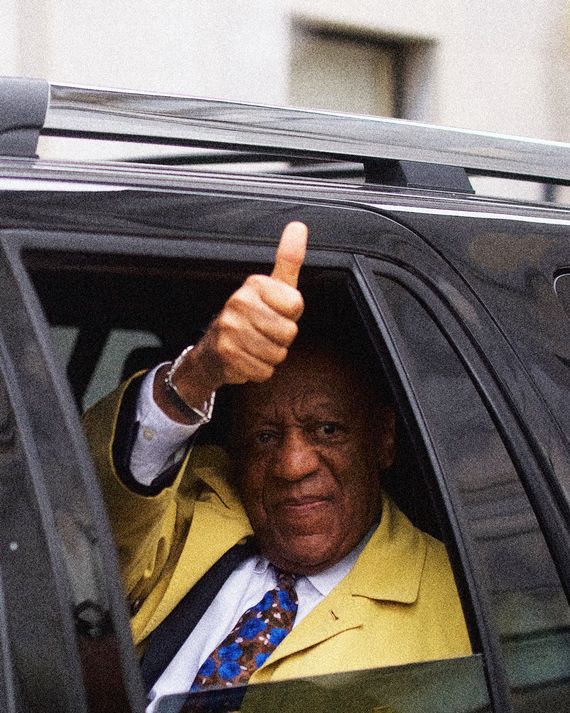 Photo: Mark Makela/Getty Images
This Wednesday, I watched on TV as Bill Cosby got out of his car in front of his home, a free man after spending only three years of his three-to-ten-year sentence behind bars. His release came hours after the Pennsylvania Supreme Court overturned his 2018 conviction for aggravated indecent assault, due to procedural loopholes and prosecutorial incompetence. As he walked into his home, Cosby flashed a peace sign to the cameras, as if to say everything was okay — it's time for us to all move on from that terrible time when women everywhere just couldn't keep their mouths shut.
Four years ago, prompted by the allegations against film mogul Harvey Weinstein, Tarana Burke's Me Too movement stepped onto center stage, as millions of women across the world began to share stories of sexual assault and abuse. It felt like a new era was on the horizon. We watched as, one by one, the titans of Tinseltown began to fall from grace: Matt Lauer was fired for allegations of sexual assault and harassment in the workplace, then Kevin Spacey was let go from his TV show, following allegations of statutory rape.
At the same time, women in the entertainment business and other industries were quietly meeting up to take matters into our own hands. From those gatherings, Time's Up was born. The organization aimed to stop workplace harassment and inequality across every industry, not just symbolically, but through the Time's Up Legal Defense Fund, which came out of the gate with an investment of nearly $15 million. As Janelle Monáe said at the time, "We come in peace, but we do mean business."
Almost as if on cue, the world began to whisper that perhaps this reckoning was going a bit too far. There were public debates over which punishment fit which crime, and hesitant watercooler conversations on whether we really thought Louis C.K. deserved to be "canceled" like that. Woody Allen spooked industry insiders by calling the movement a "witch hunt," chalking up stories of women's assault, erasure, and silencing to a hysterical mob mentality. Even the newspapers that had once salivated over every breaking story of a woman's trauma were now jumping on the trepidation bandwagon.
But in light of this week's ruling, one thing has become very clear: We haven't gone far enough.
Cosby was accused of drugging and raping more than 60 women over the past several decades, and has admitted, under oath, to having given women quaaludes in an attempt to have sex with them. Many of those women were never able to seek justice because of the statutes of limitations to bring charges had run out — limitations created by our legal system. Cosby was finally indicted in 2015, but was released this week after the state Supreme Court ruled his due process rights were "violated."
Cosby's sexual-assault conviction was overturned due to a prosecutorial fuckup — a previously arranged non-prosecution agreement between Cosby and a former DA that came back to bite them in the ass. This seriously botched, extremely high-profile case is a reminder that even the most horrific crimes against women are still an afterthought in our criminal-justice system. Four years into the Me Too movement, we still need radical and systemic change for women who choose to come forward. We need women to be believed, not just in public, but in our courts, and we need people assigned to fight for them to do better.
Despite the argument by some that the Me Too movement has gone "too far," it's evident that we still don't view justice for crimes against women as just as important as any other violent crime. The truth is, we haven't even come close to going far enough. Far enough looks like a massive legal and legislative policy overhaul that will ensure these kinds of egregious judicial errors are no longer shrugged off. It looks like changing the statute of limitations so that any person can report sexual assault without a ticking clock that tells them there's a limit to their truth. It looks like pushing laws that support survivors, like the Adult Survivors Act, which made it through the New York State Senate this year but stalled in the Assembly and has yet to become law. We need a victim-centered criminal process, and we need our representatives to care about this large, pervasive problem that plagues our culture and its legal system.
The dissonance between the biggest headline stories of the week were another revealing reminder of who our legal system serves. Just a few hours after Cosby was released from prison, a judge denied Britney Spears's latest request to remove her father from her conservatorship despite her recent testimony, in which she described the legal arrangement that allows her father to control her career, body, and finances as "abusive." Legal experts predict that Britney won't get out of the conservatorship that controls her every move — and, according to her testimony, has prevented her from having a baby — anytime soon. In other words: Cosby is now free because of a technicality, while Britney's still shackled to an IUD. Women know these struggles firsthand, and we must continue to fight for justice — and for our right to justice to be taken seriously. Because the problem isn't that Bill Cosby is free. It's that women — until they're valued equally in the eyes of the law — can't be.