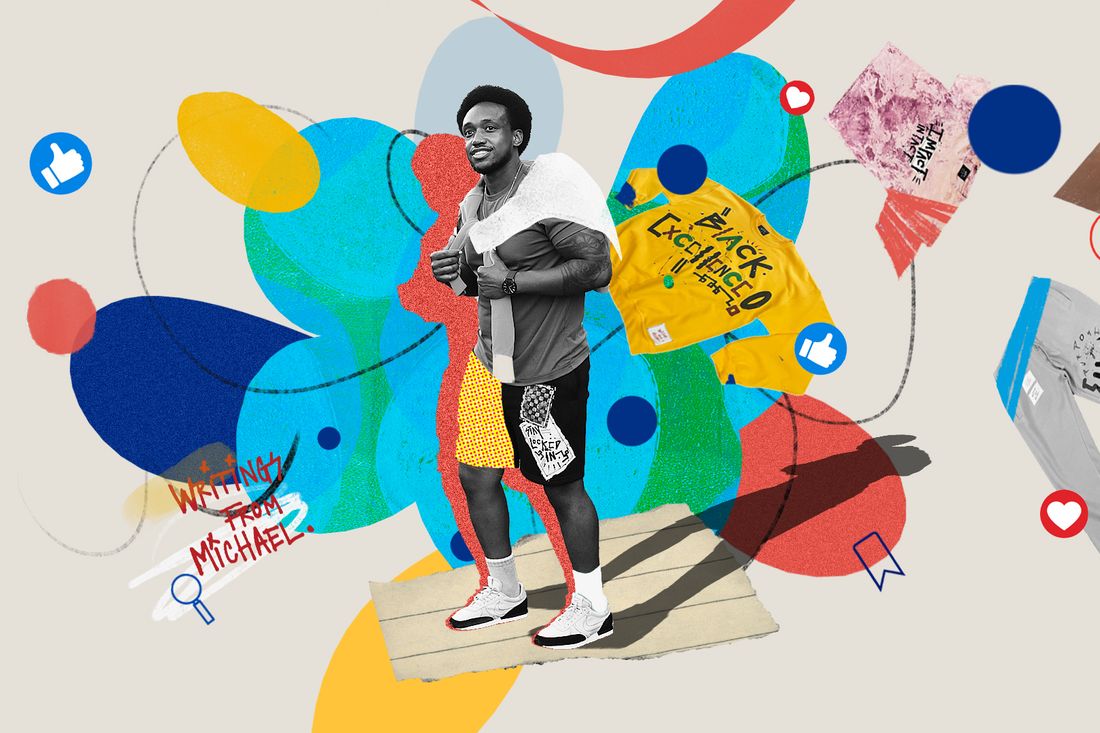 Illustration: Selman Hoşgör Photo: Courtesy of Talent, Michael G. Simpson of Writings From Michael
I recently realized the tight grip social media had on me, and my wallet, at 2 a.m. as I caught myself hitting the Pay Now button on a vintage tennis dress and a psychedelic-print mesh shirt I saw someone sporting on my TikTok "For You" page.
A couple of days later, as I was cleaning my room and reorganizing my closet for summer, I noticed how many of my purchases from the past year have been influenced by the trends, brands, and styles I had discovered on Instagram and TikTok. A lime green cropped sweater vest draped off a hanger next to a strawberry-printed dress Kelsey Kotzur inspired me to buy, and black western boots I first saw on Nana Agyemang were lined up next to my go-to sneakers and platform loafers on my closet floor. Resting in a small dish on my dresser sat a '90s-inspired beaded necklace I discovered watching Tefi Pessoa's videos on TikTok. It became apparent that the wardrobe I thought I had hand-picked for myself had almost subliminally been hand-picked for me.
Surprised both by how easily I was marketed to and how swiftly I gave into my desires as a consumer (my wallet was a bit startled, too), I had to admit: social media has changed how we shop, and how retailers reach and sell to customers.
Instagram, with its in-app purchase option and shopping page, gives users not only a curated selection of goods, but also an effortless way to shop. The app's algorithms function almost as personal stylists, with the people we follow (and the posts we like) guiding a virtual moodboard. But the true trendsetter of apps might be TikTok: What was once known as a platform where teens learned viral dances, TikTok is now a powerhouse for creatives and small businesses. Its impact on the retail industry is undeniable, specifically its influence on fashion fads.
Social media has an overarching, trendsetting power. Its increased accessibility for retail — customized and targeted product feeds, an all-in-one platform on Instagram, an increased advertising reach, and the ability to browse and buy without leaving the app — has made it easier than ever to fill an online cart.
We spoke to three retailers to explore how social media has played a part in their success, and also how it has impacted their marketing strategies, brand visibility, and businesses at large.
Launching a brand with Instagram
Candice Golden, owner of the vintage clothing brand Golden Bird Boutique, says when she first started her business, she didn't really know how to begin building a social media strategy. "I knew there were probably a lot of people out in the world that would connect with my style and vision — I just didn't know how to reach them or how they'd find me or I'd find them," she says. "So I used Instagram to find my community."
Inspired by a childhood love of going to thrift stores and yard sales with her mother, Golden started the online boutique in 2015 from her Baltimore home. "It all started with a mannequin," she tells me. "I started to put some of my finds on it, began shooting the pieces when the lighting was just right, and put them on Instagram. I just threw it out there to see what other people thought of my finds, and people were interested." Golden finds, and often reworks, every item she sells online.
"Aside from selling vintage clothing and jewelry and keeping these timeless treasures out of landfills across the US, I like to think my business is also impactful in other ways," Golden says. "Not only do I run a small business, but a small Black-woman-owned business. I want to be a part of the change to help diversify the vintage reselling niche because you don't see as many people that look like me that get acknowledged."
Now, six years later, Golden Bird Boutique has nearly 50,000 followers on Instagram.
"When I first started [to sell online], I had no clue where to begin," Golden says. "I was literally just throwing stuff against the wall. Then I noticed certain times where I would get more engagement, and I started to pay attention to that." Although she utilizes Instagram's business analytics for her social strategy and engagement, she believes her authenticity, aesthetic, and visual storytelling is what draws her customers in and keeps them coming back. The boutique's account, managed by Golden herself, is filled with images and videos of her vintage clothing and accessories, as well as design inspiration (such as textures, architecture, and nature).
"I like for my page to be aesthetically pleasing," she says. "So, I post content [of for-sale items] in threes and then two filler [images]." And with a background in photography and videography, Golden doesn't outsource any of her clothing shoots, which helps build originality. "It's easier to connect when you feel something," Golden says. "We stay true to what feels right to us, and people can feel that."
The followers she gained on Instagram helped her grow her business quickly, and soon, she began bolstering her e-commerce platform. In 2020, Instagram launched the Shop page, which gave users the opportunity to purchase from Golden Bird's site without actually leaving the app. Golden can't say for certain that the feature directly increased her revenue, but says the growth—including engagement, followers, and sales—over the past year has been shocking. And while navigating that kind of rapid growth could be overwhelming, she attributes the surprising ease of it all to using a financial platform she trusts: PayPal.
"When I was first starting out [selling on the website], trying to figure out the best ways to accept payments from customers and fulfill the shipments, I found PayPal," she says. "I started using it for invoicing and saw how simplified everything was. It was straightforward, easy, and has been my solution ever since." Golden found it wasn't just benefitting her to use PayPal, but her customers as well. "It's fast, it's reliable, it's trustworthy," she says. "When people see that PayPal logo, that badge, they know they're [secure]."
Leveraging social media as a free, organic advertising platform
Michael G. Simpson is an artist and poet who's always wanted to share his work with a wider audience. Once he started his LA-based vintage rework brand, Writings From Michael, his garments quickly took off. Social media, and his genuine and open approach to it, played a large role in his success.
"I'm an artist, so I always felt it was better to double-down on the free stuff, something organic, which is a little more tangible for someone who's watching," Simpson says. "It's not just ad-like or scripted. It's raw, authentic, and people can connect to that transparency."
Simpson has built an Instagram presence with more than 17,000 followers, and even more — 72,000 — follow his brand on TikTok. He's managed to keep his social strategy real and original, leveraging different platforms for different kinds of content. "When I first started, I had a hard time trying to make content," he says. "I was overthinking what content really even meant." Simpson soon realized though that content itself — the words he writes — has always been his process. So, he decided to document it.
He recognized that the way each platform functions creates opportunities for diverse content streams. The long-form nature of YouTube creates a perfect space for an interview-based show, where he meets and chats with customers; Instagram functions as a natural photo gallery of his works and artistic inspirations for his designs; and TikTok's short-burst videos are perfect for showing his creative process and how a piece is made, start-to-finish.
"When you show the process, how things are made, and even who's aligned with your business…that helps other people to identify with it," he says. And Simpson is the one painting, sewing, and creating everything sold, so highlighting that on the brand's social channels felt natural. "I definitely think social media has changed the way I create," he says. "And the [free nature of social media] is amazing because the barrier to entry is $0. There's no cost to put things on your [channels]. This is literally, to me, the best time to be a creative and an entrepreneur."
Using social media as organic advertising, as well as staying involved in the community around him, is an important balance. Small businesses are constantly surrounded by potential content opportunities. Everyday occurrences, like a customer wearing your clothing, is social media gold. For Simpson, it not only works well as an advertisement, but also serves as a connection between his online presence and in-person fans-turned-friends.
"When you put things out there and people grasp for it and find alignment, synergy happens and you're able to create together," he says. It's why he's hesitant to call his customers "customers," noting: "It makes for a beautiful WFM [Writings From Michael] Fam, a family."
Using Instagram to connect with customers
Inspired by her travels, specifically to the French Riviera and Amalfi Coast, Lucy Akin created her sustainably sourced and locally made clothing brand, Ciao Lucia, in 2017. She was burnt out from her job running an LA-based boutique, Shop Super Street (which closed in 2019), and wanted to lean into a hobby: dress design. Having always made dresses in her free time for fun, she decided to make six styles over the course of a single weekend. The samples, though fairly bare-bones (lacking tags or care labels), sold out immediately in the store.
Given the popularity of Shop Super Street and the name she had made for herself in the boutique-clothing world, a reporter from a major publication caught wind of the success of these samples and asked Akin for an interview. She said yes, but with one caveat: She needed just a little bit of time to create a tangible business model. Roughly six months after that initial sellout, she launched Ciao Lucia's website, the article was published, and the business continued to grow.
"The pieces are supposed to feel good and make you feel sexy," Akin says. "We strive to create designs that aren't ever going to fit in a way where you might judge the way you look, or not have the best feeling about putting it on."
Now, four years later, the brand's Instagram has nearly 60,000 followers and a strong customer base. Running Ciao Lucia's social media herself, Akin's strategy revolves around establishing real connections with the brand's customers. Akin says she uses it as a direct line to them: a way to actually connect with the people who love Ciao Lucia. It's especially important as an online-only brand without a brick-and-mortar shop to build an IRL fanbase. "We have a lot of fun customers posting their style and I love, love, love to support and feature that," she says.
The rest of the Ciao Luca Instagram page is a mix of their own branded content — photoshoots on location to help sell the story of each collection — with more of the brand's inspiration. "I kind of view [social media] as a store," Akin says. "You have the customers who don't want to be bothered while they're shopping, and then you have the customers who need a lot of attention while they're shopping. And it's about finding that balance of how promotional you want to be, or how in-your-face with someone you want to be. It's attracting all types of customers and working with them in the way they purchase."
Being an online retailer that uses both a stand-alone website and social media as revenue streams, building trust with customers is vital to the brand's success. And though trust is often built by connections, it's also found in financial security. When you're selling in various places, people want to make sure that their purchases are authentic and safe, regardless of the platform where they're bought. By offering PayPal as a main source of payment, both Ciao Lucia and its customers have secure checkouts, which can further strengthen that trust.
"As a customer, it's the easiest thing ever, because you don't need to give out your credit card information or your shipping address. It's all done," she says. Building trust between merchants and customers is even more important now, Akin says: People have been shopping more online and via social media since the pandemic, some even doing so for the first time.
Akin has definitely noticed the "Instagram brands," the ones using all the tools that social media platforms have to offer. "When I had my store, Instagram wasn't my best place to find cool brands," she says. But now, anybody can launch a collection "and if you are really good at social media, and if you have original, cool content that people react to, you can build a brand that way."
As for myself (and the rest of us perusing that Shop tab), I look forward to discovering which next thing I'll add to my closet — just hopefully not at 2 a.m.
This advertising content was produced in collaboration between Vox Creative and our sponsor, without involvement from Vox Media editorial staff.