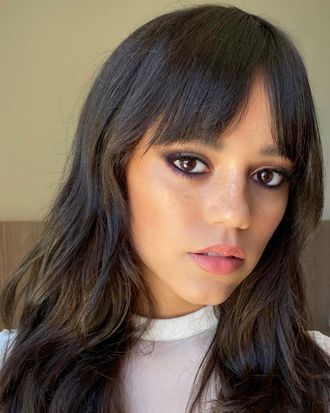 Jenna Ortega is probably most known for her role as Ellie Alves, the suspicious teenage neighbor in Netflix's You. Now, the 18-year-old and new face of Neutrogena is landing other, creepier roles in the upcoming series Wednesday and Scream 5, which is slated to hit theaters in 2022. Ortega is slowly becoming a leading name in the horror genre, but her transition out of her Disney fame was not easy. In fact, the actress believes it was her role alongside Penn Badgley that allowed her to turn her career around.
"I'm always going to be a Disney kid and there's no shame in that, but starring alongside a serial-killer-stalker-psychopath allowed people to see me in a different light," Ortega says, "I used to be stopped by families and 8-year-olds, and when You came out, I was getting stopped by middle-aged women."
With all of the horror-inspired roles came some heavy stage makeup, so Ortega's beauty routine is certainly important. She says she used to make face masks with Aztec clay and apple cider vinegar to detox her skin after gigs, but as a Neutrogena ambassador, she's been using the brand's Pink Grapefruit Oil-Free acne wash and its Skin Protecting liquid exfoliant.
"I love how much Neutrogena emphasizes that skin care isn't for beauty or for making other people look at you differently. It's more so feeling good and taking good care of yourself, which is something I appreciate, and something that is crucial nowadays with social media being such a big, brainwashing moment," Ortega says. 
On her own social media, Ortega tries to bring activism to the forefront. She often uses her Twitter to speak openly about causes she cares about, such as advancing justice for Asian Americans and supporting Palestinians during the Israeli air strikes in May — despite being advised against it very early on in her career.
"I have a voice that is bigger than I thought it would ever be. I really didn't see something like this for myself. It's very exciting that while I may not be the one to change the world, I can be somebody who inspires somebody else to use their voice or speak up about things that maybe don't get the attention they deserve," Ortega said. "I don't believe in holding back, because we're not going to get anything done by holding back."