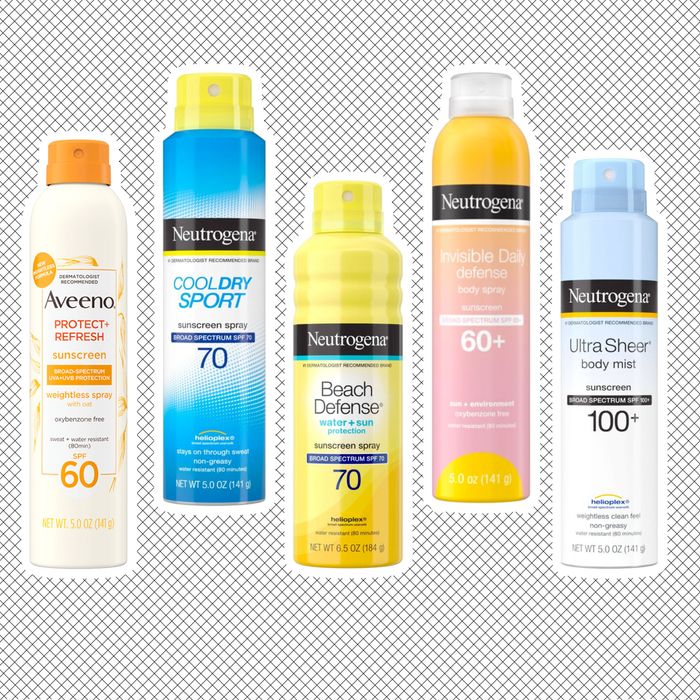 The Aveeno and Neutrogena sunscreens being recalled by Johnson & Johnson due to traces of benzene.
Photo-Illustration: by The Cut; Photos: Retailers
Just last month, an independent lab was like, "Hey, we found carcinogens in a bunch of popular sunscreens." Now, after coming to a similar conclusion, Johnson & Johnson is recommending you throw out several of their popular SPF sprays.
J&J issued a voluntary recall of five Aveeno and Neutrogena aerosol sunscreens yesterday, after internal testing identified low levels of benzene, a human carcinogen, in some of the product samples. The recall applies to Aveeno Protect + Refresh, Neutrogena Beach Defense, Neutrogena Cool Dry Sport, Neutrogena Invisible Daily, and Neutrogena Ultra Sheer. All can sizes and SPF levels of the sprays, which were distributed nationwide, are included in the recall.
Fun fact from the CDC: Benzene is apparently ubiquitous in the environment, meaning we humans are exposed to it on a daily basis, both indoors via certain glues, paints, furniture wax, and detergents, and outdoors, thanks to things like cigarette smoke, car exhaust, and industrial emissions. However, benzene is not an ingredient used in any of Johnson & Johnson sunscreen products, so the company is currently investigating how it ended up inside some of their canisters.
According to the CDC, adverse health consequences caused by long-term exposure (a year or more) to high levels of benzene include blood disorders like anemia all the way to leukemia. However, J&J claims that "based on exposure modeling and the Environmental Protection Agency's (EPA) framework, daily exposure to benzene in these aerosol sunscreen products at the levels detected in our testing would not be expected to cause adverse health consequences." Still, the less benzene in our lives, the better. "Out of an abundance of caution, we are recalling all lots of these specific aerosol sunscreen products," the company said in the statement. If you've been spraying yourself with any of the contaminated sunscreens, the company urges you to stop immediately, and switch to alternative ones for continued sun protection.
Recalls like this may cause you to side-eye some sunscreens and their contents, but don't shun SPF completely. Dermatologists still agree it's better to slather something on and worry about the devil you know, a.k.a. UV radiation, more than other harmful carcinogen we're all getting in much heavier, regular doses.