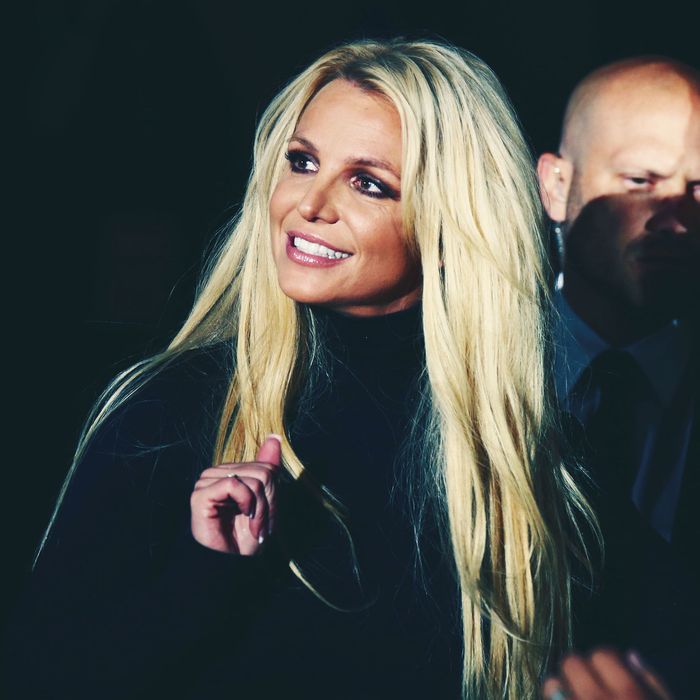 Photo: Gabe Ginsberg/FilmMagic
On Wednesday, Judge Brenda Penny once again denied Britney Spears's request to remove her father, Jamie Spears, from her conservatorship. Though the decision comes after the powerful 24-minute statement Britney gave at her June 23 hearing, in which she described the control her father and attorneys have over her life as "abusive," it was not a direct response to it, but rather the result of a request filed months prior. The singer has yet to file a petition for termination of her conservatorship altogether.
Wednesday's decision affirmed financial company Bessemer Trust as a co-conservator of Britney's finances, which was put into motion during yet another prior request to remove Jamie Spears from the conservatorship last fall. In November 2020, Britney's lawyer Samuel D. Ingham III filed a petition asking for the removal of Britney's dad from her conservatorship. Ingham shared that Britney was "afraid of her father" and said she would refuse to perform again should her dad continue to be in charge of her estate and career. At that hearing, Judge Penny denied Britney's request to remove her father from her conservatorship but agreed to appoint a co-conservator, Bessemer Trust.
While Wednesday's hearing was solely intended to approve Bessemer Trust's role as co-conservator, the judge yet again reaffirmed Jamie Spears's role in Britney's conservatorship. "The conservator's request to suspend James P. Spears immediately upon the appointment of Bessemer Trust Company of California as sole conservator of estate is denied without prejudice," the court documents read. The documents also state that the court found Britney "substantially unable to manage his or her financial resources or to resist fraud or undue influence."
However, in court documents filed on Thursday, Bessemer Trust requested to resign from the conservatorship due to "changed circumstances," claiming that it had previously been told the legal arrangement was voluntary. "As a result of the conservatee's testimony at the June 23 hearing, however, Petitioner has become aware that the Conservatee objects to the continuance of her Conservatorship and desires to terminate the conservatorship. Petitioner has heard the Conservatee and respects her wishes," the court filing states, according to the New York Times.
The request comes just days after Jamie Spears filed his own court documents in response to Britney's damning testimony, in which he appeared to shift blame to Britney's personal conservator Jodi Montgomery. Jamie Spears claims he hasn't been involved in Britney's personal or medical decisions since he stepped down as her personal conservator in September 2019. He also asked the judge to investigate the "serious allegations" Britney made in her statement, including feeling like she couldn't leave her home and that she wasn't allowed to remove her IUD.
Jamie Spears has been the sole conservator of Britney's estate and finances for the past two years. He'd previously been a co-conservator with attorney Andrew Wallet until Wallet stepped down in 2019. Montgomery currently acts as the conservator over Britney's medical decisions and personal well-being.
"Unlike Ms. Montgomery and Mr. Ingham," the documents filed on Tuesday read, "Mr. Spears does not speak or meet with Ms. Spears' medical team, and he is not permitted to nor does he have the opportunity to provide any input into his daughter's current medical treatment, diagnosis, or therapy. Nor does Mr. Spears participate in or discuss Ms. Spears' personal affairs with her, such as issues related to her self-care, marriage, and reproductive desires." However, this seems to contradict with Britney's recent statement in which she recounts being coerced by her father into checking in to a mental-health facility in April 2019. "I cried on the phone for an hour and he loved every minute of it," she said of the event. "The control he had over someone as powerful as me — he loved the control, to hurt his own daughter, one hundred, thousand percent. He loved it."
Jamie's requests will be discussed at a hearing scheduled for July 14.