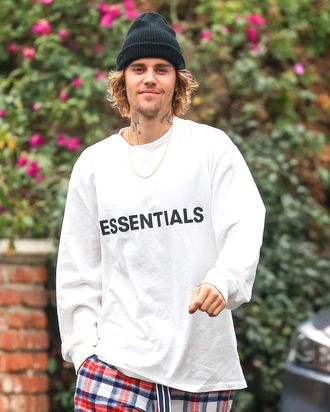 STRAIGHT adrenaline man
Photo: Rachpoot/MEGA/GC Images
Please, do not be alarmed: Justin Bieber is not angry; he's just AMPED in that little video that has been making the rounds online.
Oh, you don't know which one I'm talking about? Fair enough: Over the weekend, someone caught the Crocs designer on camera, seeming to SCREAM at his wife, Hailey Bieber, as they passed through a Las Vegas lobby. The clip reportedly racked up more than a million views on TikTok before it came down, and the wild gesticulations and the apparent SHOUTING caused some viewers concern. Beliebers on the scene quickly stepped up to defend the singer, alleging that he wasn't getting in her face out of aggression, but out of lingering post-show INTENSITY for which he lacked an OUTLET.
According to the Twitter account @biebsclubhouse, which swooped in to correct the record, Bieber had just given a rousing performance at the launch party for Kendall Jenner's tequila brand, and was on "STRAIGHT adrenaline." Not mad, just really fucking JAZZED.
If you are not convinced, take it from Hailey herself, who confirms that the scene was not what it may have looked like. "Reminiscing on how amazing last weekend was," she wrote on Instagram, over a photo of her and Bieber kissing, one of their favorite things to do. "Had the best time surrounded by so much love. Any other narrative floating around is beyond false. Don't feed into the negative bullshit peeps."
Got it? FALSE. He was simply FIRED UP and could not contain his excess creative ENERGY, okay?! AMPED, not aggro. JEEZ.