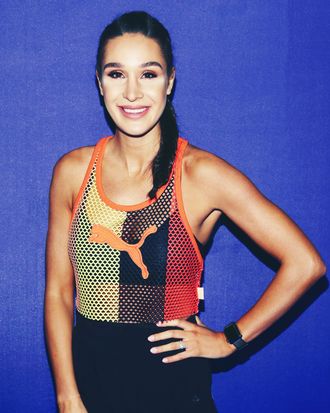 Kayla Itsines
Photo: Cindy Ord/Getty Images for POPSUGAR Play/Getty Images
How much are abs worth to you? Well, in the world of exercise influencers, they are apparently worth millions. On Tuesday, Instagram personal trainer Kayla Itsines announced that she and her business partner and former fiancé, Tobi Pearce, have sold Sweat, their popular workout platform, to fitness-tech company iFit for a reported $400 million. For context, that's a little less than the GDP of the entire country of Micronesia.
"The next new chapter for Sweat starts today!" Itsines, who lives in Australia, wrote on Instagram. "It has been an incredible journey so far. I remember running one-on-one sessions in my parents' backyard and them growing into bigger group sessions in the local park here in Adelaide." The fitness influencer rose to fame after the success of her e-book Bikini Body Guide, a title Itsines has since said she regrets. She created the e-book with then-boyfriend Pearce, which eventually led to the founding of the Bikini Body Training Company. In 2015, that company became Sweat.
In the past six years, the Sweat app has been downloaded more than 30 million times. In 2020 alone, Sweat made nearly $100 million. Though they separated last August, Itsines and Pearce remain business partners and were worth an estimated $209 million each prior to the deal, per the Australian Financial Review. They also have a child together, 2-year-old Arna Leia.
On Instagram, Itsines was adamant that selling Sweat wouldn't impact those who have been working out with her since the beginning, adding that iFit will help expand the platform's reach and "diversify [its] workout content." "I want to say thank you to anyone who downloaded my original PDFs, shared a Sweaty selfie with me on Instagram or who came to one of my bootcamps," Itsines wrote. "We have all come a long way together but this is only just the beginning."