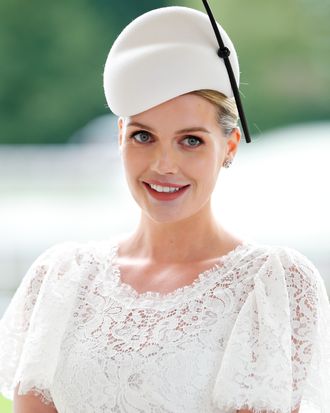 Lady Kitty Spencer
Photo: Getty Images
Over the weekend, Lady Kitty Spencer — whom you may know as Princess Diana's 30-year-old niece — married her multimillionaire boyfriend of two to three years. She and Michael Lewis — the 62-year-old owner of the clothing company Whistles and not the author of Moneyball — got hitched at Villa Aldobrandini in Frascati, Italy, but that is not the remarkable part. The fact that she is a relative of the people's princess? Only of middling relevance here. No, the thing that really gets me about this union is that Lady Kitty Spencer (-Lewis?) wore five, yes, five, dresses to get it done.
That's a lot of wedding dresses, five times as many as the average person might wear to wed, but then, we are talking about a royal-adjacent bride and a groom who famously owns the clothing company Whistles. On the one hand, you can see how the combination of Whistles money with the Spencer family fortune might stretch to cover so many custom Dolce & Gabbana designs, including a Victorian-style lace affair and a "something borrowed" blue princess gown. On the other hand, so many dresses! A whole party consumed by costume changes, and that's without even touching the topic of cost. (She is an ambassador for Dolce & Gabbana.)
For comparison's sake: Kate Middleton, the duchess of Cambridge and England's future queen consort, wore but two dresses at her wedding — one for the ceremony and one for the reception — as did Duchess of Sussex Meghan Markle and Princess Eugenie. For her Big Christian Wedding, Hailey Bieber (not royal, simply a celeb) wore three dresses, with an extra three looks cycled in throughout the week. Ellie Goulding reportedly also wore five wedding outfits on her big day. Hannah Bronfman wore eight, although over multiple days. I guess that places Lady Kitty Spencer somewhere in the middle, though it does sound like all five ballroom gowns made an appearance over the course of a single day.
Anyway, for whatever it is worth, it looks like the groom wore little velvet slippers with his tux. Comfort is king.