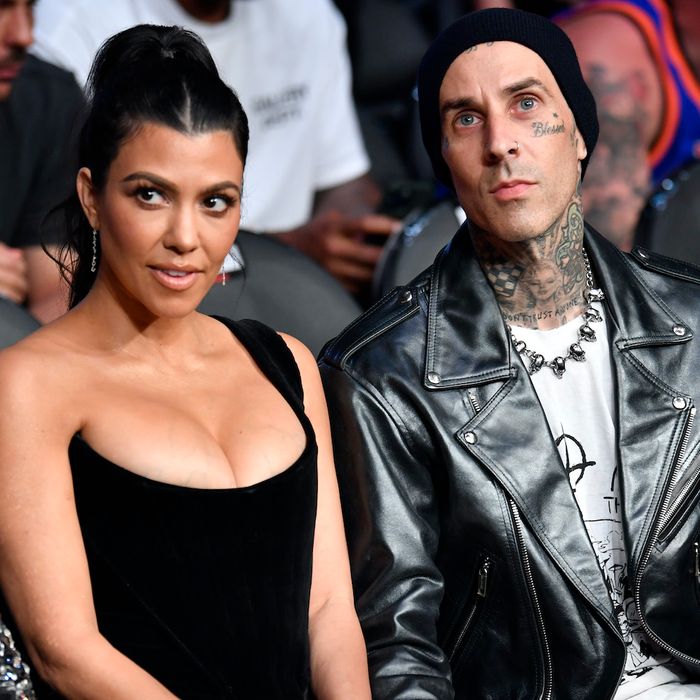 Sigh
Photo: Jeff Bottari/Zuffa LLC
I am so sorry but Kourtney Kardashian and Travis Barker would like to show you their tongues … will you let them? Fair warning, the following content is extremely tongue-forward, even for the horniest couple in Calabasas. Per the UFC, which captured this "kiss" on camera, it's the "hottest ticket in town." I am not so sure about that, but I will say, they are really going for it in this video clip. Do you want to see it? Are you ready? Okay, here we go:
Yes, it's a lot of tongue; too much tongue, some might say. I personally would describe it as a mutual lick, not a kiss per se, but then this is standard fare for two people immortalizing their sex lives as merch.
It also feels significant that this most recent frisky interlude occurred at Saturday's UFC match in Las Vegas, famously a highly romantic setting for these two horndogs. Recall that UFC show in March, which gave us a double-date with Megan Fox and Machine Gun Kelly, plus Travis possibly sucking Kourtney's fingers in the stands. They are always going at it in spectacularly public ways, to the degree that trolling often feels like the only logical explanation for the grand scale of their PDA. Or maybe they are just very in love, suck it haters!