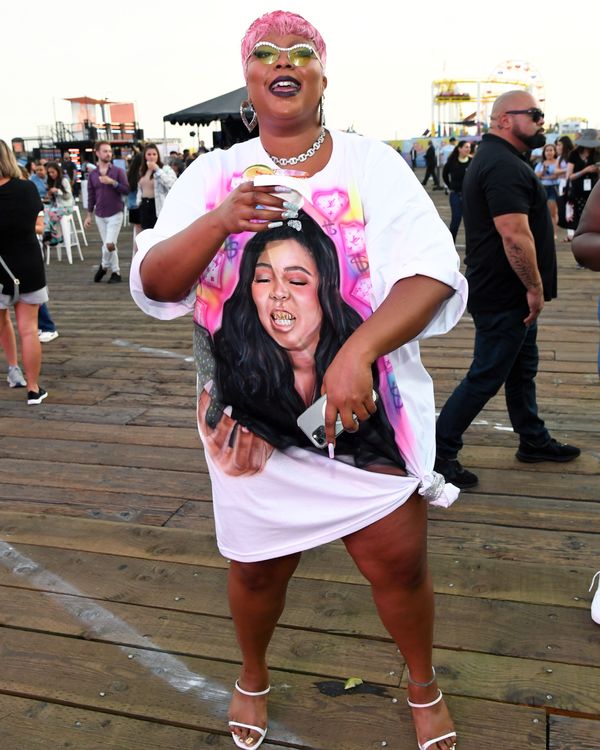 Lizzo wearing Lizzo
Photo: Getty Images for JBL
Lizzo heard you love Lizzo. So, Lizzo put Lizzo on a shirt so you can admire two Lizzos at once. So, let's do just that, shall we?
Incredible. Gorgeous. Nineties-mall-kiosk chic. The airbrush-style customized shirt has everything: diamonds emblazoned with the Louis Vuitton logo, dollar signs, some bejeweled embellishments, an image of Lizzo holding her phone and taking a selife, a grill. I will take seven, one Lizzo for every day of the week, please and thank you.
Celebrities have long practiced the art of wearing their own faces on shirts. Nicolas Cage has done it. Brad Pitt has done it. Macaulay Culkin took it to a new level by wearing a shirt with Ryan Gosling wearing a shirt with Macaulay Culkin on it. Of course, Lizzo's version is its own brand of perfection on account of … it's Lizzo.
Most everything Lizzo does is unimpeachable. She can drunkenly DM Captain America. She can put fruit in water and call it 'Nature's Cereal.' Who cares if it tastes bad! Lizzo said to do it, so we must. If you catch me with a pink pixie cut and bleached eyebrows, you'll know exactly who to thank/blame.