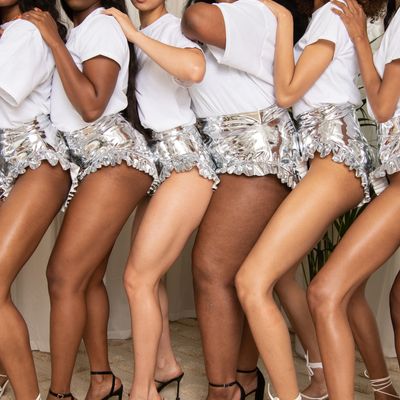 It's hard not to scroll through Instagram and want everything you see. Killer shoes? Need those. Statement blazer? Got to have it. That's pretty much how my brain works while scrolling, but once in a while, I'll come across something that inspires a different response: I have to know the story here. That's how I feel about the metallic pleated shorts that keep popping up on my feed. I've seen them so often that I had to talk to the designer, Tacharra Perry of Char Workroom, to learn more.
The pleated vinyl shorts — which come in gold, silver, rose gold, and a French terry fabric — are a lot shorter than average. In fact, there's nothing average about them. Some might say they look like underwear based on the high cut, but unlike similar cheeky pieces, they aren't just made for slim girls with long legs but for everyone.
Perry, who is based in Houston Texas, told me that she has lusted over pleated shorts ever since Nike debuted a collaboration with Sacai, but she wanted to create a pair that spoke to her brand. As a Black woman who's used to the fashion industry not being inclusive — in terms of both size and ethnicity — she made a point of creating the shorts in sizes XS to 3X.
Below, the Cut talks to Perry about her signature metallic piece, being more than a designer, and where her brand is headed from here.
What is your first fashion memory?
My first fashion memory was middle school. We had so many phases of fashion it was crazy. One year it was gothic, another year it was retro, then another year everyone wore Hollister and Abercrombie. I think that's when I first realized that everything was a trend.
What about being from the south influences your designs? 
The climate, which explains CHAR being "an unseasonal womenswear brand." I'm from Houston, Texas so I don't need a wool coat in the winter or even a parka in the fall. If it's 80 degrees in the middle of November and I have a fire bathing-suit idea, I'm going to drop it!
Your cheeky shorts have become all the rage this summer on Instagram. What inspired them? 
A couple brands actually inspired the shorts. It's crazy to say, but Nike played a role, as well as one of my favorite brands, Helmut Lang. What makes them so popular is that they're such a big statement piece. The shorts are an instant conversation starter. They also can easily be dressed up or down. I personally love how my customers make them look super casual. Recently one of them paired them with a pair of Prada combat boots and I loved the look.
Why is it important for you to design inclusive clothing?
It's important for me because being a Black woman, we weren't and sometimes still aren't included, and if we are, it's only when brands that are not POC-owned have an agenda. For me, being inclusive with my brand was a way of saying, 'If they don't want to give us a seat at their table, we can create our own and not allow others to capitalize off of our color or history.'
Who is the CHAR Workroom girl?
The CHAR girl is fearless, powerful and spontaneous!
Do you think the pandemic has changed you as a designer? 
The pandemic allowed me to focus more on what mattered. I think everyone can testify to the lockdown being a reset, especially for creatives. I was able to dig deeper and devote more time to the smaller details such as packaging. I was also able to be more organized and plan better because all I had was time on my hands. It also really taught me patience, which is so important to have in this industry.
How do you envision your brand five years from now?
I see us showing again at some point during Fashion Week. I'm still working on launching our WRKRM blog, as well as a podcast.