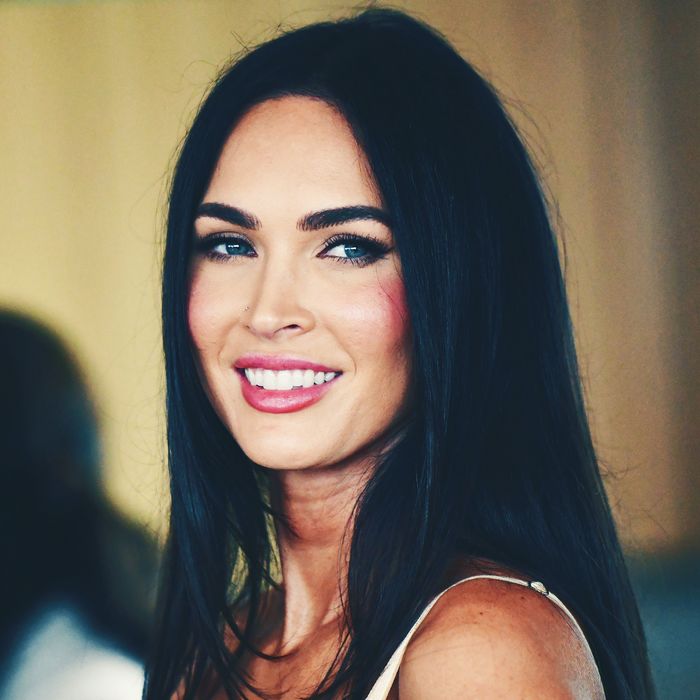 Photo: Scott Dudelson/Getty Images
Would you go to the ends of the earth for the person you love? How about to hell? Well, Megan Fox would and, apparently, did. During a recent appearance on Jimmy Kimmel Live, the actress told guest host Arsenio Hall about a recent trip she took to Costa Rica with boyfriend Colson Baker, a.k.a. Machine Gun Kelly. She said it was less PDA-heavy, romantic getaway and more … uncontrollable vomiting.
The two traveled to Central America to do ayahuasca "in a proper setting with Indigenous people." Fox spoke respectfully of the retreat, though it's an example of the sort of spiritual tourism that has been criticized as Western commodification of sacred rituals. "I was thinking it was like 'glamping,'" Fox said, adding she was expecting "some kind of five-star experience." However, when they arrived, they were "in the middle of the jungle" where they couldn't take showers or eat after 1 p.m. "Nothing glamorous about it," Fox said. "It's all a part of sort of making you vulnerable so you surrender to the experience."
Then came the "vomitivo," a part of the retreat in which guests lined up at the edge of the rainforest and drank lemongrass tea until they vomited. "It's such a good bonding experience," she said. "That gets you ready to go into the ceremony that night because you're like, 'My vanity is gone.'"
As for what she experienced at the ayahuasca ceremony, she said, "Everybody's journey is different. The second night, I went to hell for eternity." She described the experience as "a real ego death," in which she saw her own "psychological hell." Hall seemed a little dubious, asking how she knew she was in hell. She explained that "this is a medicine that … takes you to the psychological prison that you hold yourself in."
What do you think she saw? This mac-and-cheese ice cream? A sneak peek of Netflix's newest dating show? Regardless, Megan Fox and MGK have now upped the Horny Couple ante by going to hell. It's your move, Kourtney and Travis.