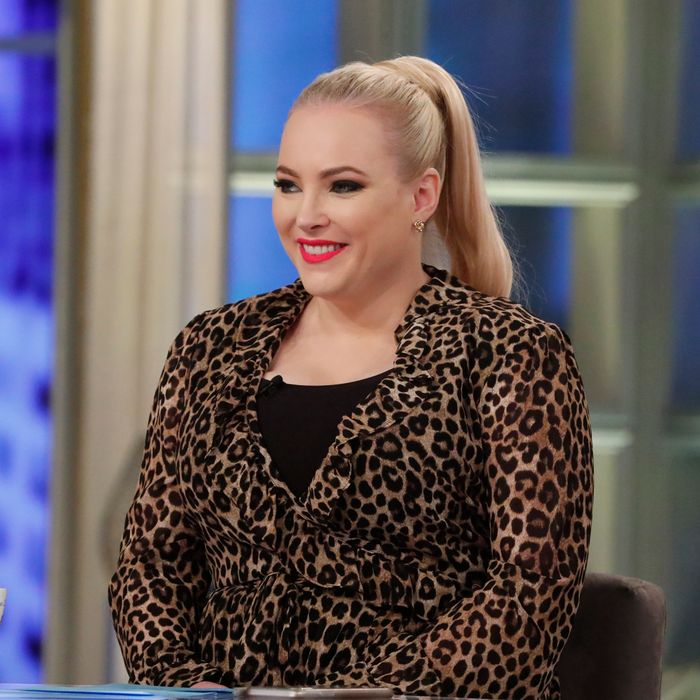 Bye, Meghan!
Photo: Lou Rocco/ABC via Getty Images
Well, it appears Meghan "Do you know who my father is?" McCain may at long last be leaving The View. Per People, McCain will reportedly announce her departure on today's show with her last episode airing later this month. To which I say, good riddance.
McCain's role on The View has been awash with entitlement, bigotry, and general buffoonery. Regardless of whether you regularly watch the show or not, McCain has been impossible to avoid since starting on The View in October 2017, often going viral for her controversial (read: bad) takes. This is a woman who only recently began advocating for parental leave after having a baby of her own. She appeared to defend Trump's stance on immigration. And while she eventually apologized for her role in aiding Trump's anti-Asian racism, she previously said she "didn't have a problem" with people (e.g., the former president) labeling COVID-19 as the China virus or the Wuhan flu, both of which are racist and xenophobic. She has also implied that people who are pro-choice "don't believe in science." I repeat, general buffoonery.
There were rumors about her departing from The View back in 2019. At the time, McCain reportedly felt "exhausted and defeated" by her role on the show, with her position as the resident conservative often leaving her "emotionally drained, angry, and isolated" and "feeling like a caged animal."
Later that year, she made an appearance on Watch What Happens Live, telling host Andy Cohen, "I go in assuming I'm going to be fired every day." She repeated, "Every single day. Yes, every day." However, when Cohen asked if she'd ever come close to actually being fired, McCain said no. McCain's forthcoming departure was reportedly her decision.
So, what's next for Meghan? A job as a hair influencer? Perchance a bit of time away? Only time and any opportunity to remind us whose daughter she is will tell.