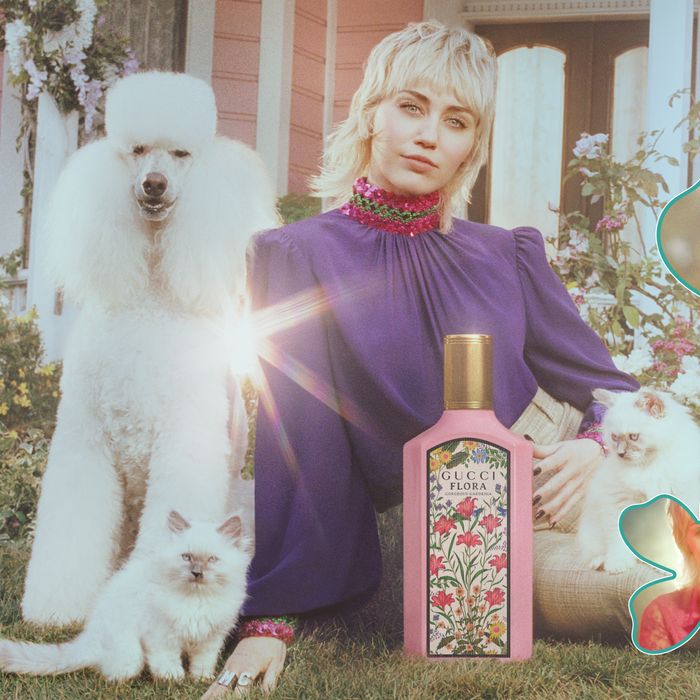 So you watched Adam Driver turn into a centaur to get you to try a fragrance. May I interest you in Miley Cyrus morphing into her animated alter ego in an attempt to do the same?
The latest campaign ad you'd like to sniff through the screen comes courtesy of Gucci and its new Flora Gorgeous Gardenia fragrance, which is being fronted by Cyrus and her ever-powerful shaggy mullet.
The dreamy campaign, shot and directed by Petra Collins, is set to Cyrus's cover of Shampoo's '90s earworm "Delicious" and follows the star as she frolics among a bunch of blooms (Gucci's speciality); hangs out with impeccably groomed poodles, soft bunnies, and really cute cats; enters a pink house that Barbie probably bookmarked on Zillow; and plays a pink guitar on a chill beach that's probably centaur friendly.
After doing all of these mind-palace-worthy activities, Cyrus magically transforms into "her true self," which is apparently an anime-inspired Miley one can only assume takes advice from her wise cat friends and protects planet Earth from evil using flower power.
So what does Flora Gorgeous Gardenia smell like, other than "delicious!"? According to Gucci's creative director, Alessandro Michele, the reimagined scent is "unusual, sensual, and intense," while a release describes it as "a modern reinterpretation of the gorgeous white gardenia note" that's magnified by a juicy pear-blossom accord, jasmine grandiflorum, and just a touch of brown sugar (delicious). The felines in the clip seem to be fans, and they're known to have excellent taste when it comes to luxury fragrance.
Gucci Flora Gorgeous Gardenia will be available exclusively at Sephora beginning in August and nationally in October. Best of luck getting this song out of your head before then!