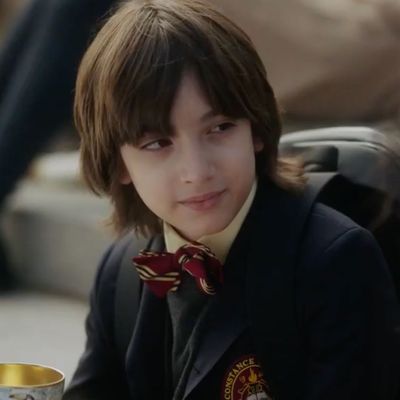 Tell me you wouldn't trust this child with a revenge plot.
Photo: HBO Max
Spoilers for episode four of Gossip Girl ahead. XOXO
There are plenty of unbelievable aspects of Gossip Girl — the disposable opulence, the ease with which these teens are able to access celebrities, the fact that people aren't regularly mistaking Tavi Gevinson's character for a high-school sophomore. The way we meet Milo Sparks is not one of them.
In the most recent episode of HBO Max's Gossip Girl, we are introduced to resident precocious kid, Milo Sparks. He shows up unannounced on the steps of the Met with a teacup in hand like some kind of infant Mad Hatter. When Zoya greets him accordingly — "No, thank you, strange child" — he responds in kind: "I'm Milo, and I'm not a child."
Details aside, a child popping up next to you in public and launching into the middle of a conversation is very on brand for all children. I've learned kids' personal ranking of all dogs while waiting in line for a food truck. I've had children say they like my dress (a sweatshirt tied around my waist) and wave good-bye while saying, "I love you." Odd kids are everywhere, even the Upper East Side.
So, who is this spooky child in Gossip Girl? Like he said, he's Milo Sparks, though his last name is actually Ivanov. "But in this day and age," he adds, "it's best to leave that out." Milo is the son of OG Gossip Girl's Georgina Sparks, Serena Van der Woodsen's brash, horny, long-lost friend played by Michelle Trachtenberg. If you need a refresher, her character is known for shenanigans like selling her pony for cocaine and saying lines like, "You can tell Jesus that the bitch is back." (If you need a slightly more in-depth refresher, the Gossip Girl wiki has a good one.) Georgina initially told Dan Humphrey that Milo was his son. Later, we found out that Milo's father is actually Sergè, a Russian man Georgina hooked up with on a plane. Sergè's wife found out Georgina got pregnant, hired people to kill her, etc. Hence, Georgina ran back to the Upper East Side to trick Dan into thinking he had a whole entire kid.
Now, in reboot Gossip Girl world, Milo — played by Azhy Robertson, a.k.a., the kid in Marriage Story — is 10 and in eighth grade. (A spooky prodigy!) When Zoya Googles his name, the first auto-populated result is "milo sparks russian embassy scandal." In his home, we see photos of his mother Georgina with famous diplomats like Putin, Kim Jong-un, and Ed Sheeran (??). There's also a big-ass picture of Blair Waldorf, because of course there is. It's worth noting that there is an actual person named Sergei Ivanov — though first his name is spelled differently than Milo's purported father — who worked as a senior member of Putin's administration, and he has a son, also named Sergei Ivanov. As evidenced by the celebrity pics, Gossip Girl loves to blend the real elite world with the fictional. While unlikely, it's not entirely out of the question that Georgina hooked up with a friend of Putin. Perhaps something the writers can explore in — oh, I don't know — a series following the Mischievous Life of Milo Sparks.
Imagine a world in which we find out how he gave Lily-Rose Depp E. coli. Picture an episode entirely dedicated to him carrying a teacup around Manhattan. I would watch 22 minutes of him just walking through every photo of Georgina with random celebrities. Honestly? I would have assumed Milo was a ghost only Zoya could see, had he not spoken to Luna and Monet. Which, again, would make for an incredible show.
What can we expect of Milo Sparks for the rest of the season? Probably nothing. Still, I hope he keeps eerily appearing when we least expect it, giving his own delivery of the line, "You can tell Jesus that the bitch is back."