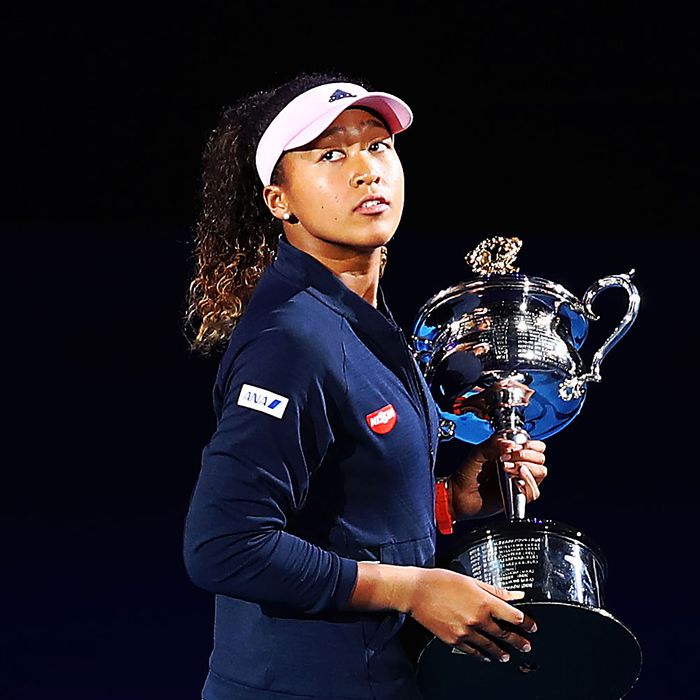 Photo: Julian Finney/Getty Images
In a new essay for Time, 23-year-old tennis star Naomi Osaka opened up about her mental health, sharing some of the issues that led her to step away from the court and some of the people who have helped her get back on. "In the past few weeks, my journey took an unexpected path but one that has taught me so much and helped me grow," Osaka writes, alluding to her recent withdrawal from the French Open and Wimbledon after posting about her experience with depression and anxiety on Instagram.
In the past, Osaka hasn't shied away from voicing support for larger social issues. Last September, she wore different face masks during the U.S. Open, each with the name of a Black man or woman who had died at the hands of police or vigilantes, including Breonna Taylor, Elijah McClain, Trayvon Martin, and George Floyd. "Issues that are so obvious to me at face value, like wearing a mask in a pandemic or kneeling to show support for anti-racism, are ferociously contested," Osaka writes in her Time essay. "So, when I said I needed to miss French Open press conferences to take care of myself mentally, I should have been prepared for what unfolded."
She goes on to write about the strain post-match media conferences put on athletes and the backlash she faced after announcing she wouldn't be participating in press at the French Open. In addition to incurring $15,000 in fines, Grand Slam tournament officials threatened her with larger fines as well as suspension from the French Open. Osaka withdrew from the tournament the next day.
"I'll say it again for those at the back: I love the press; I do not love all press conferences," writes Osaka. "The way I see it, the reliance and respect from athlete to press is reciprocal." She suggested that relationship athletes have with the press should be "less subject vs. object; more peer to peer" to ease the weight of these conferences, which have often left athletes in tears. "The intention was never to inspire revolt," she says of her decision to not participate in press conferences, "but rather to look critically at our workplace and ask if we can do better."
"Athletes are humans," she writes, also saying she stands by her decision to not participate in press. "Perhaps we should give athletes the right to take a mental break from media scrutiny on a rare occasion without being subject to strict sanctions."
Osaka says she hopes that athletes don't have to continue to divulge symptoms or private information in order for their mental health to be taken seriously. "I feel uncomfortable being the spokesperson or face of athlete mental health as it's still so new to me and I don't have all the answers," she writes. "I do hope that people can relate and understand it's O.K. to not be O.K., and it's O.K. to talk about it." Osaka says among the people who encouraged and supported her to talk about her mental health are Michelle Obama, Michael Phelps, Steph Curry, Novak Djokovic, and Meghan Markle. "Michael Phelps told me that by speaking up I may have saved a life," she writes. "If that's true, then it was all worth it."
Osaka will participate in the Olympic Games in Tokyo later this month.