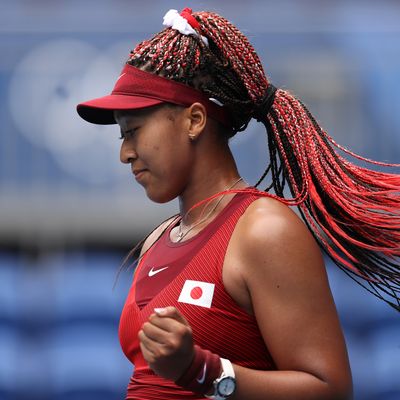 Naomi Osaka and her braids celebrating a win at the Tokyo 2020 Olympics.
Photo: Clive Brunskill/Getty Images
While the Olympics kicked things off with some familiar faces (and those shiny pecs), it has also introduced us to some exciting newcomers too, like Nyjah Huston's glorious butt, this amusing sport, and an amazing new hairstyle for tennis champ Naomi Osaka.
While lighting the Olympic torch during Friday's Opening Ceremony, the star athlete debuted her latest look, and it's a good one: fiery red-and-white box braids that not only matched the smoldering vibes of the massive flame she lit but perfectly paralleled the colors found on the flag of Osaka's home country and the Olympics' host country, Japan.
The braids are the handiwork of Osaka's hairstylist Martin-Christopher Harper, who helped her go pandemic pink earlier this year. The stylist revealed the Olympic look was created stateside and during the wee hours of the morning before Osaka left for Japan to compete. For the big televised ceremony, the look was styled with a trio of fan favorites: big ol' scrunchies, face-framing tendrils, and the ambitious high, half-up pony that isn't for the faint-hearted.
Like other iconic ponytails and braids that make headlines, Osaka's Olympic braids not only look good on camera but are mesmerizing to watch from every angle. Following their regal debut, the braids joined Osaka on the court for two winning matches, where they skillfully swung, swayed, and fanned out behind the champion, often catching the sunlight and creating a glorious ombre-red crown that was color-coordinated with Osaka's outfits, sweatbands, visor, and rackets.
We're only three days in, but it's safe to assume that this butterfly, Beyoncé's sentient braid, and a good chunk of Twitter would agree the braids deserve a spot on some sort of podium for their stunning, synchronized performances thus far.