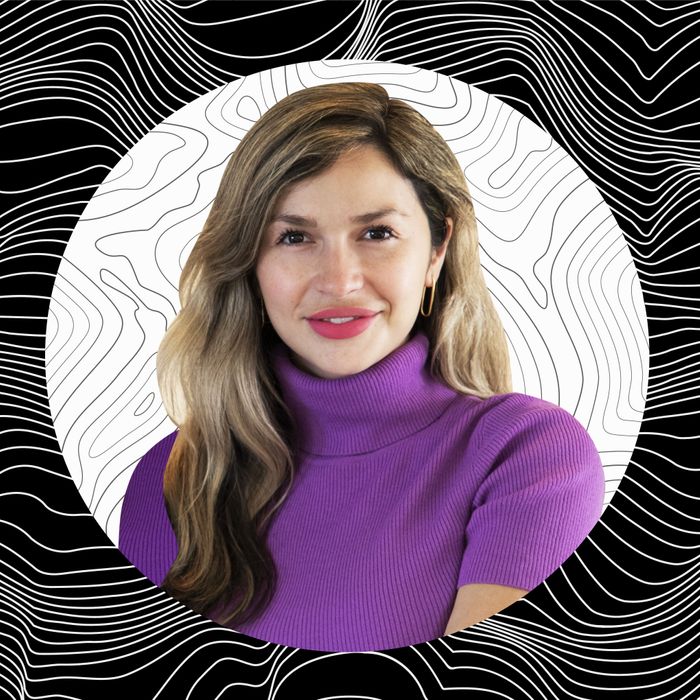 Photo-Illustration: by The Cut; Photos: Courtesy of Bala, Getty Images
Before Bala Bangles were all over your arms, legs, and Instagram feed, they were just an idea drawn on a napkin. Natalie Holloway was traveling with her husband, Maximilian Kislevitz, when they had a realization: "It's weird that wrist and ankle weights haven't been redesigned after all of these years, and nobody uses them anymore as a real result, because nobody's wearing ugly ones out and about." Fast-forward to a successful appearance on Shark Tank — and a $900,000 investment from Maria Sharapova and Mark Cuban — and the duo has redesigned not only wrist and ankle weights but rings, bars, and beams.
For Bala's latest drop, Holloway and Kislevitz have teamed up with Lauren Gores Ireland and Marianna Hewitt's skin-care brand Summer Fridays for a limited-edition "Pool Time Body Bundle." On sale today, it includes a full-size, frequently sold-out Summer Fridays Glowing Body Oil, a set of shimmering three-pound Bala Bars, and a set of shimmering one-pound Bala Bangles. "Summer Fridays is about joy, and Bala is very much about movement, and when you marry the two, it's really fun," says Holloway. "Now, it's pool time, and what we're creating together marries both of our brands really well in a summertime, playful series."
Below, the Cut caught up with Holloway to chat wellness, from redefining her idea of exercise to vegetarianism to working with family.
On her definition of wellness: COVID-19 has changed my idea of wellness. Now, wellness is more of a state of mind. That means you have to consider both mental health and physical health to feel well. You can't just work out and feel like you're great on physical health; you have to go to therapy and think about your mental state. It's about both.
Before the pandemic, there was just a lot more pressure on things like, "Did you make it to enough yoga or Pilates classes this week?" "Did you drink enough green smoothies?" And maybe because I was pregnant most of the pandemic, but everything slowed down. Our times were crazy, but I felt like I was able to take a step back and ask, "What does everything really mean to me?" Letting go of all the pressure and having balance really allowed me to feel healthier. I don't want intense, unrealistic expectations in my life.
On her mornings: My mornings used to start off a lot slower, but now they're a little bit hectic because I'm getting my baby ready. I know my weekdays are going to be rushed so I try to wake up slow. Probably around 7 a.m. the baby wakes me up, and I make coffee — coffee is always first and very important. I do a little bit of drinking coffee in bed with my baby, my dogs, and my husband, a little moment to set the tone for my day because then it's off to the races. Breakfast is tricky because I'm rushed so I try to get something quick like a good power bar or a banana. On the weekends, it can be more fun, like avocado toast.
I used to do affirmations in the mornings when I was pregnant. It was really important to me because I was growing a little guy in me. I would do Rainbow Relaxation, which is geared towards hypnobirthing. The more that you meditate while you're pregnant, they say, the better your birth experience can be because you're calming yourself, and you're calming the baby. It's basically affirmations over and over, mantras like "My body is made to do this," or "I am meant to birth this baby." The point is that when you're giving birth, you can really psych yourself out and get really scared about that moment, but I really tried to be like, "This is supposed to happen." Positive affirmations helped big time.
On founding a company centered around fitness: A lot of people travel around the world when they graduate college. Well, my husband and I kind of did it in reverse. We were working these thankless, crazy jobs in advertising. We would work till like midnight or 2 a.m. and then go back in the morning for a meeting, just really brutal hours. We got burned out, which is crazy for your late 20s. So we were like, "Let's quit our jobs. We have great résumés. Let's go travel for a bit, and we'll be able to find jobs somewhere when we get back, even if it takes six months." Thankfully, we had that security. So we traveled throughout Asia, and we visited like 12 to 13 different countries, and it was during that journey that we were doing yoga one day. You know when you go to a class, and it's not that hard? This class was more meditative, and we wanted it to be more strength-based and sweaty, and we were like, "What could we have done during that class to make it a little bit harder?" We thought of ankle and wrist weights because added resistance can be a game changer.
Since then, we have realized that nothing in the gym space has really been redesigned except for connected fitness, like Tonal and the Mirror Home Gym. We've all leveled up our home stuff, our furniture, and our gym outfits. Why hasn't the same thing been done to what we use to work out? Why are weights not inviting or motivating? Why are they kicked under our beds or stuffed in the back of our closets? Like, your jump rope. Are you ever going to really use it if it's stuffed in the back of your closet? You have to reach in there and try to find it, and it's ugly. If someone's coming over, you throw your yoga mat and all your weights where your guests can't see them. At Bala, we want the opposite. We want the design to be so good that you leave them out, and as a result, we hear this time and time again, they invite you to play with them and move with them.
On how she moves: I love Torch'd with Isaac Boots. I do a lot of yoga — I love Marie Grujicic. I do hot Pilates — I love Alexis Fischer — but I'm trying to be easy on myself because I am a new mom, and with the business, there's not always time to work out. I have an 18-pound baby, and I'm throwing him up and down and up and down, and I'm like, "That is a workout. That counts." If I can get him in a carrier, put on my weights, and go for a walk, that counts as a workout, too. I'm focused on little movements throughout the day versus this big moment where I go get sweaty — it's a luxury right now to leave the house and go to a class.
On her biggest wellness struggle: Fitness has unrealistic expectations in general associated with it, and I think my biggest struggle is the pressure of it all. Exercise is such work — it's literally called a workout. You can really put it off, and be like, "Oh, I'll work out later," and it boils in your mind into this big event you dread. It can feel like a chore, and my struggle is decoupling work with working out and just making it something fun. I want exercise to be less about counting calories and expectations and more just moving my body and going outside — it doesn't always have to be yoga or Pilates. I think the way to getting there is by not having to be results-driven — I don't try to be like, "Oh, I'm gonna do five workouts a week and burn this many calories." I'm allowing myself to be overall healthier by being kind to myself and then the pressure is lifted.
On working with family: Working with family is hard but rewarding. We have had to set clear boundaries because it can be challenging otherwise, especially being partners with your husband. We had to determine clear areas of the business that each of us leads and is the point of contact on, and lately, we are in less and less meetings together as we feel we can optimize our days by tag-teaming and dividing and conquering. With both of my sisters — Erica is our brand director and Jessica leads CX & Sales — we try to be super-honest, and if there is a conflict, address it on the spot by being open and communicative and leading with respect. The benefit to working with your family is when it works, it can be magic to get the opportunity to create amazing things together with the people you are closest with.
On vegetarianism: I've been vegetarian for six years for animal reasons. I come from Austin, Texas, where lots of people are responsibly ranching and eating responsible meat, and that I'm all for, but I felt like I'd seen a couple of things about the meat industries — you see certain documentaries out there about the treatment of animals, and you don't know where the meat is coming from. I firmly believe that if you are eating something like a chicken, it never even got to walk because it was so crowded in its little pen, that is coming out as stress in their body, and then you're eating it, and it's this whole cycle. Truly, there's no judgment in anyone's way of living, but that's kind of where my decision to be a vegetarian came from.
The theme for my life is balance in general, and when I talk about "eating right," for me, it means I try to eat clean as much as I can. During my pregnancy, that meant getting all of the veggies and fruits I could possibly consume. Eating the "colorful plate," as they say, that's my philosophy. Obviously, there was a lot of chocolate in there, too — I'm not gonna lie.
On her nighttime routine: At the very end of the day, it's all about calm. That could mean a bath to wind down the day. It's definitely a glass of wine every night to calm things down. I like to put screens and my phone away for a little bit. So even if I'm going to bed at 10 p.m., maybe at 8 p.m. I put them away. Maybe I'll watch a show (I just finished The Handmaid's Tale; I like This Is Us — all the basic ones; I just rewatched Californication — that was good), hang out with my husband, or read a little bit.
I just started a book called The Collaborative Way. Right now, I want to try to read books about leadership. We're growing the Bala team this year a lot. We just doubled the team, and we're going to double again so I want to be reading leadership- and company culture-type books. I'm only 20 to 30 pages in right now, but so far, it's about creating the culture of a company and how leadership comes from the top down.
Natalie's Wellness Must-Have