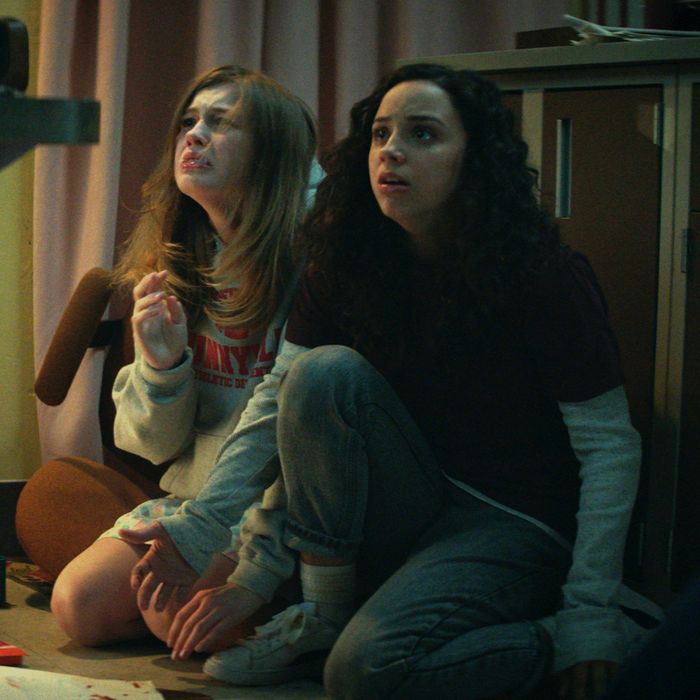 Spoilers ahead for Netflix's Fear Street trilogy.
As a kid growing up in the '90s, the requisite books of choice when heading to the library or the Scholastic Book Fair were those from horror writer R.L. Stine's beloved children's series Goosebumps. But the tame scares of Goosebumps (as well as those from The Baby-Sitters Club: Mysteries book series or Nickelodeon's Saturday-night staple Are You Afraid of the Dark?) weren't enough for me. It wasn't long before I uncovered the gory deaths and supernatural mysteries of Stine's older babysitter of a franchise: Fear Street.
The terrors that plagued the fictional town of Shadyside ran for over 150 books, and I devoured as many tales of murdered prom queens and vengeful dates as my local library would carry. In fact, it's where my love for the horror genre began, despite the countless nightmares that came with them. In fact, the Fear Street Seniors series, which follows Shadyside High School's graduating class being killed off one by one, left me worried I wouldn't even make it to my elementary-school commencement.
I wasn't one of the cool kids whose parents let them see R-rated treasures like Scream or I Know What You Did Last Summer in theaters; I had to get my horror fix from Fear Street. I would even sneak one of the books between copies of The Boxcar Children in order to avoid the "I'm not sure you're old enough" grilling from my parents. As a closeted gay child, there was a sense of Schadenfreude in reading about the grisly demise of characters not unlike those who bullied me in real life.
Director Leigh Janiak, best known for helming the 2014 indie horror flick Honeymoon, similarly grew up as a fan of the YA horror series. "I was reading them when I was like 13, 14, and they felt crazy to me," she tells the Cut. "They felt edgy, they felt subversive, there was sex, violence, new kills, and my experience reading them was definitely one of like, 'Ooh, I should be reading this under the covers.'"
In 2017, Janiak was tasked with finding a way to adapt the extensive source material into three two-hour films — all released within the same year. Netflix put out the trilogy earlier this month, which follows rebellious Shadyside teen Deena as she takes on the curse of Sarah Fier, a 1660s witch the town believes has haunted them since her death. As Deena discovers in the trilogy's final chapter, Fier was hanged after being framed by the Satan-worshipping Goode family, who spent generations sacrificing Shadyside residents to remain in power. In the third film's final moments, Deena kills town sheriff Nick Goode to finally end the curse before it takes hold of her closeted star-cheerleader girlfriend Sam.
As Janiak, 41, explains, bringing the Fear Street universe to life for the first time (unless you count a long-forgotten television pilot that aired on ABC in 1998) was no easy undertaking. "I was very thrilled when I got approached about it, but it was daunting," she says about not only helming the trilogy, but also developing the screenplays with a trio of co-writers. "I think having grown up reading them, I felt secure in my connection to the material and what it made me feel like. The thing that I kept coming back to as we were developing these is, 'Are we being true to the spirit of these books, even when we're sometimes changing a mythology or telling a new story?'"
Upon revisiting one of first books in the series in doing research for the films, The Wrong Number, Janiak gushes that she was full of nostalgia and transported back to a time when she "would prank-call people at slumber parties."
The films are not direct adaptations of entries from the Fear Street franchise; instead, they are original stories taking place in the same universe that feature smaller nods to the books. "The books aren't connected and it would just feel like an anthology if we were doing this book, this book, this book," she says. "We needed to create a mythology and a story that connected across the three, which just didn't exist in the books."
While the stories were new, Janiak knew it was integral to retain touch points like Shadyside, Camp Nightwing, and — of course — cheerleaders. "Things like that felt iconic to the world of Fear Street," she adds. "It was finding these iconic things which I grew up loving and saying, 'How do we evolve them or subvert them just a little bit to make it more for modern audiences?'"
She recalls the days she'd spend at the local public library, scouring the book carousel for the latest offering of teen horror. "The Fear Street and Christopher Pike books were all relegated to the carousel; they weren't on like this fancy shelf," she muses. "I just remember spinning it and seeing the colors of the font. I loved the covers so much and wondered what insanity was going to live within."
Those iconic cover images, most of which were done by artist Bill Schmidt, remain firmly planted in my brain, and always featured the same blonde, white, thin teens "we were all supposed to aspire to" that covered other YA series like Sweet Valley High or Girl Talk. But on Fear Street, these figures were always covered in blood with looks of terror. Janiak wanted to expand on those images for the films and feature characters who were more reminiscent of the marginalized groups who not only consumed the books, but who are also routinely tokenized in most slasher films.
"It was very much giving a seat at the table to the readership and saying, 'You should be the protagonist of these stories, you should be the heroes of these stories,'" she exclaims. "These are misfits, they're people that have been told that they're outsiders, and those are characters that would have died very early on in other movies. You wouldn't have a young Black queer woman leading this movie, and being able to make the movies now, we could still be true to the areas we're paying homage to, but we're going to reflect the world as it really is."
While the Fear Street books never showcased queer characters, Janiak wanted to turn horror conventions on their head and make the love story between Deena and Sam the heart of her trilogy — one that surprisingly doesn't end in tragedy.
"My writing partner Phil Graziadei is gay and grew up reading the books too, and he was like, 'There was subtext,' but you're having to read into it," she says about moving a queer romance to the center of her Fear Street. The story about a town of outcasts reclaiming their power from Satan presented an opportunity to put queer characters front and center, an unfortunate rarity for a genre that is famous for killing off its minority characters. "These are two women who made sense within the mythology of Shadyside, where people were being told they are 'other,'" Janiak adds. "It's a queer love story, not just a straight love story with two women."
In a genre best known for "a long tradition of women being tortured and exploited" under a predominantly male gaze, Janiak is excited to join the likes of The Slumber Party Massacre helmer Amy Holden Jones on the tragically short list of female slasher directors, and hopes to inspire young female horror fans like herself.
"Growing up and watching these horror movies, I didn't really understand that women could be directors, or that they could be protagonists in a way that wasn't just a victim," she says. "It's cool to think about a girl Googling and being like, 'Oh, it's a woman that directed this,' and realizing she can also do it."