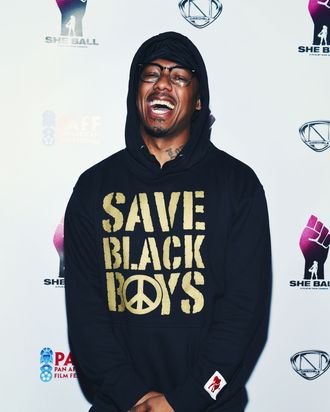 Photo: Amanda Edwards/Getty Images
Off the top of your head, how many children does Nick Cannon have? Two? Four? As of now, the answer is six. This man has six entire children and appears to have another on the way.
On June 14, Cannon and DJ Abby De La Rosa welcomed twin boys Zion Mixolydian Cannon and Zillion Heir Cannon. The names on those babies! Not sure if Zion's middle name refers to the Mixolydian musical mode, but it wouldn't be unlikely, since De La Rosa has previously said that she and Cannon initially bonded over their "genuine love for music." Also, she started an Instagram page called Club Tummy dedicated to her DJ-ing while pregnant. Zillion (Zilly) Heir's name — which sounds like "zillionaire" — seems a little more self-explanatory.
A couple days after their birth, De La Rosa shared a video of herself and the twins looking happy and healthy on Instagram. Per People, she confirmed that Cannon is the twins' father in a since-deleted Instagram post, sharing photos from a maternity shoot in April, writing: "Your Dad & I will always be here for you both; in complete unison and support … You both are already so loved and we can't wait to meet you both."
Cannon did not immediately share a public post about the twins, but after De La Rosa's post, he did post a selfie to his Instagram story of himself in the gym with the caption, "Making love to these weights." Just something to think about.
Anyway, the twins' arrival brings the number of children Cannon has welcomed in the span of a year up to three. In December 2020, model Brittany Bell and Cannon had a daughter named Powerful Queen Cannon. They also have a 3-year-old son, Golden Cannon. I repeat: THE NAMES ON THESE BABIES!! Cannon also has a second set of twins, Moroccan and Monroe, both 9, with ex-wife Mariah Carey. In case you've lost track, that makes Masked Singer host Nick Cannon a father of six.
And that's not all: People previously reported that Cannon is expecting a baby with model Alyssa Scott in the next couple weeks. On Father's Day, Scott appeared to confirm as much, sharing a photo of Cannon touching her bump to her Instagram story, which she captioned, "Celebrating you today," per Us Weekly. In a now-deleted Instagram post from May, Scott suggested that their soon-to-be-born son would be named Zen S. Cannon. Meaning Cannon will son be a father of seven.
If you were wondering whether or not Cannon understands himself to be a man of robust fertility, the answer is yes. "Trust me there's a lot of people that I could've gotten pregnant that I didn't," he said during his July 7 radio show, according to People. "The ones that got pregnant are the ones that were supposed to get pregnant."
"I'm like a seahorse out here," Cannon added. "That's just the way I'm procreating." If that were true, though, he'd be carrying all these pregnancies himself.
This article has been updated.