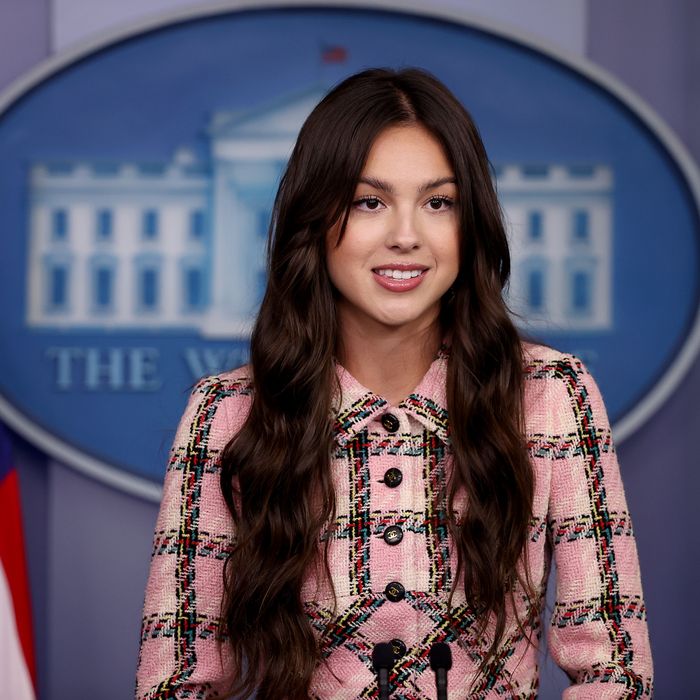 will u be a 'traitor' or will u get the vaccine?
Photo: Getty Images
Greetings, fellow teens. What will it take to get you vaccinated? Is it your president, Olivia Rodrigo, telling you how to find your nearest vaccination site at vaccines.gov? The White House hopes so. Today, the "drivers license" singer joined Joe Biden and Dr. Fauci at the nation's capital to "record videos about the importance of young people getting vaccinated." Per press secretary Jen Psaki, she also "agreed" to swing by the White House press briefing, to address her constituents. Youth President Rodrigo, everybody:
"I am beyond honored and humbled to be here today to help spread the message about the importance of youth vaccination," she told reporters, noting that she stood "in awe" of Biden and Fauci's work on the rollout. "[I] was happy to help lend my support to this important initiative."
Per the CDC, vaccination rates have slowed across all age groups since April. However, this is especially the case among young people. The CDC estimates that 78 percent of all U.S. adults will be at least partially vaccinated by August. However, it predicts the same will be true for just 57 percent of adults aged 18 to 29 years, the lowest predicted vaccinated rate across all age groups.
Enter Youth President Rodrigo. On Tuesday, she replied to a recent Instagram post by the actual president, in which he asked who would be willing to help to get young people vaccinated. Was it an excuse to post a Young Biden thirst trap? Probably, but Rodrigo responded, "I'm in!" To which @POTUS replied, "You bet!"
True to her word, Rodrigo showed up on Pennsylvania Avenue on Wednesday, looking like an especially authoritative Cher Horowitz and ready for business.
This isn't the White House's first effort to increase vaccination rates among the young folks. In May, Biden and Fauci held a YouTube Town Hall with a handful of YouTubers, answering questions about vaccines. Fauci has also participated in TikTok Q&As. Now, they're hoping the youth will be encouraged to Olivia Rodri-go get vaccinated.
The Rodrigo x Biden collab will reportedly drop on both her social media channel's (to her 28 million-plus followers) and the White House's … soon. You can expect your leader to answer the big Qs "young people have about getting vaccinated," a White House official told CNN. And listen, if it ups the vaccination rate, I'm all for my feeds being flooded with posts like "It would be BRUTAL if you weren't vaccinated" or "Don't be SOUR about getting the vaccine." Plus, Olivia Rodrigo is admittedly more inspiring than a pound of crawfish or a gift card to L.L. Bean.
This post has been updated.