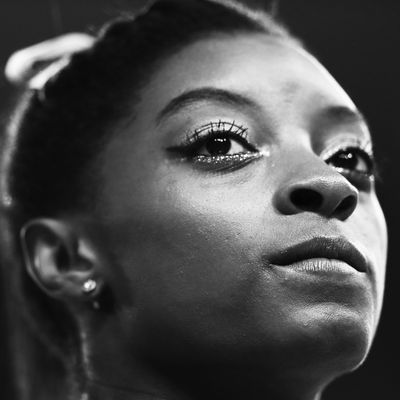 Photo: Alex Livesey/Getty Images
Simone Biles certainly did not need to compete in the 2020 Tokyo Olympics. She has a combined total of 6 Olympic medals and 25 World Championship medals. She has signature moves named after her that no other gymnast in the world can pull off.
Still, Biles traveled to Tokyo to compete after a years-long delay due to COVID-19, and not just to help her team rake in the medals: She came for fellow survivors. Earlier this spring, Biles revealed that she was dedicating her performance to sexual-assault survivors — she told Today anchor Hoda Kotb, "I feel like if there weren't a remaining survivor in the sport, they would've just brushed it to the side"— as well as "Black and brown girls over the world," as she told the New York Times in a phone interview. "At the end of the day, I am not representing USA Gymnastics."
Biles is, in fact, the only victim of former Team USA gymnastics doctor Larry Nassar — who was sentenced to 175 years in prison after more than 140 girls and young women he had abused came forward — representing Team USA. And while Biles went on to tell Kotb that the abuse she endured caused her to sleep "so much because, for me, it was the closest thing to death without harming myself," she still felt she had an obligation to return.
"Since I'm still here and I have quite a social media presence and platform, they have to do something," she said, referring to the machine behind USA Gymnastics, the national governing body for gymnastics in the US, which has a history of turning a blind eye to sexual-assault and harassment allegations against coaches and staff. "So I feel like, coming back, gymnastics just wasn't the only purpose I was supposed to do. I don't think I knew [that was part of my reason], either, but I feel like gymnastics wasn't the only thing I was supposed to come back for."
Turns out she was right.
By choosing to withdraw from the overall team-final competition and the individual all-around gymnastics final to focus on her mental health and prioritize her well-being, Biles reminded the nearly one in five women and one in 75 men who are victims of sexual assault that our stories, our bodies, and our minds do not need to be sacrificed at the altar of social justice. That it's okay if we know deep in our bones that we can't do what is required of us; that pushing through would cause us harm; that the pain, physical or not, simply is not worth it.
Not everyone is okay with that, though. The very people who chastise survivors for waiting until they feel they're physically, mentally, and emotionally able to tell their stories also want to see Biles put herself at risk. They are calling her "weak," "immature," and a "shame on our country."
In the wake of the Me Too movement, founded by Tarana Burke long before it became a viral hashtag, there was a palpable social pressure on victims and survivors to step forward and share their stories — in the name of solidarity, change, and even the promise that justice would be served and other lives be spared. It's a consistently regurgitated talking point thrown at victims: If you say something immediately and go through the often traumatic, triggering, and painful processes of collecting evidence and solidifying your believability in the eyes of district attorneys, judges, and juries, you'll come out victorious. It's not that you simply need to put yourself at risk — you should want to. And if you don't want to, you must power through, not for your sake, but for everyone else's. Biles was told she should "suck it up" for her country. Victims are told they should "suck it up" in the name of "justice."
That's a lie, of course — for every 1,000 rapes that occur in the United States, 975 perpetrators will go free. It was a lie for the victims of Bill Cosby. It was a lie for Chanel Miller. And it was certainly a lie for Biles and the hundreds of other Nassar victims, who were victimized by a doctor they thought they could trust and, later, failed by both the institution they sacrificed everything for and the federal government of the country they're now representing. USA Gymnastics knew about the abuse weeks before the organization reported it to authorities and paid off victims in an effort to keep them from speaking publicly. The FBI, having known about the complaints since 2015, interviewed only one athlete, declined to interview two others, then did virtually nothing for eight months.
And still the athletes persevered — that part of the story is much more palatable to the American public. Victimized athletes overcoming the unimaginable to achieve greatness is basically the USA-women's-gymnastics tagline, the pull-yourself-up-by-your-bootstraps inspiration porn this country lives off. Because even in your pain and trauma, you must be perfect, lest you be denied justice, support, and even your humanity. Biles is not being attacked simply because she prioritized her mental health — she's being chastised because in withdrawing she is not living up to that standard of perfection. Now right-wing provocateurs and media-hungry pundits are calling her decision to step back a "joke," describing the most decorated gymnast of all time as a "quitter" and a "selfish sociopath." Victims know these verbal attacks all too well.
I am a victim of sexual assault. I was proud to watch Biles and her teammates come forward in 2018 and share their stories, defiantly facing their abuser in court. And I was proud to hear that she would once again compete, not just for medals but for victims — maybe even me.
But I have never been more proud of Biles than I am now, nor more grateful for the gift she has given survivors while standing on the largest international stage. We do not owe our talents, our voices, even our presence to those we both know and do not know, even if our pursuits are just and admirable. We are owed repos, peace, a chance to fight another day — or never again. We come forward when and if we're ready. And when we're not, we rest.