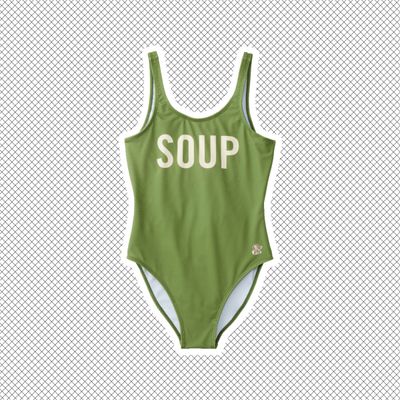 The "swim soup" in question.
Photo: Panera Bread
Soup bitches, assemble! It is my honor/horror to inform you that Panera — as in, the bread restaurant — has created a line of soup-themed summer merch. Haha, we live in hell! The collection obviously includes a pea-green one-piece suit that simply reads, "SOUP." A "swim soup," if you will, and Panera hopes you will.
So, who exactly is a SOUP swimsuit for? Well, anyone, but Panera believes that it is particularly for the 70 percent of people who said, in a survey of 700, that "hot weather does not stop them from eating soup." Yes, nothing says "summertime" like eating soup, wearing a swimsuit with "SOUP" on it, and relaxing in a pool of soup. It makes sense because Panera's tagline is "put me in an ocean of chicken noodle and let me die."
However, Panera doesn't stop at the SOUP suit. Why would they? The collection also includes swim trunks and another one piece both patterned with broccoli and cheese, an homage to Panera's broccoli and cheddar soup. There's a pool float made to look like a bread bowl for when you would like to become the soup. There's also a pair of swim trunks in the same pea-green as the SOUP suit. However, the trunks do not say "SOUP" across the butt. Cowards.
Unfortunately, I would wear the hell out of a SOUP suit. If you'd like a soup suit of one's own, it's available for $25. It pairs well with the Brandy Melville olive oil and never showing your face at the public pool again.