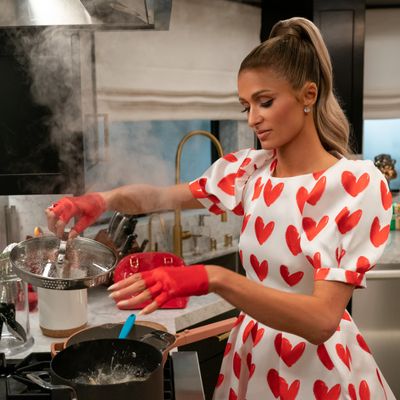 A chef!
Photo: KIT KARZEN/NETFLIX
The aughts are back, baby! Bennifer is together once again. Britney Spears is getting some long-overdue support. And now, we're at the dawn of a new Paris Hilton era. On Tuesday, Netflix dropped the trailer for Hilton's forthcoming cooking show, Cooking With Paris.
In the newly released trailer, we see the titular host in the kitchen cooking or at least giving it her very best try. She's making burgers with a bedazzled spatula. She's whisking while wearing rhinestone-encrusted fingerless gloves. She's asking the big questions, like "What is 'zest lemon'?" and "What's a tong?" and even "What is a toe-ma-tilio?" (I'm assuming she's talking about tomatillos.) "I'm a natural," she says in her signature vocal fry. Yes, Paris. Yes, you are.
Inspired by her viral YouTube series, each of the show's six episodes will feature some of Hilton's friends/sous-chefs, including Kim Kardashian West, Nikki Glaser, Demi Lovato, Saweetie, Lele Pons, Kathy Hilton, and Nicky Hilton. Notably missing from the lineup is fellow Simple Life alum Nicole Richie; I'm guessing that means we won't get a reprise of their signature hit, "Sanasa." Though Hilton does hum a little song as she's eating with Kim Kardashian, so I'll take what I can get.
On Tuesday, "Page Six' also reported that Hilton — who is somehow 40?! Help! What is time!? — was expecting her first child with fiancé Carter Reum. However, Hilton denied the rumors on her This Is Paris podcast, telling listeners, "The only thing in my oven at the moment is my 'sliving lasagna.'" You can watch Cooking With Paris on Netflix starting Wednesday, August 4.
This post has been updated.