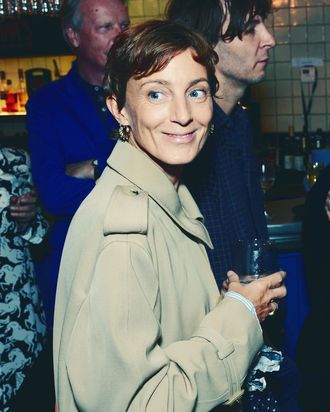 Photo: Dave J Hogan/Getty Images
It's official: Phoebe Philo is not phinished with phashion. Late Sunday night, the designer, whose departure from Céline three years ago sent the fashion world into a period of mourning (one that, for many, never really ended), confirmed that she will be returning with her own namesake line sometime in the near future.
"Being in my studio and making once again has been both exciting and incredibly fulfilling," said Philo in a characteristically tight-lipped announcement. "I am very much looking forward to being back in touch with my audience and people everywhere."
More details are reportedly to come in January, but for now, all we know is that the line will be one of "exceptional quality and design" — i.e., expensive (duh) — and that Philo is doing things on her own terms this time. The designer's former employer, LVMH, has taken a minority stake in the brand, giving Philo valuable industry support, but she will still be the one in control. "To be independent, to govern and experiment on my own terms is hugely significant to me," she added. This likely means that she will show on her own schedule, as she's expressed dissatisfaction with the constant demands of fashion in the past.
Philo's return to fashion and what it might look like has been speculated about basically since the day she left, but this announcement comes at a particularly opportune moment, when the industry is rethinking how it operates and when shoppers are particularly hungry for a new direction. Philo is credited, perhaps more than any other contemporary designer, for her intimate understanding of "what women want," but what does that look like now and in the future? Will she give men what they want, too? (Kanye West would be happy about that.) Will she be more inclusive when it comes to diversity of models and sizing? Now, there are a million dupes of the Old Céline out there for those still craving fur-lined Birkenstocks. But as Cathy Horyn expressed back in 2017, Philo's true skill was not just giving shoppers the perfect turtleneck or pair of pants, but also tapping into a relatable mood or feeling of the moment — one that made you want to scream, "Take me with you!"
There is no doubt that shoppers are full of want right now and ready to be swept off their feet. The question is, can Philo deliver? Again? I'm going to start making room in my closet now, just in case.