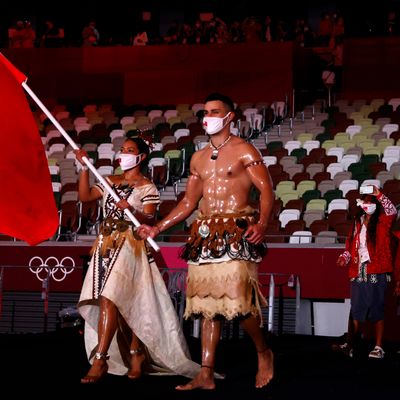 He's back!!
Photo: Jamie Squire/Getty Images
This year's Olympics — the 2020/2021 Tokyo Games — are an exercise in extreme ambivalence, given all the obvious bad clouding the promise of sporty excellence. But at this morning's Opening Ceremony, a bright spot broke through the gloom. What is that; is it … the sun, or is it torchlight bouncing off a Tongan flag-bearer's immaculately oiled pecs?
Mercifully, the latter. Mr. Olympics — whom you may know as Pita Taufatofua — is back in the house, baby. On Friday morning, Taufatofua did his bit to open the games, strolling into the stadium abs blazing. The rare summer-winter athlete, Taufatofua has carried Tonga's flags at the past two Olympics, and he's done it with a generously lubed six-pack.
Taufatofua — competing only in taekwondo this year, after an inaugural attempt at kayaking went sideways — first became a gleaming sensation at the 2016 summer games in Rio de Janeiro. There, he flouted the official command to "please just wear the suit" and instead smuggled in a ta'ovala, his traditional dress "representing 1,000 years of history" and showcasing his chiseled torso. But he is so much more than a beautiful hunk and a world-class athlete! Taufatofua, 37, is a Unicef ambassador and a climate activist; he spent years working with homeless children and overcame a series of serious injuries to qualify for his first Olympics. He also taught himself cross-country skiing in order to make it to the 2018 Winter Olympics in Pyeongchang! Where he still arrived at the Opening Ceremony in his ta'ovala, despite the extreme cold! Pita Taufatofua, everybody!!
But — what's this? I'm receiving reports that Pita is not the only athlete registered in the glistening-pecs category at this opening ceremony. Please, meet rower Rillio Rii, representing the Pacific Island nation of Vanuatu and giving Pita a run for his money. Which, well, what are the Olympics without competition??