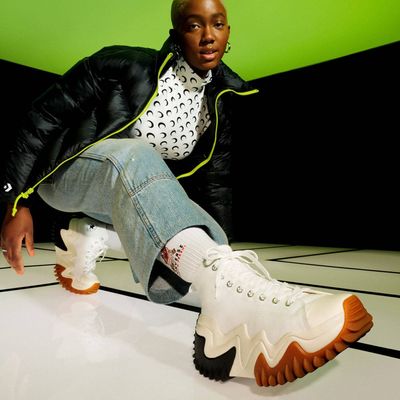 Photo: Courtesy of Converse
Trends are a fickle thing. Take Isabel Marant wedge sneakers, for instance, which symbolize a very specific moment in time when people wore velour tracksuits and jeggings with UGGs. You either loved them or hated them, but as my colleague Emilia Petrarca put it, one thing is for sure: They're "a little bit practical, a little bit grotesque, a lot over the top." In 2021, sneakers rarely have the same polarizing quality as a wedge heel (let's leave Crocs out of this), but they seem to be getting chunkier and chunkier. Take the Converse Run Star Motion, which the brand debuted this summer.
The shoe builds on the platformed Converse Run Star Hike, which debuted on the JW Anderson runway in 2018. Both Run Star styles have the body of a classic Chuck 70 high-top in black or white, but the new Motion has a wild platform sole — wavy in a way that sort of reminds me of those wavelength diagrams from a middle-school science book. The ones that chart, I don't know, Earth's atmospheric layers or whatever. I wore them out on a recent stroll through the city, and I've never received so many compliments or so many questions about where they could cop a pair too. Perhaps most importantly in our post-pandemic life, the sneakers are surprisingly light and comfortable … like, really comfortable.
If you never adopted the whole chunky-sneaker thing, why not jump in the deep end with these crazy Converse? That's what happened to one reviewer on the brand's site. "I got these shoes in black, and I am blown away by how amazing and comfy they are," the person wrote. "I never participated in the chunky shoe trend because I could never quite find anything that I liked, but I finally found these, and I'm in love."
Shop the Converse Run Star Motion here.