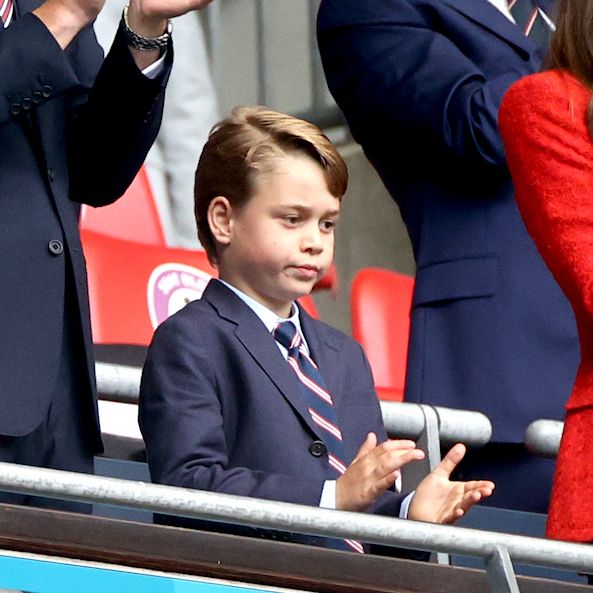 Buy low, sell high.
Photo: picture alliance/dpa/picture alliance via Getty Images
A select few members of the Firm took in some soccer on Tuesday, making an appearance at London's Wembley Stadium to watch the UEFA Euro 2020 Championship in between meetings. That, at least, is what I surmise from the suits seen on Prince William, Kate Middleton, and … who is that tiny businessguy? Is that Prince George, about to offer me some vested shares? Look at this little grown-up. Time must fly when you're trading stocks.
Apparently, the royals were seated in a corporate box for the game, William being the president of the Football Association and all. This may explain their business-formal attire — although nightmare houseguest Ed Sheeran was also there and wore a soccer jersey, so maybe the suits had something to do with palace protocol. Personally, I am a little surprised that Sheeran and this family still speak after Princess Beatrice slashed him across the face with a ceremonial sword while attempting to knight James Blunt, but anyway.
The little prince wore an outfit matching his father's — a blue suit with a blue, red, and white striped tie, reportedly "a nod to the colors of the U.K. flag" and many other flags as well. George, a soccer enthusiast with an uncompromising eye for talent (or lack thereof), seemed to enjoy himself. He applauded his team's hard work:
And took a moment to reassess the business model.
He will circle back on Monday.
Update: The little businessguy is back in the corporate box, making an appearance at the Euro 2020 final on July 11. Prince George and his parents appeared to be having an altogether more animated time on Sunday, the former going absolutely wild when England scored its first (and, at time of writing, only) goal against Italy two minutes into the match. Apparently there was some debate in Kensington Palace as to whether or not George would get to break with the formal dress code for the championship, which … petition to let the boss baby wear his football jersey next time!
This article has been updated.