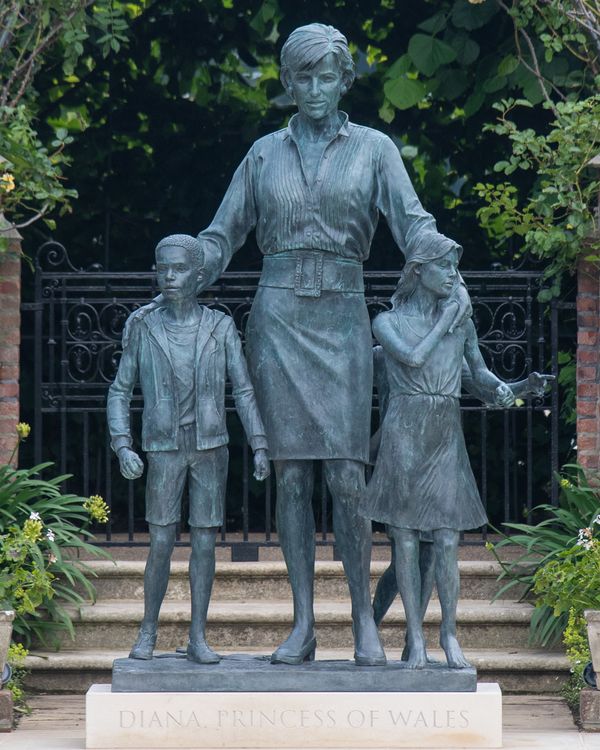 Is that … actor Sam Neill and some small children?
Photo: POOL/AFP via Getty Images
Statues are famously hard to get right. Nevertheless, on Thursday morning, Kensington Palace honored Princess Diana on what would have been her 60th birthday, unveiling — you guessed it — a life-size statue. Let's take a closer look, shall we?
Hmmm, okay. I will say, it could be much, much worse! Located in Kensington Gardens, the statue by artist Ian Rank-Broadley depicts Princess Diana surrounded by three children as a reflection of her lifelong work supporting children around the world. It's a little, um, unsettling that the only part of the third child that's visible from the front is some feet and a hand pointing out into the distance. Also, the proportions of life-size children statues always fall a little too deep into the uncanny valley for me. Most importantly, of all Princess Di's iconic outfits — the "I am a luxury" sweater being among my personal favorites — this is the look they choose? Regardless, it is an impressive piece of art, and I will award bonus points for the inclusion of a belted waist, a rare and bold choice among statues.
Both Prince William and Prince Harry unveiled the statue together, taking a subsequent moment to appreciate all its life-size-ness. "Today, on what would have been our Mother's 60th birthday, we remember her love, strength and character — qualities that made her a force for good around the world, changing countless lives for the better," the two said in a joint statement, per People. "Every day, we wish she were still with us, and our hope is that this statue will be seen forever as a symbol of her life and her legacy."
Given the contentious last few months, there were questions about who would be in attendance at the unveiling and whether Prince William and Prince Harry would get along. However, the royals are nothing if not set on keeping up appearances. As People reports, the brothers seem to have been "happily reunited," having last seen each other at their grandfather Prince Philip's funeral in May.
Among the small group of attendees were Princess Diana's brother and two sisters. Kate Middleton, Meghan Markle, and their respective children were not in attendance. Also notably absent were Queen Elizabeth, Prince Charles, and Camilla, Duchess of Cornwall.
Starting July 2, the statue will be open to the public during regular palace hours should you want to pay your respects in person, kiss its feet, see how tall you'd be in comparison, etc. Happy birthday, Princess Di. It's always an honor to get to honor you.