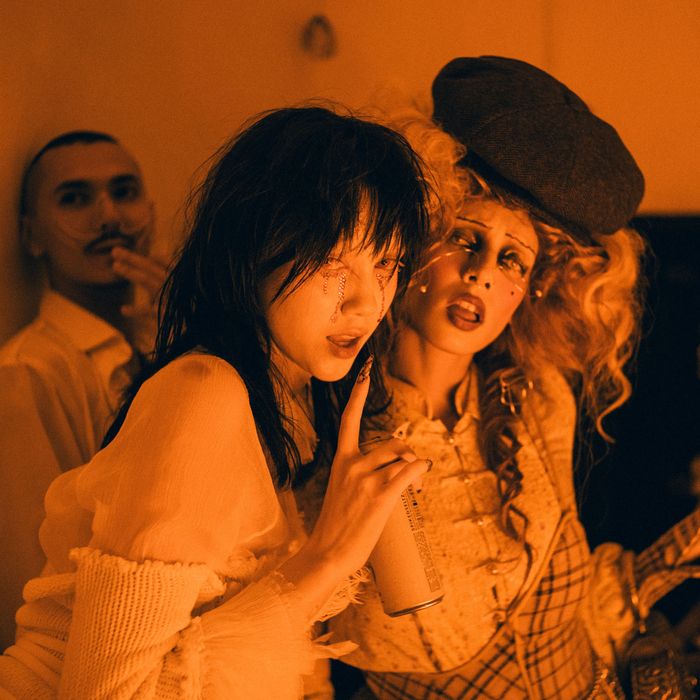 Megumi Rooney and Jazzelle Zanaughtti, backstage at the Baroque Ball.
Photo: Carmelo Varela
I'm not usually someone who finds the idea of a crowded, sweaty warehouse rave that appealing. Nonetheless I ended up spending Saturday night with the collective Nosferatu Incorporated at one of their raves (though they preferred to call it a "ball"). For the most part, they're a group of friends in their hot early-20s who hang out at HappyFun Hideaway. But now they're trying to throw a post-pandemic party series, whose name is inspired not by the 1922 German Expressionist silent vampire film, but by a SpongeBob SquarePants episode that referenced it (anyone born in the '90s remembers the Hash-Slinging Slasher).
The Nosferatu backstory: Earlier this year, 22-year-old model Megumi Rooney and her friends were partying hard at Nowadays. On a trip to get a vape at the bodega, she met a guy who invited her and her friends to a party at the former Spectrum space. When they arrived, there were only five people on the dance floor. So they started posting about it on Instagram, telling their friends to pull up, and by the end of the night, there were hundreds of people dancing there. Impressed with their ability to draw a crowd, they started throwing parties professionally, backed by someone they call "the investor." This weekend was their fifth event, a Baroque Ball at a red-brick building in Long Island City that used to be home to Club Exile, a punk-era discoteque. Megumi tells me it was actually their second choice of venue: The original spot was larger, but the owner suddenly died last week. She invited me along to see what it takes to throw a massive party, headlined by Eartheater, the Queens-based artist known for her experimental pop tracks and for being "something of an ongoing muse" to Casey Cadwallader, the creative director at Mugler.
Saturday night ended up being one of the best parties I've been to this year. The looks were shockingly good, and the moody gothiness of it all felt right in tune with the trope-y nihilism of young Brooklyn in the careless post-pandemic summer. As Megumi told me, "We wanted it to feel like the Renaissance after coming back from the pandemic." Or, put plainly by the girl working the door, "We're just about like getting everyone together for one fucking sick night."
8:05 p.m. | I've arrived early to see the party setup. Appropriately, lightning is streaking across the sky and thunder rumbling in the distance when the Nosferatu crew arrives in a frenzy of puffy white shirts, Regency-era wigs, and the occasional whale tail of a thong. Megumi is a stunning bloody Swan Lake fantasy, in a feathery white dress, towering heels covered in white papier-mâché, and red sequins dripping down her powdered face, matching her red contacts. She moves fast but gingerly in the shoes, her black mullet somehow remaining unmussed as she hastily begins checking out the space. "My nails are so long and I have to pee and I can't do anything with them," she says, zipping past me to the restroom and adding, "There's still a lot to do."
8:30 p.m. | The venue, which is starting to feel more like Frank-N-Furter's sweet transexual mansion by the second — one girl arriving dramatically in a black nightie on the back of a motorcycle — covers two floors. On the first is a long bar, and upstairs is the ballroom, draped in white curtains. Overlooking the dance floor, there's a VIP mezzanine, where the group is setting up leather sofas, flower vases, and glass coffee tables that make it feel more like a therapist's waiting room than an 18th-century salon. Trying to stay out of the way, I chat with a girl in long dangly earrings who is in charge of VIP bottle service ($299 for Tito's, $359 for Patron) and she immediately says out loud what I'm thinking: "Who's going to order bottle service here?"
8:45 p.m. | While Megumi continues to rush around — a white fan in one hand, a vape in the other — I check out the rooftop with her boyfriend, a very sexy, svelte fashion designer with a metal band across his nose. He's hoping tonight will go smoothly, since some of the previous parties got shut down. The last one took place during Brooklyn's fentanyl-in-the-coke craze. They stocked up on Narcan, but hypochondriacs kept using it up. Eventually, they ran out.
9:50 p.m. | The entryway downstairs begins to fill with hoop skirts, giant bows, and miles and miles of silk, lace, and chiffon. Scanning the room, I can't find a single person not in costume, as well as several sets of exposed ass cheeks. The speakers play Bach, Vivaldi, and Handel. It feels like I'm witnessing something important, not a rave. Like in Bridgerton, there's something satisfying about the very diverse, very queer crowd in these stuffy old clothes, sexed-up with skimpy bottoms and boob-bearing tops. Powdered faces look strangely good with Bushwick mullets, and gloved fingers complement the many Telfar bags.
10:35 p.m. | Looking down at the dance floor, I watch as the music switches from Baroque to techno. The partygoers transition from some attempt at a three-step to fist pumping. A couple of voguers join the floor, and so does a built gay holding a lit votive candle in one hand and a White Claw in the other. A girl with fake black freckles and a fascinator tells me she has a theory for why so many parties like this one feel like "knockoff Berghain": a Gen-Z change in the party drug of choice, from cocaine to ketamine.
11:34 p.m. | Out front, in the rain, I check out what's happening in line. When I ask one girl, in a black dress, what brought her here, she word vomits: "My friends were going and then one of my friends couldn't go and then he was like, 'Here, do you want my ticket?' Then I was like, 'Oh Eartheater, yes!' And then I was like, 'Ohhh, it's Baroque-themed, we get to dress up.' I'm a sucker for anything fancy." Further down the line, I meet a trans girl covered in pearl necklaces with bright-red Helena Bonham Carter hair. She uses "cunt" to describe everything, including the last Nosferatu party. She says she knows one of tonight's DJs and then tells me, "I'm a whore," which she means professionally. She just moved to New York from Texas and apparently the clientele hasn't caught up yet; whereas she previously had sex with men with oil money, of late she's been mostly with bodega owners. A tiny white girl stops to tell her, "You look like this old woman who works for Town and Country," and the trans girl shoots back, "I look like an old woman?"
11:54 p.m. | After talking to several others in line, it seems like the biggest draw tonight is not only the chance to get dressed up but also Eartheater, who will perform at midnight. On the way to meet her in her dressing room, people stop Megumi to compliment the party — mostly the same phrase over and over again: "It's giving." Eartheater is wearing long red braids, a mirror around her neck, and a blue dress with Oompa Loompa hips. While Megumi fans her, Eartheater spouts out a few directives: "Make sure he has it on reverb!" and "I want the girls around me on the stage!" and "I need a DRINK!!!" She does a few porpoise-y test shrieks into the microphone and steps onto the stage.
Midnight | The crowd goes nuts when they see her, but Eartheater isn't happy at first: "Bring the mic down. Bring the music up. The sound is a mess." Before long, the rave feels more like a concert, with cries of "I love this song!" heard above the music. Twenty minutes later, Eartheater tells everyone, "It's like a spirit came inside me. I feel possessed," before jumping into the crowd, surfing it face-up with her nipples out. From above, she reminds me of a red-haired Ophelia washing downstream, held up by her fans.
12:47 a.m. | Post-Eartheater, ball attendees revisit the bar downstairs while a choice crowd of friends of the collective head to the roof to cool off in the rain. "I'm gonna fall apart inside or out so I might as well stay in the rain," a woman with big hair says, before pointing out that the weather is ruining her drugs: "The coke was already sticky and now it's sticky icky." The party hits max capacity.
1:41 a.m. | I meet back up with Megumi, who, after lots of work and not that much personal letting loose, is ready to head back to her boyfriend's apartment for a smaller after-party. Before she heads out, she deals with a problem in the dressing room — a girl with giant lips is slumped in a chair, crying and saying she's been served a drugged drink. She says she can't move her limbs, so the organizers find her somewhere to lay down for a while until she feels better. "It's like a physical ailment!" she tells the room.
2:13 a.m. | The rain has stopped, so I head back to the roof, where I meet a model-filmmaker-photographer-wannabe stripper who bought a one-way ticket from Miami to party in New York. Tonight, he says, "was … giving." He's not the only person in town for the ball. I also talk to a model who is visiting from Texas and went to a rave Nosferatu threw in Houston, saying, "It fucking changed my life pretty much. It spoke to my soul. I was like, I need to be in New York … I feel free." Now, she's planning to move here. It all sounds a bit earnest, but she speaks with the sweet, innocent perspective of a lost queer spending their first week in the big city: "You are who you are. It doesn't fucking matter. You can wear what you want to wear and say what you want to say … sometimes."
2:34 a.m. | The post-Eartheater recovery break is over, and the dance floor is once again packed and sweaty. In line for the bathroom, where someone's cigarette butt is smoldering in a trash can, a short guy in a striped shirt says he missed his flight to L.A. this morning, so now he's here. Unfortunately, the guy he likes just left and now he's on the search for someone to go home with again: "The person I wanted to take to my hotel, he said, 'My back hurts.' And I was like, 'Good. I would've made that worse. I would've blown your back out.'"
3:13 a.m. | Near the bar, I meet two girls hanging out the window, smoking cigarettes. I trade them a swig of my drink for a smoke, and then they start distributing Purell. I ask what the highlight of their night was, and the shorter girl looks into the other's eyes, saying, "Doing coke and dancing with you." Her girlfriend is less sentimental, telling me, "I saw Eartheater's boob. And I got her sweat on me, and that's all I could ever ask for."
3:35 a.m. | No matter the vodka Red Bulls I've downed, I'm starting to crave my bed. Before heading out, I stop to talk to the door girl, a long-haired blonde in a thong who tells me how she thinks this party is different from other Brooklyn nightlife. "The dolls should be DJ-ing and the dolls should be organizing and the dolls should be running this shit. And we are." She tells me there was even an "86 list" tonight, name-dropping a popular, partygoing drag queen who she claims is a white-twink abuser. "Tonight it's all about the family, the Nosferatu family," she says. Back in my Uber, a boy online messages me that he saw me inside, and when I ask how his night went, he DMs me back, "Dancing to Sophie and looking hot with my friends was fucking wonderful."