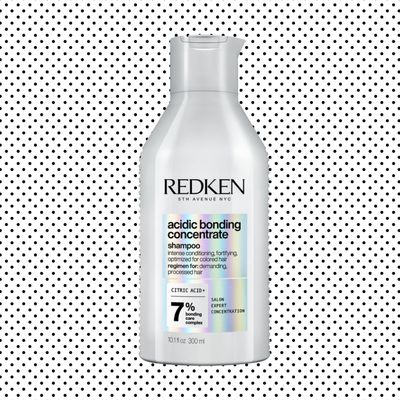 Photo: Courtesy of the retailer.
I know what my hair looks like when it's bad: limp, flat, oily, and dull. It has trouble motivating itself to exercise. It doesn't feel like cooking or going out to eat, just microwaving leftovers for days on end. But Redken's Acidic Bonding Concentrate Shampoo perked up my hair like a visit from a friend with the personality of a golden retriever.
It struck me as unusual at first. This shampoo is as thick as honey. It smells a little like orange juice. But after just one wash, my hair looked less weighed down — lighter, bouncier, fluffier, and smoother. My mom, who is always asking "Did you even wash your hair last night?" paused and said, "You should use this shampoo more often."
Redken's new formula is acid-based, using a mild dosage of citric acid and alpha hydroxy acid. Much as it is for faces, acid is beneficial for hair too, regulating pH so that the cuticle is optimized to become shinier and softer.
Some Ulta reviewers note that using this stripped some of their color. I didn't personally notice that, and Redken says that its "concentrated bonding care complex" actually protects color. But if your hair is very sensitive to fading, I might avoid it to be on the safe side. For everyone else, using this shampoo is a no-brainer.