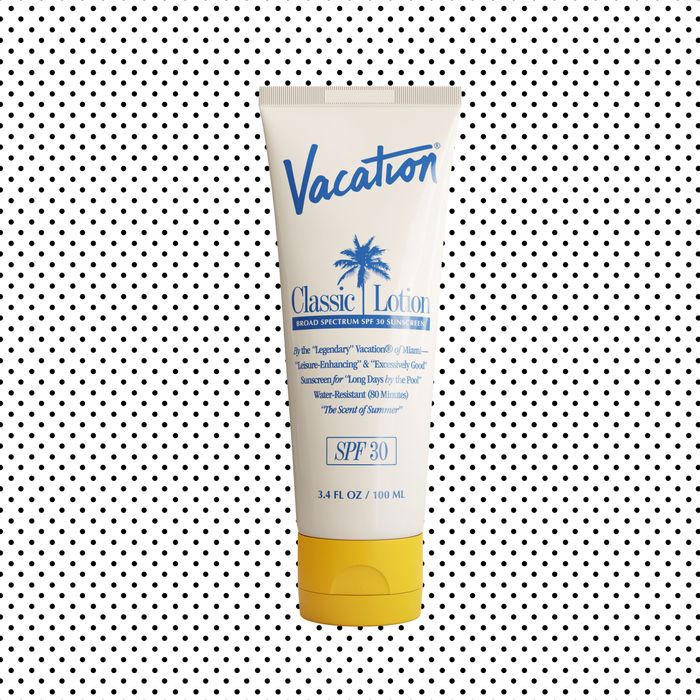 Photo-Illustration: by The Cut; Photo: Retailer
It's important to wear sunscreen. But it's also important that it be fun. That's the ethos behind Vacation, a new sunscreen steeped in retro '80s nostalgia. Visit its website and you'll be taken back to the time of Club Med, big hair at the beach, and talking on giant brick cell phones while wearing ultra-high-rise bikinis. You'll even be encouraged to join Club Vacation®, where you can get a virtual business card declaring you "Manager of the Swim Up Bar" or "Head of the Competitive Sandcastle-Building Committee."
True to the era, Vacation SPF has some decadence behind it. The formula itself is a smooth, vegan, waterproof, reef-friendly SPF 30, and doesn't pill. It blends in very easily, so you'll have to do a little bit of faking if you want to spend a little extra time rubbing it into your hot pool neighbor.
It is also very scented — Vacation bills itself as the "world's best-smelling sunscreen." Its riff on the classic "sunscreen smell" (typically a blend of coconut, shea butter, and jasmine) is very intentional, and includes some whimsical notes of pool toys and swimsuit Lycra. The brand (which is a side project of synth internet-radio station Poolside FM) worked with perfumers Carlos Huber and Rodrigo Flores-Roux to create the fragrance. If you fall in love with it, you can also purchase it separately.
But is it the best sunscreen? As dermatologists often say, the best sunscreen is the one you will want to put on, and Vacation makes that very easy.