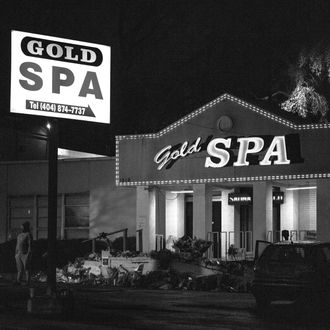 One of the three spas where gunman Robert Aaron Long opened fire in March
Photo: Megan Varner/Getty Images
Robert Aaron Long faces life in prison without the possibility of parole, after pleading guilty to murdering four people at an Atlanta spa in March. Long executed a string of shootings at three area massage businesses, ultimately killing eight people and injuring one more. In taking a plea deal on Tuesday, he avoided a death sentence on charges from Cherokee County. But prosecutors in Fulton County, where the other two spas are located, brought hate crime and murder charges, and intend to seek capital punishment.
On March 16, Long — a 22-year-old white man — opened fire at Young's Asian Massage, killing four: co-owner Xiaojie Tan, employee Daoyou Feng, and customers Delaina Yaun, and Paul Andre Michels, all of whom he has now pleaded guilty to murdering. Long then drove to Gold Spa, where he shot and killed three women working there: Soon Chung Park, Hyun Jung Grant, and Suncha Kim. From there, Long walked across the street to Aromatherapy spa and killed a licensed massage therapist named Yong Ae Yue. After Long's parents turned him in, he confessed to the shootings.
Though Long targeted Asian-owned businesses primarily employing Asian women, Captain Jay Baker of the Cherokee Sheriff's Office initially downplayed the role racism played in the massacre. According to Baker, Long described the spas as "a temptation for him that he wanted to eliminate," due to his "sexual addiction." Awarding Long a stunning degree of sympathy, Baker said the confessed killer "had a really bad day," but ultimately was not motivated by racism. Prosecutors in Fulton County disagreed, though, announcing their intent to add hate crimes to Long's murder charges in May. In Cherokee County, however, the district attorney did not consider Long's actions to be motivated by bias.
Speaking in court on Tuesday, Long said he drove to Young's after his roommate overheard him watching pornography for three hours that morning. According to the Atlanta Journal-Constitution, Long said he was "embarrassed and ashamed," telling the judge: "It never felt like I had a lot of control over those urges and it became obsessive to the point it occupied a lot of thought space." According to prosecutors, Long originally intended to kill himself after getting a massage at Young's, buying a fifth of bourbon and a handgun on his way. He apparently changed his mind after drinking in the parking lot, and instead decided to "punish the people that [he] could." He shot everyone he encountered inside, and allegedly planned to do the same at other spas he'd visited in the area.
As for the charges stemming from Gold Spa and Aromatherapy, Long is currently scheduled to be arraigned on August 23, and transferred to a Fulton County jail in the next few days. For the Cherokee County charges alone, he has been sentences to four lifetimes in prison without the possibility of parole, plus 35 years.