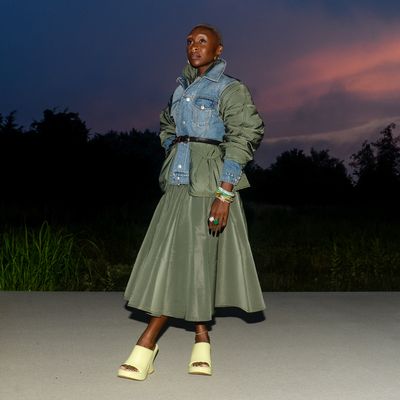 Photo: Courtesy of BFA for Saks Fifth Avenue/Madison McGaw
Last night, Saks and Emmy- and Tony Award–winning actress and singer Cynthia Erivo ushered in summer in the Hamptons. At an intimate dinner held at the Parrish Art Museum, Erivo — who was recently nominated for an Emmy for her role as Aretha Franklin in Genius: Aretha — diligently went around to each table to say hello to guests.
After a more than challenging year, it was heartwarming to see guests enjoying a meal and discussing the things that have brought us joy. As Erivo noted, "There is nothing better than gathering around a table and enjoying an evening of laughter, conversation, and connection with wonderful hearts and minds alike." It didn't hurt to have a bit of fun fashion in the mix, as Erivo donned an army-green and neon look by Alexander McQueen along with Bottega Veneta mules.
Of her Emmy nomination, Erivo told the Cut, "I was shocked. I sort of put it out of my mind that it was even happening." She added: "I was crying my eyes out. I knew that there were incredible performances, and I guess I just didn't expect it. I think often you're less disappointed when you don't expect something, and I was like, if it happens, it happens. If it doesn't, that's life. So it feels good to see people celebrate Aretha."
With her performance alongside the L.A. Philharmonic at the iconic Hollywood Bowl debut on July 30 on the horizon, plus a new children's book, Remember to Dream, Ebere, and her first solo album, Ch. 1 Vs. 1, coming out in September, you'd think Erivo would be easing into summer. Instead, she's preparing to run the New York City Marathon. "I try and challenge myself," she says. "I've been training for it, and my body feels like it's getting ready to do that, and I'm excited to do that. Running, for me, really is a space where I can just be and experience and think, so that has brought me joy a lot."
Before we went back to join the party, we chatted about what she's most looking forward to wearing as things are starting to open up with more events and shows in the fall. Erivo lit up in her reply: "Well, we know that Miss Phoebe Philo is coming back, and I'm saving up pennies!" We couldn't agree more.