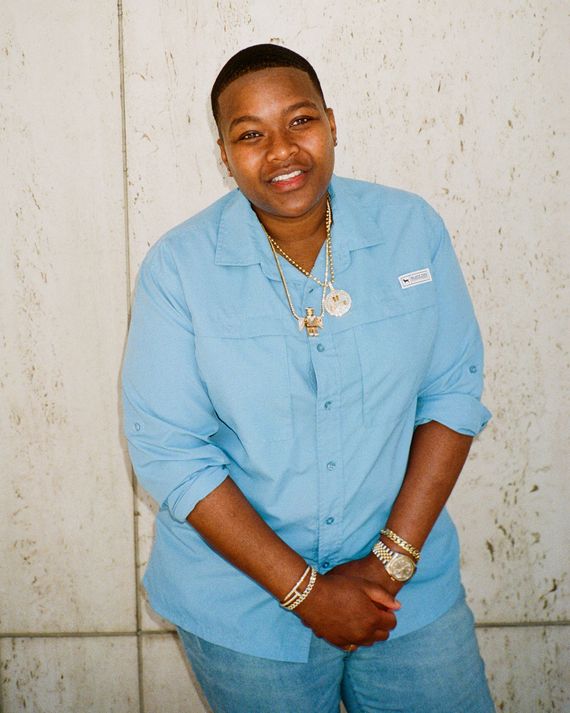 It's early in the morning at Soho's Crosby Street Hotel, but Sam Jay is dressed, as she often is, in the insouciant way of a very cool person at a very cool party. Today it's black jeans, sneakers, and a crewneck stamped with a Simpsons character smoking a blunt. Peeking from her sleeves are wrists stacked in slim gold bracelets — a diamond-lined Juste un Clou sets off the right, and a Rolex straddles the left.
She seems tense, her arms remaining crossed until breakfast comes. It could be that she is just tired; it's nine now and she spent her morning at a radio interview for her new HBO show, Pause With Sam Jay. Recently renewed for a second season, the series is a late-night show of sorts. But rather than reacting to a daily news cycle, Pause seeks to explore various "current topics," with Jay as its inquisitive guide.
A writer and stand-up comedian, Jay comes most recently from SNL, where she spent three seasons, got nominated for an Emmy, and co-wrote some of its best segments (see "Black Jeopardy" and "Them Trumps.") While on the show, she was the sole Black, lesbian staff writer, and only the second to be involved at all. Now 39, Pause makes Jay the second queer Black woman to have a late-night slot, after Wanda Sykes.
With Pause, Jay also joins the likes of Amber Ruffin, Robin Thede, and Ziwe Fumudoh, all members of a new guard of comedy shows helmed and in some ways reinterpreted by Black women. Pause is perhaps the most daring and distinct of this lineup, not least because Jay brands herself as a "professional devil's advocate."
The series also shares little with late-night shows past. It does deal in political subjects — episodes touch on the racial wealth gap, gun control, and access to health care. (Though Jay disagrees that these things are political, "they're just things that people are talking about.") Its main difference, however, lies in its format: Between short sketches and interviews, each episode is grounded in a sort of extended party sequence. In these, the host, along with a few dozen people sourced from her real friend group, debates the topic du jour. The party is not staged — music plays in the background, there is a haze of smoke, and everyone has a drink. The conversations are also organic, Jay says, except for her parts: "Because I know where I want it to go."
Besides her girlfriend, who is always present and generally reserved, guests are replaced each episode. They are selected for "the vibe," like any good party, but Jay also brings in people who will disagree with her — "people that I know are opinionated and have something to say. Thinkers and talkers." And so the party starts, and the cameras roll. There are no retakes.
The format, Jay explains, was settled on in a bid to eliminate what she sees as the one-way conversations typical of late-night shows, something she finds "awkward as shit." It's a way to achieve what Jay saw as one of Pause's big goals: to show people listening to each other — having a "mutual exchange" — and maybe learning something, a practice she believes no longer happens these days.
"I wanted to be challenged. I wanted people to disagree because that's what happens, not just me saying everything and I'm correct and then everyone walks away. I really didn't want to have to be correct. I wanted to have the freedom to be wrong, to change," she says. "I'm asking the viewer to grow with me."
But opening minds is a difficult goal for a television show, especially when it hinges on one person's willingness to be wrong. It's made even more challenging because in Pause, Jay rarely admits defeat. Party scenes are edited in such a way that Jay's monologues are centered, usually at the expense of dialogue between guests. When discussions do happen, they are successfully unstudied, but quickly become roundabout, awkward, and difficult to follow (as disagreements at parties so often are). As one viewer commented on Twitter: "These are coming off as low stakes High people conversations, short on details long on everyone feeling like they need to make their anecdote too."
The other main part of Pause is more traditional: interviews Jay conducts with subjects relevant to the episode's theme. For example, the pilot sees her sit down with two young, Black Republicans. Jay doesn't interrogate them; rather, she listens, empathetically, to their experiences of being confused about politics and where they stand in society. One of the guests, a young woman and college wrestler, has campaigned to ban trans women from the sport, and has said permitting trans children to transition is "child abuse." These details don't come up in the interview. I wondered, why not press harder?
"That wasn't the point," Jay says flatly. "The point was to actually get to know them and know why they are doing the things that they're doing. It wasn't a I'm here to change who you are thing. It wasn't even to tell them that you're wrong, because truth be told, I don't know that they are." She continues, "It's not for me to tell you what to feel or think, it's more for me to present an option."
Still, she often only presents one option. In an episode about fame and cancel culture, Jay is clear that she believes the latter is uniformly bad. (Her main issue is with the "mob mentality" aspect, how intrusive it is for public figures, and, as she muses when we discuss it later, "Where, in all of this, are we giving people room to grow and change?") But save for one man who gets shouted down in a party scene, we don't encounter many opinions that oppose Jay's, and the whole thing ends with advice: to "stop worrying about celebrity mess" and pay closer attention to what's happening in your own community.
The interviews, taken together with the party scenes, have the effect of highlighting the host's beliefs. In fact, Pause is a good way to get to know Sam Jay, and outside of that the show's intentions sometimes feel muddled. When I ask who the intended audience is, Jay demurs. "Whoever watches it," she says.
Pause caps off what has been a quietly groundbreaking career, but Jay shrugs off the suggestion that her first show is a big deal. It's a creative accomplishment, she tells me, but notes that the boost in fame has been more "weird" than life-changing. She maintains a sort of indifference to how it is received and does not read reviews, mostly because she knows it's bad for her mental health.
Her detachment is such that she doesn't always know what interviews she's going to — the questions, she explains, are all the same anyway. Much like her style, Jay's demeanor has a kind of studied nonchalance, and in the next moment she pauses to praise a man at a nearby table, calling his "whole vibe" aspirational. I see that he's an older white man, lounging across his besuited companions in shorts and sandals.
Netflix's 3 in the Morning (2020), Jay's first special, is what put her on the map, and on first watch it's pretty standard comedy fare: airplane and relationship jokes delivered with an eyebrow arch and incredulous look. It's different from Pause, which may be why the show feels like such a surprising project from the comedian. But the common threads are there, especially when Jay talks politics.
One of these moments is a bit on Me Too. The punch line is about how easy it would be to drop Aziz Ansari if he tried to assault you, but the joke begins with Jay's insistence that women have the power to choose not to be assaulted: "In all those situations, women had a choice. If we never speak to that choice, we are disempowering women," she says. "You can always choose, and sometimes choosing to say fuck you is the illest choice you can make."
This seems like a pretty conservative stance on Me Too, but Jay disagrees, calling it a "challenging opinion." She doesn't consider herself conservative at all, and as for the joke: "It's questioning how we approach things and how we handle things and I do think that's necessary."
Where does she fall on the political spectrum? "I'm a Black person in America, I don't even know if you can ask me to believe in politics," she says, adding that she voted for Biden, but it didn't feel good. "It just felt like if I had to vote the other thing, more Black people might get killed in the street."
It's a sentiment many on the left might agree with, and at the moment, Jay is "questioning it all and wondering what our place is in this." She's been here before: At various times in her life, she's been registered as an independent, Democrat, and Republican, and while she's always voted Democrats for president, it's only because she sees them as the better of two bad options. Mostly, though, she's always questioned the system and how she figures into it. Pause, it seems, is a continuation of that.
There is an anecdote Jay tells in the show about grade-school youth government. As the story goes, she would "always choose the Republican side [of the argument], purely because I felt like people expected me to be a Democrat, and something about that bothered the fuck out of me." She brings up the story again over breakfast. "That story is true," she tells me, and I wonder how much Pause is informed by that same impulse — the same question she asked herself as a kid: "Oh, they expect me to do this. So why do I have to do it?"