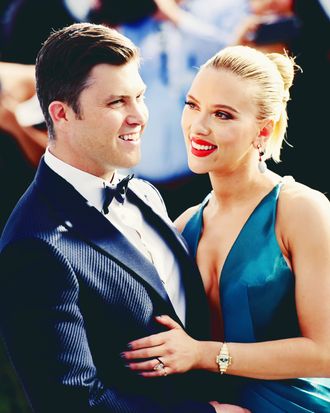 I'd trust them with a baby.
Photo: Chelsea Guglielmino/Getty Images
The season for celebrity babies is here, I guess! First, Nick Cannon was reportedly expanding his bevy of children. Then Cardi B announced that she is expecting Bardi Baby No. 2. Now, Colin Jost and Scarlett Johansson are reportedly expecting their first child together. Babies abound!
According to "Page Six," Johansson has been keeping her pregnancy on the down low and is "actually due soon." However, there is no word on the estimated due date.
There were rumors that Johansson might be pregnant after notably missing a few Black Widow events last month. Her absence was odd given the presumably required fanfare usually surrounding any and all Marvel movies. Per the tabloid's source, "Scarlett is pregnant but has been keeping it very quiet. She has been keeping a very low profile." Well, that settles that!
This will be Johansson's second child; she shares a 6-year-old daughter with Romain Dauriac. It will be her first baby with Jost, whom she married last October.
Congratulations to these two! May your child have a slightly less punchable face.