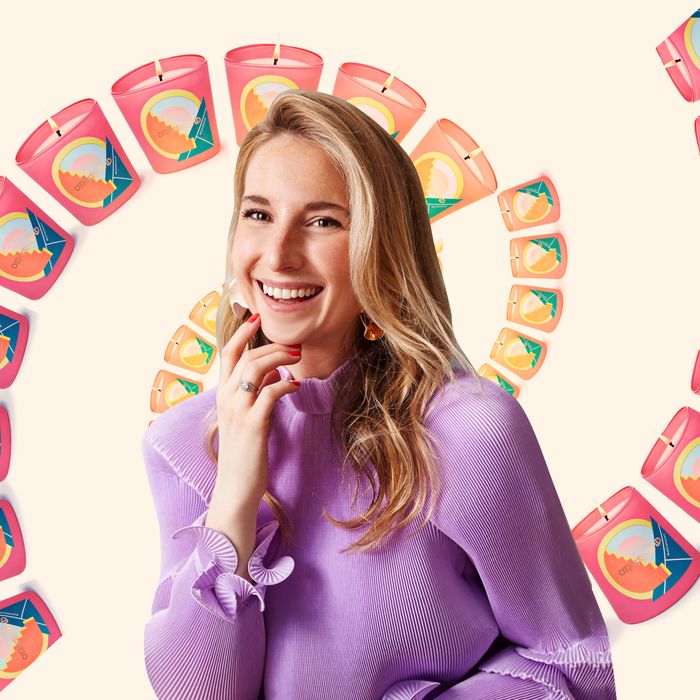 Photo-Illustration: by The Cut; Photos: Courtesy of Otherland Candles
Scientific studies confirm that, of all the senses, smell offers the best recall. In "Scent Memories," the Cut asks people about the scents they associate with different times in their lives.
Next up is Abigail Cook Stone, a former art buyer for Ralph Lauren, and co-founder and CEO of Otherland candles. She founded the brand with her partner, Sayyid Markar, driven by their shared obsession with scents (their apartment, she says, has a candle burning in every room). Otherland —which aims to offer high-end, scented candles at affordable prices — just launched their new Garden Party collection, which takes a fresh spin on floral scents, and will transport you into your favorite episode of Bridgerton. The Cut caught up with Abigail to talk about the smell of sourdough, her favorite birthday tradition, and her mom.
My first scent memory is: Mr. Bubble Bubble Bath. It comes in a classic, electric-fuchsia-pink plastic jug. It's this sort of Eau de bubble gum with a sticky banana sweetness, fruit punch and candied cherry. Whenever I see that fuchsia color, I can smell that Mr. Bubble distinctive aroma in my mind. I actually recently bought it, and it still smells exactly the same.
Love smells like: The toasted spices of cumin, turmeric, and paprika that have been dry roasted on the stove. That makes the base of many of Sri Lankan Muslim dishes that Sayyid's family has in their repertoire. I've been learning to cook some of them. His grandmother documented all of her recipes, and they put them into a cookbook. I'll never be able to stack up to his grandmother or his mother and their exquisite expertise, but it has still been fun to learn.
Friendship smells like: Friendship, for me, is a nostalgic smell. As a kid, my besties and I would go to the mall. We'd always go to the Limited Too and buy green apple sparkle body splash spray, which was this juicy apple sugar sweet smell with nuances of rice, pear, and tropical fruit candy. Then from there, we would sneak over to the adult section of Gap, and we would take turns spritzing each other with Gap Heaven and Gap dream, which are these two iconic Eau de toilettes. We would just giggle until our stomachs hurt and spritz, and each of us would run through the mist. So I associate the fun that we had with the optimism of cherry freesia and plumeria. We created a collection based on those memories for Otherland called the Carefree '90s collection.
Regret smells like: A sourdough starter that I lovingly grew from scratch and let die in the latter half of 2020. Early in the pandemic, I, like many people, tried making sourdough bread. When it started out, it smelled fruity and weedy with a hint of gym sock. But then, my attention moved to craft cocktails so the mason jar of sourdough starter got moved to the back of the fridge. And there it died.
Success smells like: The smoky, oxidized, tinny, metallic notes that come from sparklers. This is a little tradition that Sayyid and I have. We use them on birthdays or a deal at work or even, sometimes during the pandemic, just a Saturday night. He loves sparklers; we always have a stash on hand. I think success is the thrill of the shower of fiery sparks and that sensory overload: the crackling, and the way they look.
The worst smell is: One of the worst smells for me is pumpkin spice. It's cloyingly sweet, and I almost feel like there are bitter undertones. It actually gave me inspiration to create an Otherland candle to counter that smell, which is called Cardamom Milk, and it's been one of our best sellers. It's frothy milk, cardamom and praline woods.
My dream vacation smells like: A flea market or an antique shop. It's musty and vintage-y. When I was still working at Ralph Lauren, I took a trip with my mom to Paris. We visited and went to the famous flea market, Les Puces de Saint-Ouen and just being there on a sunny day, unearthing treasures beneath the stacks — the smell of old books and worn leather. I really love antique shops around the world. That inspired one of our candles in our core collection, Chandelier. I took the brighter notes from that experience — champagne, saffron and leather.
My home smells like: We have an Otherland scent going in every room. We're always testing scents and burning candles. Right now, it's this hot chilli flake flora, sort of this sriracha rose that we are trying out. But there are a couple of scents that I associate with home. We used to have an apartment right by Katz's deli and when I would walk to the subway they would be misting down the sidewalks with hot water, and it would be this misty, acidic sweet pickled aroma, but then you get notes of smokey umami, beefy pastrami. Then, our favorite candy store, BonBon, it's a Swedish candy store — Sayyid really loves candy, so after a weekend dip in there, our house smells like this tropical punch bouquet of tutti fruity and sour gummy ambrosia.
The first thing I smell in the morning: I take Ritual vitamins every morning. They smell sort of minty. It's a vast improvement from that marine, funky fish oil or the flax seed chalky smell from other multivitamins.
The last thing I smell before I go to bed: Lavender. I do a spritz of lavender on my linens before I go to bed. It's botanical and crisp, and sharp enough to linger for a bit.
A scent or smell I love that others usually don't: A freshly popped can of tennis balls. It's industrial, it's rubbery. My first job out of college was working for the U.S. Open tennis tournament in New York, so at Otherland I went to our perfumers to see if we could create something with the scent of a tennis ball and we came up with Matchpoint, which is tennis ball, mixed with cut grass and cucumber. It's become one of our best sellers.
Happiness smells like: Nantucket beach plum jam that my mom used to get. I lost both of my parents in 2017, but we used to have this tradition of going to Nantucket to visit friends in the summer and my mom would stop at the historical society and grab two jars of jam. One would be for the vacation, and one, she put on the top shelf of the cupboard — farthest back, hardest to reach, and she'd save it for the dark of winter. In January, the gloom would be lifted with the taste of summer on our tongues. We based a candle around that called Stone Fruit, which is beach plum, peach skin and brown sugar.
Loss smells like: Dove bar soap and Clinique yellow cream. My mom's dermatologist recommended Dove bar soap, so she would wash her face with it and all of our towels had that classically clean, sudsy soapy scent. Clinique yellow cream was this dramatically different moisturizer — it had that clinical cosmetic smell and probably some waxy glycerin and cucumber extracts. She had it in these big pump bottles, and when she passed away, I kept using her bottle of it— smelling it every night to try and feel closer to her. There was a lot of pain when I finally reached the end of the product.
This interview has been edited and condensed for clarity.