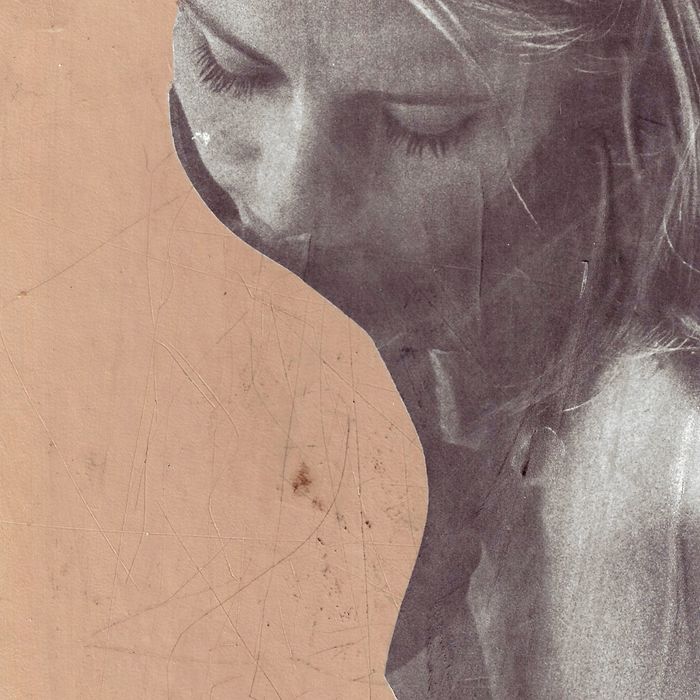 Photo-Illustration: James Gallagher
This week, a woman navigating Tinder etiquette and attending Pride for the first time: 19, single, New York.
DAY ONE 
8 a.m. I wake up earlier than usual today. Elena, a girl I met on Hinge, texted me to confirm our coffee date today at ten. My roommate is already in our kitchen making eggs and potatoes for breakfast. I'm a college student in New York, and since I got rejected from all the internships I applied to, I'm mostly hanging out this summer and going on a lot of dates. I've known I was queer my whole life, but I felt pressure to be straight and mainly pursued relationships with men because of that. Since I moved to the city, I've been thinking a lot about what brings me true happiness, and found that I feel a lot more like myself when I am with women.
9:57 a.m. I see my date as I walk up to the coffee place where we're meeting — she carries herself with such confidence that I am already obsessed with her before she says a word to me. Since I asked her out and picked the place, I attempt to buy our coffees, but she hands the barista a $20 before I can even open Apple Pay.
10:36 a.m. Conversation flows easily. I find out Elena has a car, and I tell her how I crashed mine three times before I moved to the city. She leans in flirtatiously and tells me that she'll be driving us around from here on out.
12:30 p.m. She has to leave for a hair appointment but says that she wants to walk me home first. We pass a drag bar on the way and she asks me if I've ever been. I say yes, and I tell her that we should go together. She says she'd love to.
4 p.m. I'm still thinking about her hours later. I text and say that I had an amazing time.
8 p.m. I'm in such a fluttery headspace from the date that I don't even check my phone to see if she writes back. She did most of the talking on the date too, just by virtue of our personalities, so I assume she wants to give me some space and let me make the next move.
DAY TWO
10 a.m. Still buzzing with excitement from yesterday's date. I check my phone to see if Elena texted me. She did, and we text for a while before she has to go to work. I intentionally tell her that I have only been to places in Manhattan, and she, a native New Yorker, tells me that she's going to take me on a date somewhere in Brooklyn on Thursday.
1 p.m. I go shopping in Soho with a friend and my roommate. A street photographer stops us outside the MoMA Design Store and wants to take our picture, so we pose with our shopping bags.
7 p.m. I go to my friend's apartment to get ready for the party we're going to tonight. She reads my tarot cards and tells me that I'm stagnated in my romantic relationships and need to focus on my emotional wellbeing if I want to make space for another person in my life.
11 p.m. We pregame at a college bar near my apartment. The party is '80s themed, so we look a little out of place among the silky slip dresses and flared jeans. At the party, rumors are swirling about what's in the jungle juice — NyQuil, grape popsicle, Robitussin … ? We go to the basement to dance and a girl who looks like Taylor Swift kisses me hard on the lips after I compliment her blue leopard-print dress for the third time. A classics major who I've had my eye on for a while is here too, and I secretly hope she saw.
1 a.m. Taylor and the classics major are nowhere to be found, and my friends want to go to an another party a few blocks away. I want to go home and eat my leftover bagel sandwich. I stalk Taylor on Instagram and fall asleep still wearing my '80s outfit.
DAY THREE
9 a.m. My roommate wants to try a new coffee place in Chelsea and buys me a drink in exchange for my company. It's disgustingly hot outside, but I want to leave the apartment at least once today, so I oblige. The coffee is delicious, but drinking caffeine makes me want to hit my Juul.
10 a.m. My roommate takes me to visit the apartment where she plans to live next year; it's right across from a park and a thrift store and a restaurant that only sells broth. She wades in a fountain at the park and I tell her how excited I am for her.
11:45 p.m. We go to a dog-friendly coffee shop while we wait for the thrift store to open. I play with a Westie and then an energetic little puppy of an indeterminate breed jumps in my lap. I text Elena and tell her that we should go here together sometime. A French bulldog pees on the floor.
12:30 p.m. I buy some skirts and a pair of overalls at the thrift store and text Elena to tell her about my haul. She teases me about the overalls and I spend the rest of the day writing in bed because it's 97 degrees and doing anything else is too exhausting.
DAY FOUR
3 p.m. I sleep the day away just because I can. I eat a frozen veggie burger because I can't afford groceries until my old job sends me my last check — I worked as a paid canvasser on a political campaign for about two weeks.
8 p.m. I'm at dinner in Tribeca with my roommate when Jessie, a girl I met on Tinder, texts me and asks if I'm doing anything tonight. She's home from college and is living with her parents for the summer, but they're on vacation. I immediately call a Lyft. My roommate heads to the apartment belonging to the boy who stubbornly refuses to call her his girlfriend, and which she's constantly lamenting to me. It makes me glad that I mostly like dating girls.
Since getting to New York, I've come to the conclusion that I feel more fulfilled in relationships with women than with men. I came out to my family previously as bisexual and they were supportive, but I haven't expressed the newfound shift in the way that I view my sexuality yet.
12:30 a.m. I discover Jessie lives on the 33rd floor of one of the most extravagant Upper East Side apartments I've ever seen. She has a foyer and a dining room and floor-to-ceiling windows. We smoke out her window and I am in awe of the view.
1 a.m. She asks if she can kiss me; I say yes. We make out in her queen-size bed and I keep having to tear my eyes away from the view. I stare out her window while her head is between my legs. For some reason I feel like I'm not going to finish — maybe it's because this is my first time hooking up with a stranger off the internet or because her apartment is so nice or because I'm just too fucked up — so I grab her face and tell her to kiss me. She grinds on me and I flip her over and go down on her. When she gets close she grabs my hair and squeezes my head between her thighs as she finishes. I am definitely a lesbian.
3:30 a.m. This was my first time giving head, and after we cuddle for a while I head to the bathroom to proudly text my friends about it. My knowledge of female pleasure comes mainly from watching others provide it to me — I attempt the maneuvers that I know I enjoy and use my intuition to guide the rest.
4 a.m. She offers to call me a car but I feel weird about it so I tell her that I got it. She goes in for the hug and I go in for the kiss and during the ride home I worry that the awkward good-bye ruined the night.
4:15 a.m. I text her that I had a great time and I would love to see her again.
DAY FIVE 
11 a.m. My phone buzzes and I wake up to a nice text from Jessie. My anxiety dissipates slightly.
12:00 p.m. Today is going to be my first time going to Pride in the city, so my friends and I buy a bottle of rosé and a bottle of tequila. We drink on a stoop and people watch near Christopher Street. I'm wearing a pride flag as a dress and get lots of compliments. I text Elena and Jessie separately to see what they are doing today. Elena responds, but Jessie doesn't, confirming my suspicions that Jessie doesn't want anything to do with me unless it's past midnight.
1:00 p.m. We get lunch at some overpriced brunch spot in the village and pour the leftover tequila into lemonades because we can't afford the mimosas. Then we get too high on my friend's dab pen and have to take an Uber home.
9:00 p.m. My friends and I wake up from our respective naps and decide that we want to get drunk and play cards instead of going out. One of their roommates told them that she thinks I'm hot, so I tell my friend to invite her over tonight. Nothing happens between us, but she is wearing low-rise jeans and a scarf top and I hope she doesn't notice that I can't tear my eyes away.
12:00 a.m. I want to see Jessie again but it feels like it's too soon. I don't know the etiquette of Tinder hookups yet, so I play a sleep-meditation app and try to take my mind off of it. It doesn't work, and instead I fall asleep thinking about how badly I want Jessie's legs wrapped around my head again.
DAY SIX 
4:00 p.m. I lay about all day in the depressive haze that always sets in at the beginning of summer. When I no longer have the structure of a class schedule and club meetings, I can't function. One of my friends asks me if I want to get dinner on the Lower East Side and I say yes.
8:30 p.m. We sit down at the restaurant and I order an espresso martini. My friend tells me about how she started working as a dominatrix and I am enthralled. She is the most interesting person I have ever met.
11 p.m. My friend and I make our way back to my apartment and I roll a joint. We smoke on the roof and I pick her brain about Tinder hookup etiquette. She says that I shouldn't message Jessie again until a week from now, and I am disappointed. She tells me about the various men she has dommed at work and the people she has hooked up with since we saw each other. We try to take pictures of the moon because it looks orange tonight and cackle at the results.
12:00 a.m. I eat microwave popcorn in my bed and text Jessie anyway.
DAY SEVEN 
11 a.m. Jessie never responded to my text soliciting a hookup. I'm upset, so I invite my friend over to get high and do yoga. It's too hot to go outside, so when she doesn't respond I just go back to sleep.
2:00 p.m. I consider visiting Elena at work, but it's a 20-minute train ride and we haven't even had our second date yet, so I decide against it. I settle for imagining what it would be like to fuck her in the storeroom of the coffee shop where she works.
3:30 p.m. Jessie still hasn't responded. I brood about this the entire day and rage-clean my apartment.
7:00 p.m. When she gets off work, Elena and I text about vegetarianism and the weirdest coffee orders that she had to make and she sends me pictures from her friend's rooftop. I send back some of the pictures of the moon that I took yesterday. I can't wait for our date tomorrow.
Want to submit a sex diary? Email sexdiaries@nymag.com and tell us a little about yourself (and read our submission terms here.)