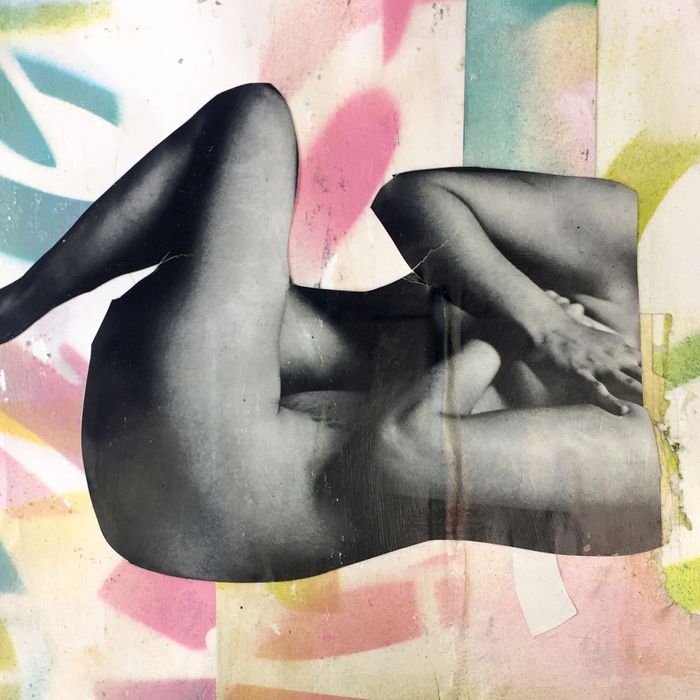 Photo-Illustration: James Gallagher
This week, a woman gets jealous that her friend with benefits is seeing other people: 40, single, Brooklyn.
DAY ONE
7 a.m. My alarm goes off and I hit snooze. I'm too cozy in Freddy's arms. He's six-two, a Scorpio, and plays the drums; any of those alone would make me wet. He's the first man I've ever met who asks me to be the big spoon. This morning I press my bare breasts against his warm, wide back. He's still sleeping, but I find myself gently gyrating against him. In a few minutes we're naked and fucking in a few positions starting on the bed and moving to the couch in his studio apartment. As usual, I come quickly, and he holds out for a while.
9:40 a.m. We finish and I'm shocked to realize the time. I hop on a Zoom from my laptop at his place. I haven't been at his place for days, so I find an appropriate gap between meetings and he drives me home. I work in higher education and have a couple side jobs adjuncting and writing résumés.
Freddy has been my friend with benefits for over a year now. He doesn't want a relationship and this makes me only more attracted to him. I love that he has women all over the world floundering over him; I lucked out having him as my pandemic partner.
5:30 p.m. Finally, off the clock! I switch into some yoga pants to meet an old colleague for a walk in Prospect Park. I tell him about last week's date with another hot musician. He went down on me on our second night together. I had an amazing orgasm but didn't want to reciprocate and got ghosted.
9 p.m. I stay home to attend the virtual orientation for the bisexual sex club I recently joined. I Zoom with three other women, and we share a little bit about each other and and how excited, and a little bit nervous, we are for in-person events.
I came out to my mom as bisesexual at 19, and she sort of flipped out. She's eventually accepted that I may end up with a woman. It was tough dating women (or anyone) even before the pandemic, and many women I've dated tend to get emotionally invested faster than I do, so I'm still figuring it out. This is part of the reason I joined the bisexual sex club, to explore things more.
DAY TWO
10 a.m. I text Christopher, who lives on the other end of Brooklyn. He's a fun, unemployed skater from Florida — but for a 40-year-old, acts like he's 30. We've been hooking up on and off for about a year now. I met him one night when I went to see a band play.
4 p.m. I meet him in McCarren Park, where we do some shrooms.
6 p.m. We hook up a little at his place, near the park. He's not bad in bed, but I can't get past his immaturity. But I allude to being okay with a threesome at some point.
7 p.m. He's very complimentary of my body, but he's looking for a relationship and struggles with NYC dating, saying all women are "on edge." I can't say he's wrong.
10 p.m. I don't stay over since I'm oversexed and satisfied by Freddy and don't want to be a tease.
DAY THREE 
10 a.m. I have a conversation with one of my family members about my sex club. I only recently came out to my Sicilian-American family (not including my mother) as bisexual so this phone call feels nothing short of miraculous. My relationship history mostly consists of two long-term boyfriends. I have slept with women, but never had a real relationship with one. Now I'm living my truth a bit more.
1 p.m. I work pretty much all day long.
9 p.m. Freddy picks me up on his way from the city. Back at his place, we go outside to get high before we watch a movie — fairly rote behavior these days.
9:45 p.m. Another night cuddled up in bed. He asks me to look at some photos and headshots of himself and tell him which he should use for LinkedIn. None are appropriate. But I give him my top pick and suggest he uses it to update his dating profiles. Am I sending mixed signals?
As we work on his LinkedIn profile, out of nowhere a pair of beautiful round breasts pops up on his iPad screen. My heart drops into the bowels of my stomach. I'm high, so I overreact. I try not to be dramatic and maintain my cool, but …
10 p.m. After a few minutes of saying things like, "Why can't you hide it from me better?!" To which he responds "I don't want to have to hide anything, all the women I hang out with are so … different …" he spits out some version of "variety is the spice of life." I almost feel bad for him. I do often feel like I'm hoarding NYC's best-kept bachelor. It seems selfish not to share. A part of me wants to high-five him — we are, after all, just friends. If he has gorgeous women sending him sexy photos, good for him! Yet somehow I feel crushed.
DAY FOUR 
11:30 a.m. Christopher texts and says he wants to see me before he leaves for Costa Rica. He is also a surfer and needs a break from city life.
2 p.m. When I don't respond, he says he wants to go for a run together later. I tell him I'll see how I feel after work.
5 p.m. This run is not going to happen.
8 p.m. I text Christopher that I'm feeling like an old lady and suggest hanging tomorrow to which he responds "yes, but you better come through." I get it, I've been unreliable since the beginning, either canceling or leaving his place in a hurry to trek all the way across Brooklyn to hook up with Freddy because he's better in bed. Tonight I sleep in my own bed for once.
DAY FOUR 
9 a.m. It feels good to collect some sleep in my own home. I have so much work to do and it's good to handle it at here.
3 p.m. I text Christopher: My plan is to do some yoga and then we can run.
4 p.m. I express being mentally exhausted from work, and he tells me I need to have more sex before he leaves. I respond with a winky face and change the conversation.
7 p.m. Christopher arrives at my apartment, we get stoned, take edibles, and go for a run in Prospect Park. It is magical. We hang out on my deck a bit and he meets some close friends over a weekly Zoom call. When he leaves I peck him on the lips. I'm pretty sure I don't want to hook up with him again. I'm just kind of over it. He tells me that if we aren't going to "date" he needs to make time for other women. I get it, I've broken enough hearts in my day and don't want to hurt him. Luckily, we've been moving to a space where he can feel more comfortable sharing his dating life with me so we can become more platonic friends.
DAY SIX 
9 a.m. I spend most of the day unpacking last night and thinking about my life as a whole.
I froze my eggs, and I'm not sure what to do about motherhood. I have a fantasy about being in  a throuple with an older man and a younger woman who has our children (with my eggs). A non-traditional relationship. All I know is that I won't commit to a man unless they will let me be physical with women. Otherwise, I feel inauthentic.
4 p.m. Work gets boring so I text Freddy who says he "has plans" and to text him later, since he shouldn't be done too late. I assume he is on a date.
11:00 p.m. I don't hear from him for hours and I have work tomorrow. I lose my patience and get ready to accept that I'm not getting laid tonight. I mention how tomorrow might be a good beach day, and that I am willing to take off work to enjoy it.
11:15 p.m. As soon as I get into bed I get a text: Freddy's in for the beach tomorrow, but it would be a lot easier if I was at his place. Turns out he got stuck in the rain and lost track of time — I still assume he was on a date but I don't know for sure. Usually he picks me up in his sexy sports car, but I desperately Uber over.
DAY SEVEN
9 a.m. I call out sick for a "mental health" day.
12 p.m. We get to Fort Tilden; I take the plunge and go topless. He doesn't mind, but I do wish he were a tad jealous! But he doesn't flinch and I hope he likes when other people look at me.
1:00 p.m. I throw a towel over my head to smoke a joint. He's a musician and doesn't understand my precaution as an educator.
3:30 p.m. He suggests taking a walk so we can both ogle the topless women. I put my top back on, as the idea of walking around topless sounds distracting and uncomfortable.
6:45 p.m. We lose track of time and I realize I'm late to teach an online class. As we hit the expected traffic I realize I won't make it on time. I ask if it's okay to teach from his place. He thinks I just want to stay over and should just ask. I stumble on my words because … well, of course I want to stay over! But alas this is truly a practical gesture and admitting that I want something has never been my strong point.
8:15 p.m. Class finished, I walk out of his bedroom to find he's prepared dinner for both of us. How could a girl complain?
Want to submit a sex diary? Email sexdiaries@nymag.com and tell us a little about yourself (and read our submission terms here.)